Sigh. This Colts team just finds new and inventive ways to throw games out the window, doesn't it. I wasn't expecting much from this week, but again the Colts remained within touching distance against a decent team, only to throw it all away with a couple of stupid plays. A Bengals team with a rookie QB and shorn of their best defensive player (Rey Maualuga, though Leon Hall and Carlos Dunlap are both excellent) was eminently beatable, and we failed.
Last week, we lost due to awful play in the secondary and a run game that went to pot in the second half, and drops throughout. This week, we lost due to fumbling the football, drops, a blocked field goal and a debatable call from the officials, which I don't feel was highlighted enough on the broadcast. We'll get to that later, in any case.
Acknowledgements time - my sincere thanks to KBUnitz, ninpojames, ferm, JoeyKirby, Coltsfan504, Sparhawk, MarkColtsFanatic, GoHorse88, buymymonkey, Indemnitor, omahacolt, redmid17, PV Mike and coltsfanbeforemanning for their contributions on the last piece. Some of the feedback I get is absolutely fantastic, and it means a lot that you guys keep reading each week. There was some good discussion on the last piece which is the aim of the game, and as such I hope it continues.
After the jump, we begin..
Play #1 - 3rd and 4 from the IND 11 - 9:25 in the 1st Quarter - Colts 0 - Bengals 0.
A couple of things to say before we get into this one. The first is that this Bengals drive was set up by a Dallas Clark fumble, a fairly routine strip by Nate Clements at midfield. From someone as experienced as Clark, it's incredibly disappointing. The second thing to say is that I have to applaud the coaching staff - this play is again an instance in which the Colts deviate from their zone base and go to a man defense, bringing the heat to try and force a decision. Unfortunately, with the way our corners are playing at the moment, neither man or zone is going to work.
With our new efforts at man coverage, I'm going to have to start showing which corner is matched up on the receiver. The Colts come out in their base 4-3 personnel, with Jacob Lacey matched up with Jerome Simpson (yellow), Jerraud Powers on AJ Green (red), and Antoine Bethea and Phillip Wheeler matched up on the TEs - their matchups are irrelevant, because Dalton never stops looking at his receivers. Pat Angerer and Kavell Conner blitz straight up. David Caldwell is in a deep zone playing FS - another indicator that we've moved Antoine Bethea.
Initially, Powers' coverage looks to be very good - he's tight to AJ Green and seems to be rerouting him to a position where he'll have an advantage. Dalton has a good pocket in which he can step up, but if he dawdles, it will collapse under Freeney/Mathis pressure, as well as the pressure up front.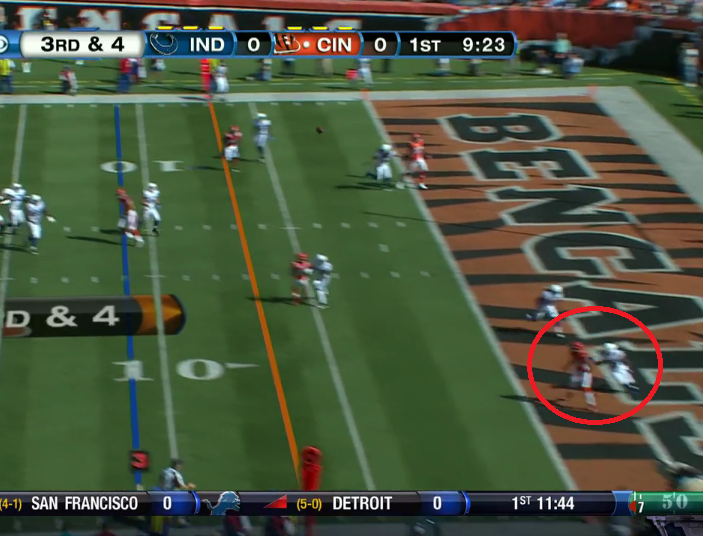 Before Green breaks to the corner, Dalton has already thrown the ball in the general area. At this point, Powers is caught wrong side (and should possibly be playing outside leverage given there's a FS, but i'll give him the benefit of the doubt on this one) and given his disadvantage in height and weight (Green - 6'4, 211; Powers - 5'10, 190), is going to struggle to make a play on the ball.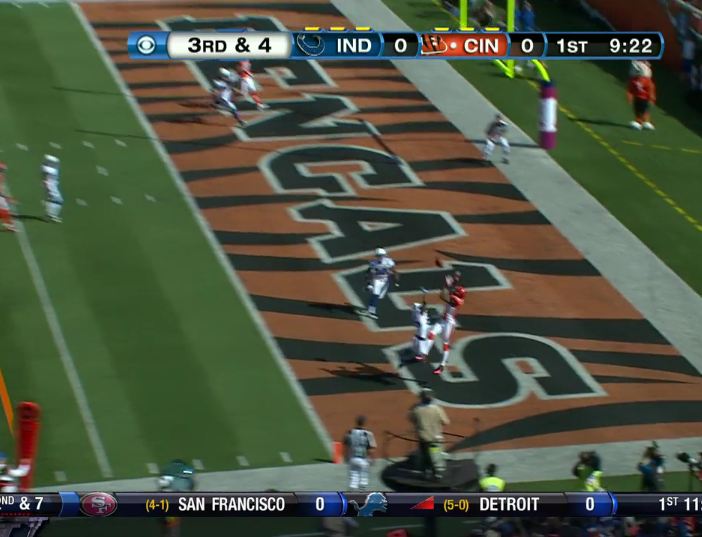 Green displays his supreme ball locating skills, and goes up to make an excellent catch.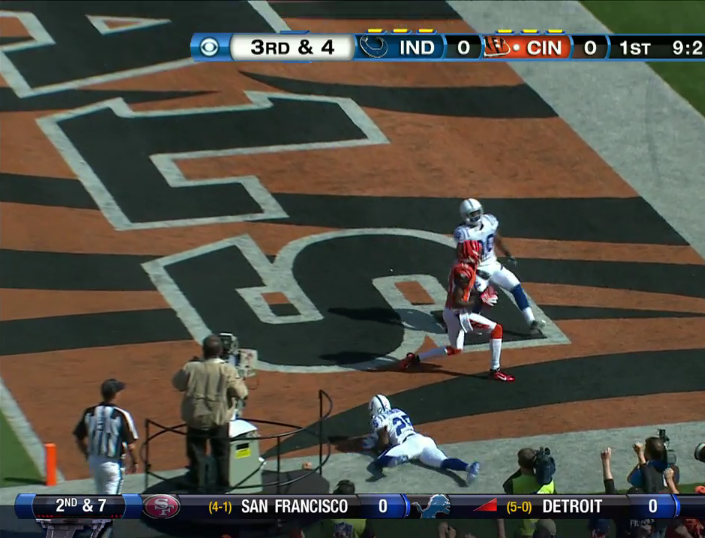 You can see Powers on the floor having been unable to deal with it, but I'm not sure what to make of the play as a whole from a defensive standpoint. He's obviously way overmatched in size and strength, so what can he really do? Green was the premier receiver in college football last year and an absolute playmaker wherever he is on the field. I'm inclined to say nice throw, nice catch, awful matchup.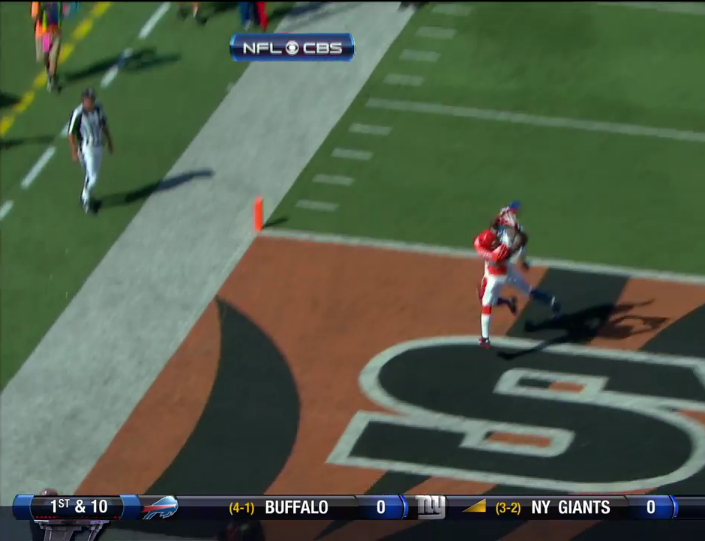 You can see here just how well Green adjusts to the flight of the ball and goes up to make the catch. We need a receiver that can do the same, and there are two coming out in the draft next year - Alshon Jeffery who is of a similar size out of South Carolina, and Justin Blackmon out of Oklahoma State, who is smaller but is frankly ridiculous at adjusting to the ball.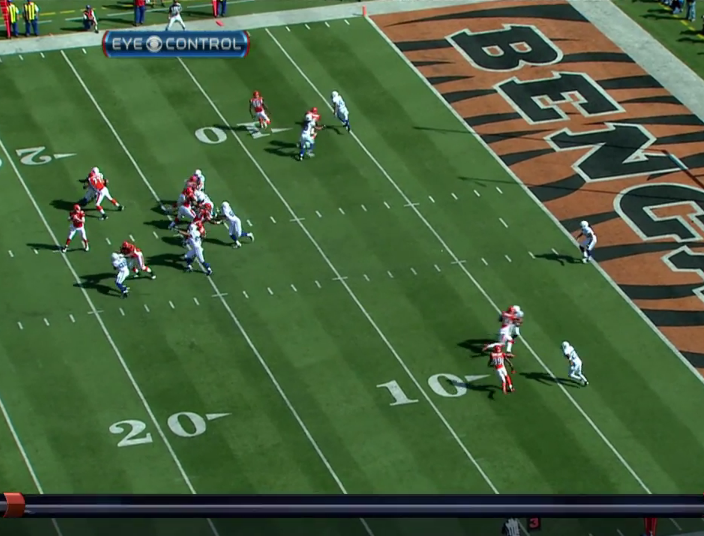 You can see the routes and execution here, the play been designed to remove Lacey from the play by making Green cross his path - and despite the fact that this works and Simpson is open, Dalton still goes with the clear mismatch and hits Green.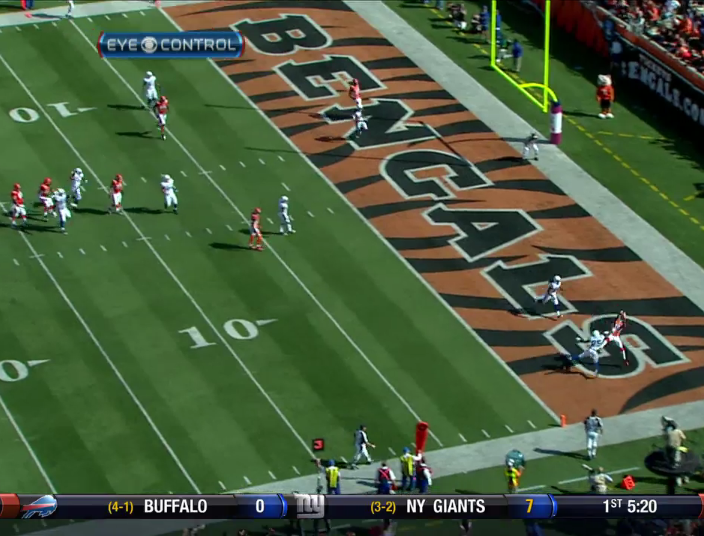 7 points off a turnover, and here we go.
Play #2 - 2nd and 1 from the CIN 17 - 11:22 in the 2nd Quarter - Colts 0 - Bengals 7.
The sad thing is, this play you're about to see equals the Colts longest rush of the year - 18 yards. Isn't to say it's not a nice run, because it is - but we should be doing better than that. Donald Brown, time to shine.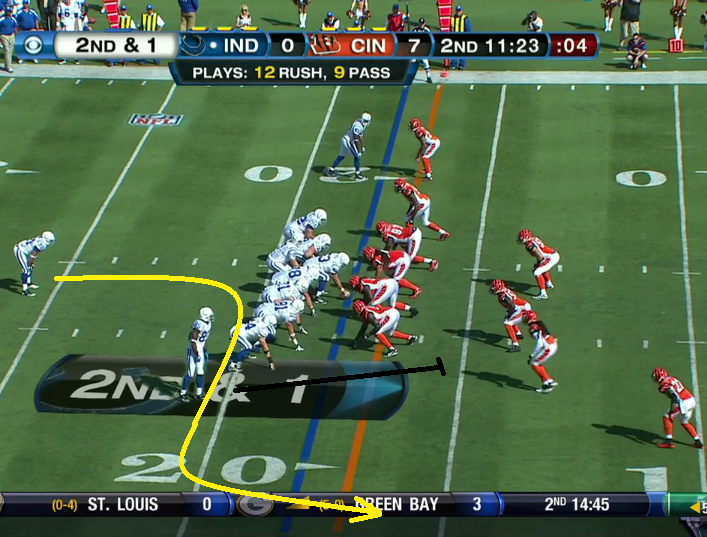 The Colts line up in a 2WR 2TE 1RB set, with Dallas Clark and Brody Eldridge stacked on the right side of the offensive line. Reggie Wayne is out left blocking, while Pierre Garcon is set for the crack block to seal the edge on the right side.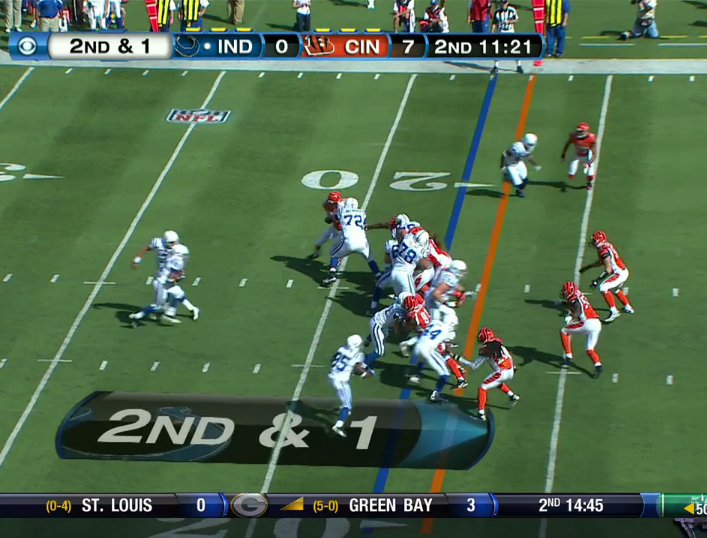 As Brown takes the handoff, the line has done a reasonable job of holding their ground and not giving way. You can see Garcon is on his way to block off Reggie Nelson (he of the dreads and hilarious coverage whilst at the Jags).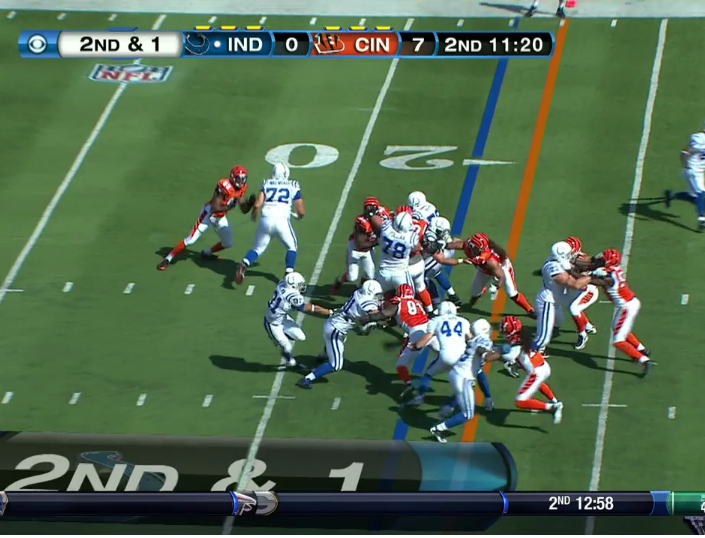 At this point last year, we'd have seen Brown plunging into the back of a guard or tackle and crumple to the floor in the foetal position. As it is, he uses Eldridge as a stabiliser and jukes to the outside where there is daylight.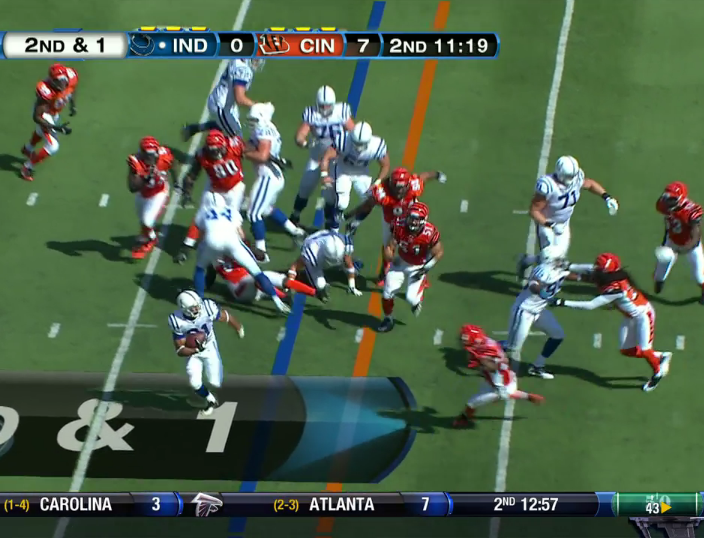 And here is where Donald's job begins. Up to this point it's mainly the O-Line that's put in work, but now he beats Nate Clements to the corner after the latter takes an absolutely horrible angle.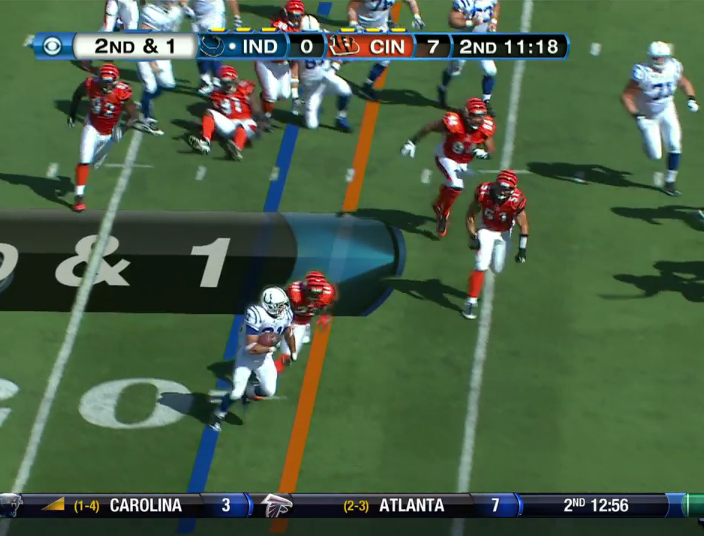 As I said, an absolutely horrible angle. Something we're used to seeing from Melvin Bullitt back there. Brown makes it to the corner and turns on the burners.
Donald takes it in, and we're back level.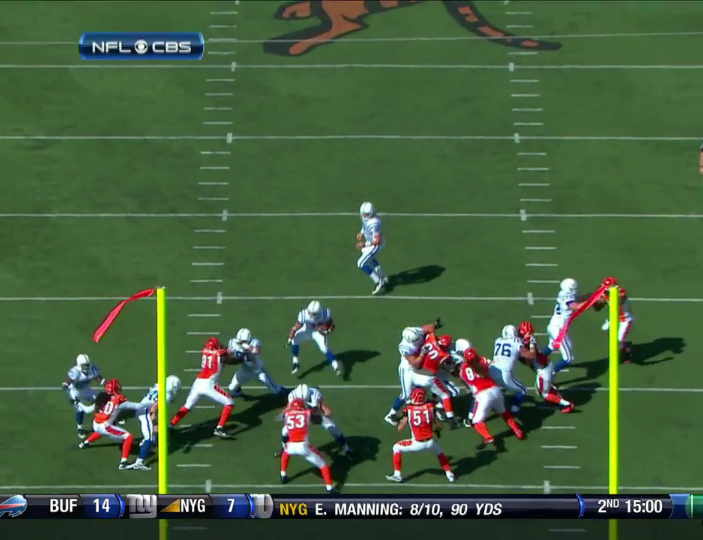 The key part of the play is here - good interior blocking from the line means that Brown has the option to bounce it outside. You can see #51 Dan Skuta (the replacement for Maualuga) unblocked in the centre of the image. Brown initially makes as to run up the middle, where a large gap is waiting.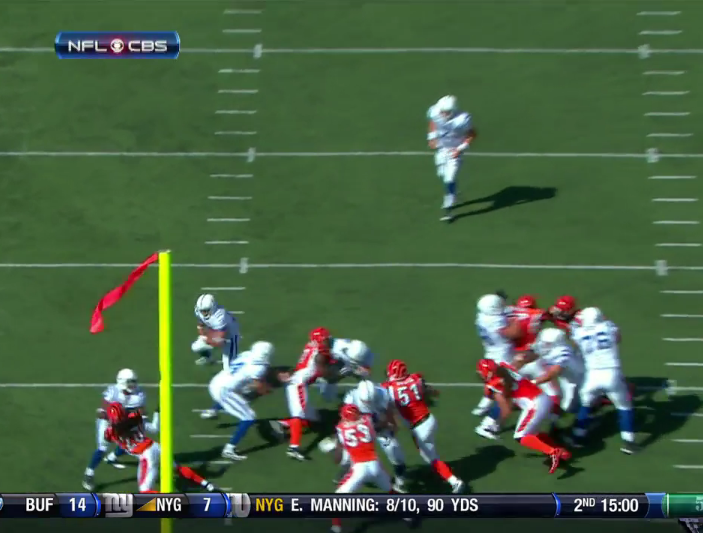 By taking the outside route, he forces Skuta to try to and wade his way through the mass of blocked players, and takes him out of the play.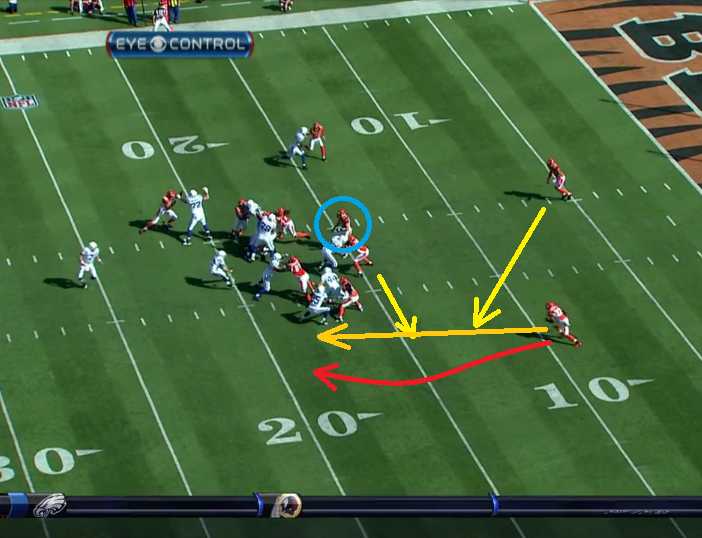 Skuta is circled in blue, whilst I've shown other players who can influence the play with yellow arrows. This is all contingent on Nate Clements taking the right angle (which in my opinion is the red line) - he's the outside contain on any run, and so he has to seal the edge. He instead takes the orange route, and allows Brown to bounce it.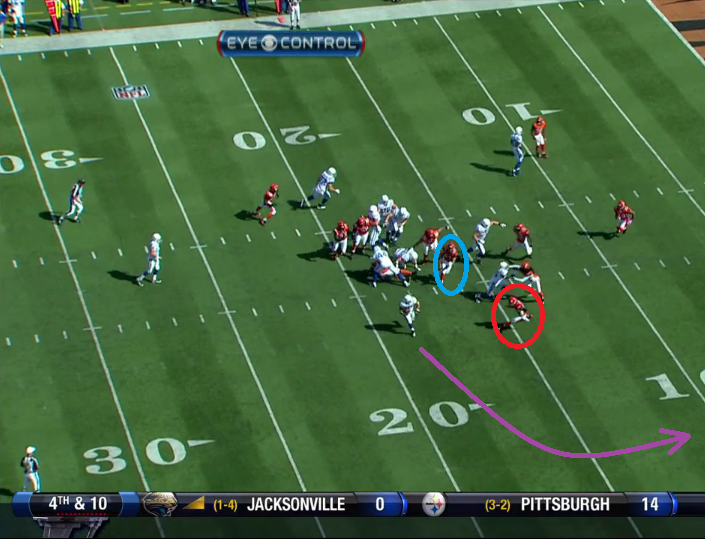 Skuta in blue, Clements in red. Good work from Brown to remove the former, horrible work by the latter.
Play #3 - 3rd and 5 from the IND 11 - 11:12 in the 3rd Quarter - Colts 7 - Bengals 10.
This would be a play that you'd have missed if you didn't catch the game - and I do think that it wasn't examined enough by the commentary team. If this call isn't given to the Bengals, they kick a FG and go up by 6. As it is, they get a fresh set of downs from the 4 yard line, and with their power running game they're obviously well positioned to take advantage of such fortune.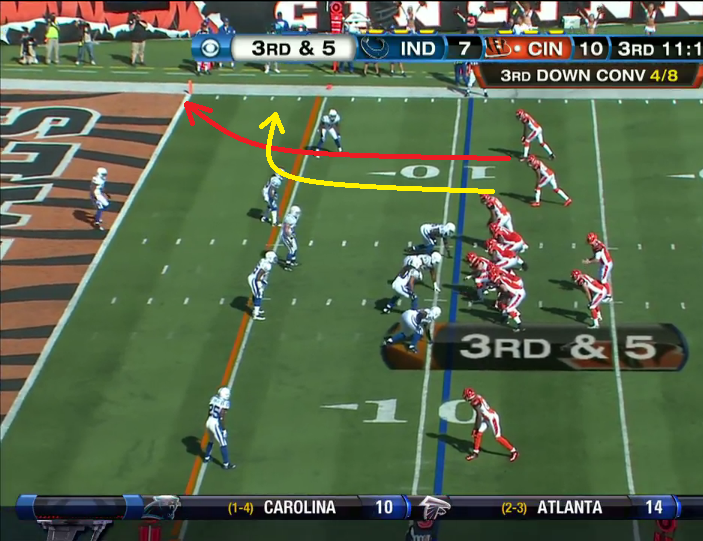 I only really need to highlight two routes here, tops. The only one that matters is the route of AJ Green in red. The Colts are going to drop into their Cover 2 zone in the endzone after being punished in man earlier in the game. I like the fact that we can adjust like that, and it's something that can be taken into next year if we can fine tune it. Green is effectively matched up on Chris Rucker who stands 5 yards off.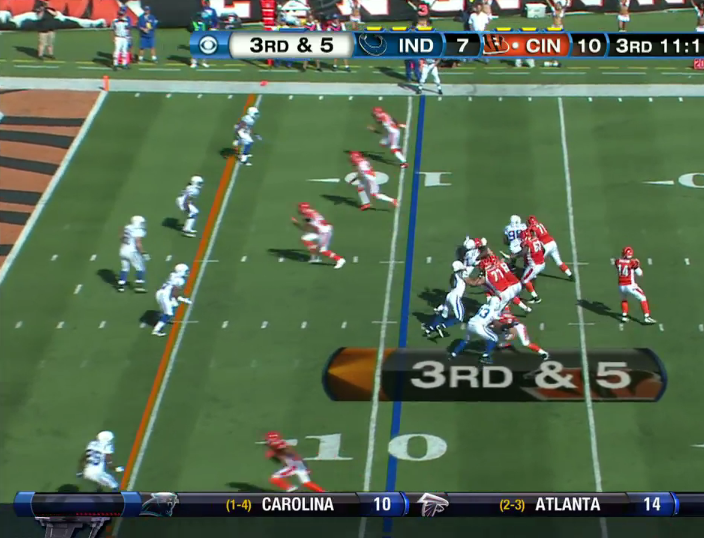 Dalton again stares down his receiver in full knowledge that it's a bad matchup.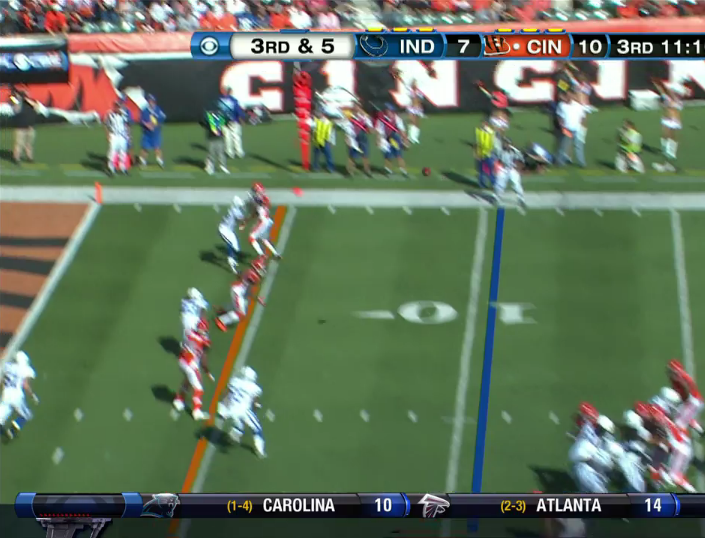 Here is where you can see the contact - the ball has long since been thrown, and it's past the 5 yard line.
However - look at where the ball is. It's absolutely miles away from Green and Rucker, even if there'd been no contact whatsoever. It's an absolute rocket of a throw, and it's off target.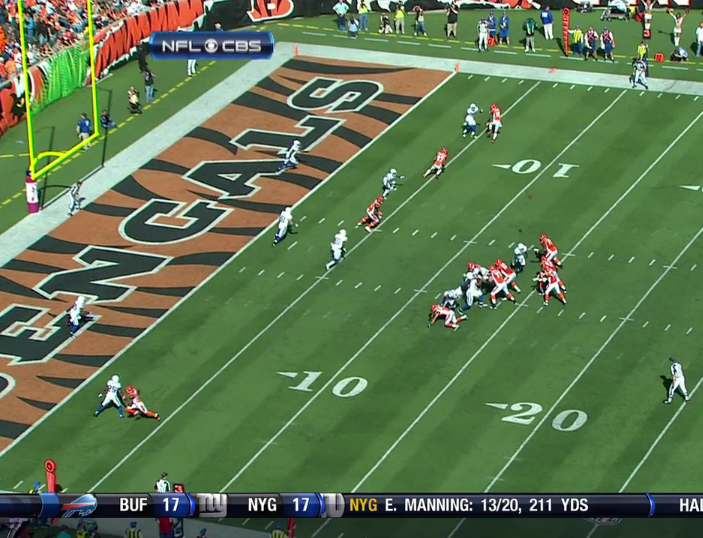 Here is what we can see pre-contact. The ball is already halfway to the receiver. Rucker is in the way of Green, and this is without him making any contact.
Here is where the contact takes place, and the ball is pretty much level with the receiver in terms of distance down the field.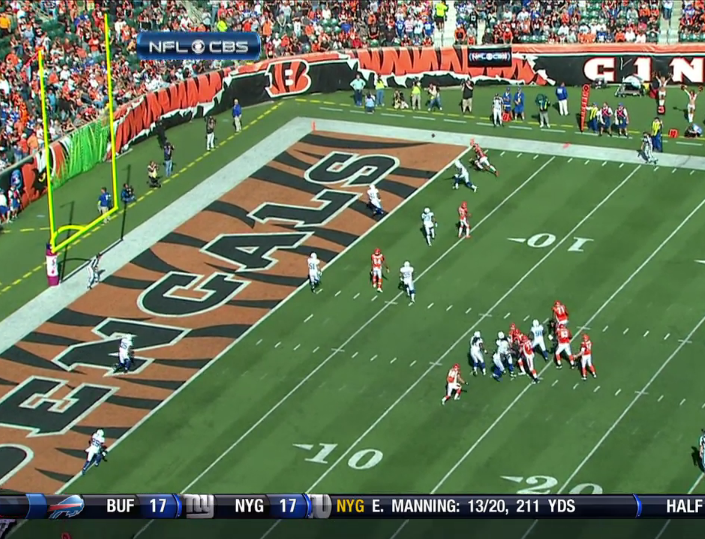 It's hard to convey speed in still images, but to say that the ball is 4 yards away from Green is no exaggeration. Unless Green can move 4 yards in the 0.1 of a second that Rucker's contact cost him on the route, it shouldn't be PI. This is without mentioning the ridiculous catch it would've taken if he were anywhere in the neighbourhood.
Perhaps I've misinterpreted the rules, let's have a look:
Actions that do not constitute pass interference include but are not limited to:

(a) Incidental contact by a defender's hands, arms, or body when both players are competing for the ball, or neither player is looking for the ball. If there is any question whether contact is incidental, the ruling shall be no interference.

(b) Inadvertent tangling of feet when both players are playing the ball or neither player is playing the ball.

(c) Contact that would normally be considered pass interference, but the pass is clearly uncatchable by the involved players.

(d) Laying a hand on a receiver that does not restrict the receiver in an attempt to make a play on the ball.

(e) Contact by a defender who has gained position on a receiver in an attempt to catch the ball.
That's from the NFL rulebook, and it's pretty simple for me. That ball is not catchable, and it should not be a flag. In the event, it turned a 6 point lead into a 10 point lead, and had a significant bearing on the game. Let me know what you think, in any case.
Play #4 - 4th and 10 from the CIN 35 - 5:43 in the 4th Quarter - Colts 17 - Bengals 20.
So, to the blocked field goal. It's a 53 yard attempt into the wind, so can perhaps be considered a long shot. Regardless, we don't even get to see whether it'd be made.
What matters here is Nate Clements coming off the edge - the hold by McAfee isn't ideal, but the way Clements gets through is awful. Quite frankly, I don't know who this guy i've circled in yellow is. His number ends in a 3, but the only guy I can countenance this being is on the line elsewhere - #73, Seth Olson, OG. The only other players ending in 3 on the active roster at the moment are #53 Kavell Conner, #93 Dwight Freeney, #23 Terrence Johnson and #63 Jeff Saturday. By process of fairly simple visual elimination, that means that it may well be Jeff Saturday. If so, I'm absolutely appalled. If we've cut a guy since Sunday that ends in 3, please let me know.
The ball is snapped, and you can see McAfee juggling it a bit. The edge rushers start their attempts. Saturday/phantom player doesn't move an inch.
Patty Mac makes sure the ball is in a reasonable position for the kick attempt, but Clements has far too much penetration to make that a reasonable desire.
Mystery player finally moves, if only to fall over. Clements is at full stretch at this point and succeeds in getting something on the kick.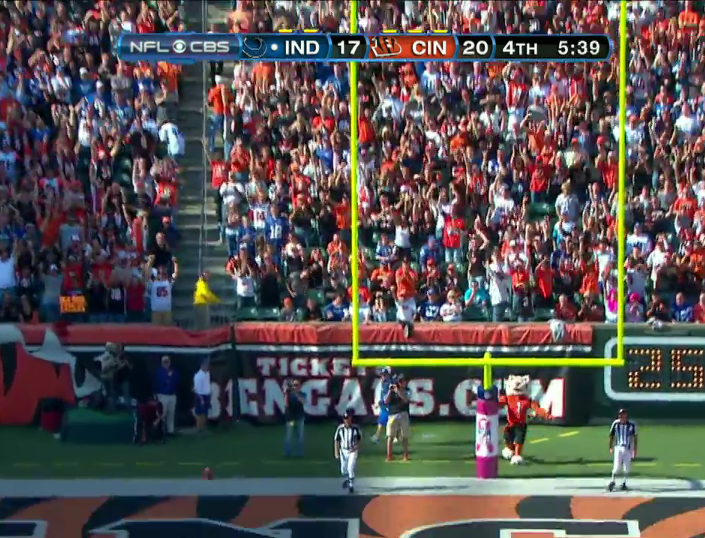 The ball peters out and doesn't even make it into the endzone.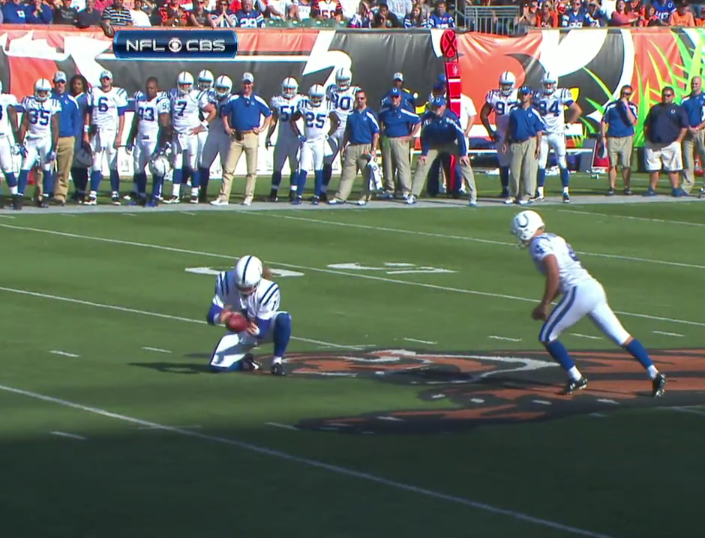 Caption contest, anyone?
Obviously McAfee's delay in putting the ball down may have had an impact, but irrespective of that is Clements penetration around the edge. I'm wary of going on about it too much because I don't know exactly who that guy was, but if it's Jeff Saturday.. Then i'm really, really disappointed.
Play #5 - 1st and 10 from the IND 33 - 2:36 in the 4th Quarter - Colts 17 - Bengals 20.
Well. Well, well, well. I don't know what the hell Pierre was doing, and I'm still at a loss. The Colts have 3 minutes on the clock from their 33 yard line to move the ball down the field for overtime at a minimum. What happened next I'm still not sure about.
The Colts line up in their standard 3WR 1TE 1RB set, with Reggie Wayne and Austin Collie out left, and Dallas Clark and Garcon out right. It's going to be a simple 5 and in route.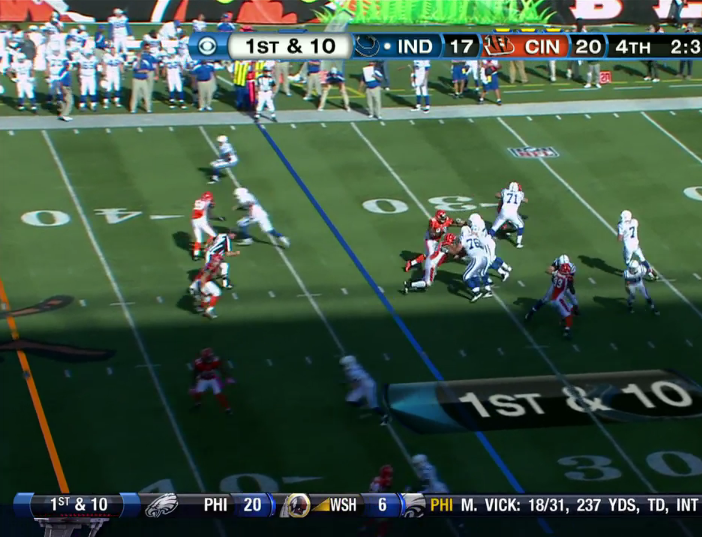 Painter has a ton of time, and Garcon makes his man back off so far as to not be involved in the play immediately.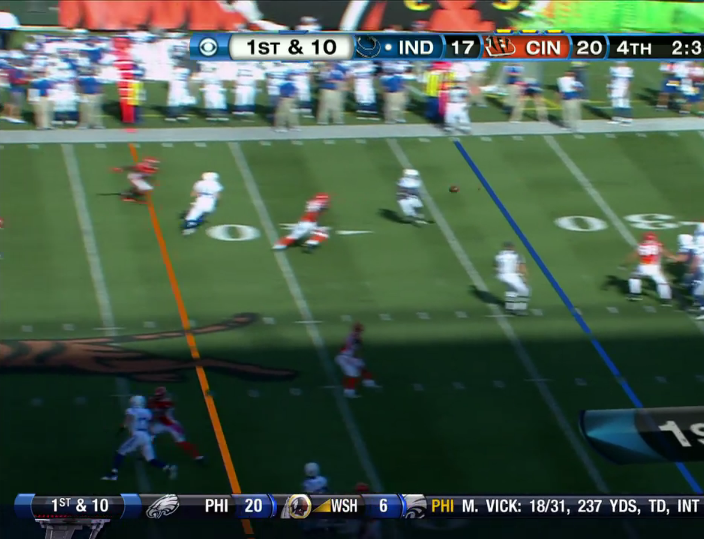 Painter pings the ball out to Garcon and it's right in the bread basket. The ball is taken cleanly.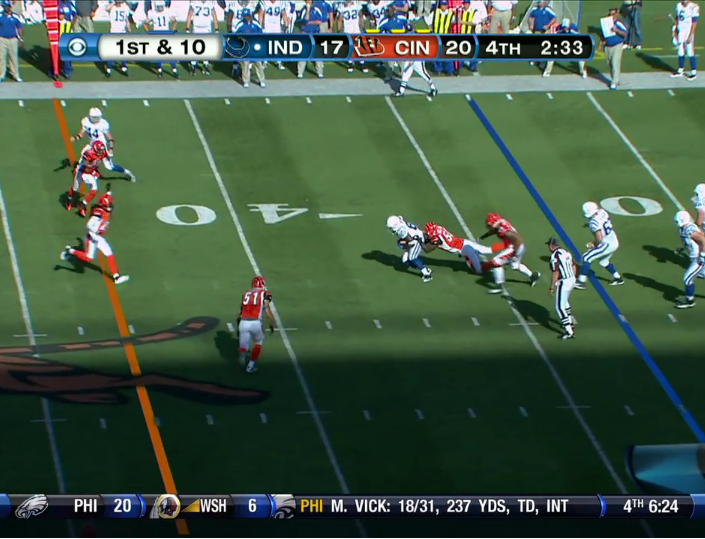 Pierre makes as if to stretch out for extra yardage, though he has Brandon Johnson (#59, LB) hanging off him.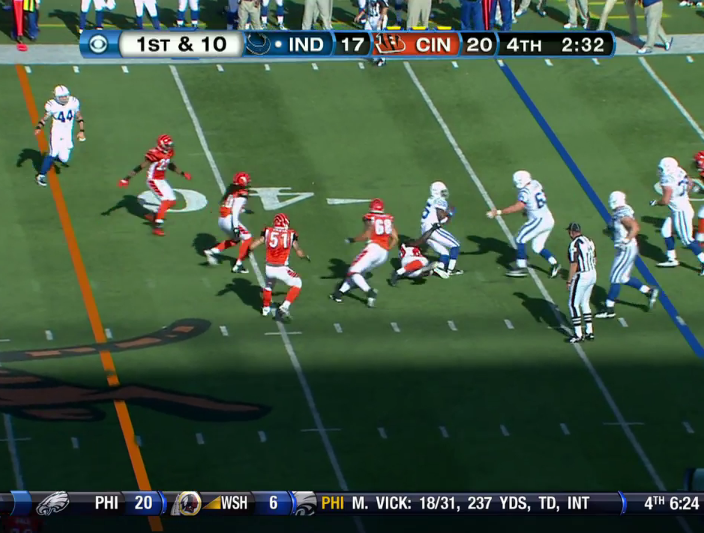 Johnson does a nice job clinging on, and here's where it starts getting confusing. Pierre should be wrapping that ball up like it's his only worldly possession.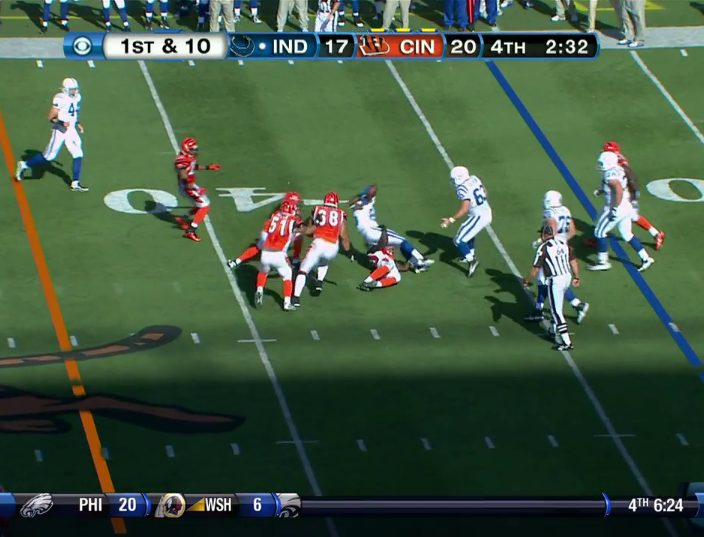 I don't know what he's doing, but instead of wrapping up he holds the ball loosely with one hand and proceeds to get flung to the ground. What do I think happened? I think he saw Saturday and instinctively thought 'LATERAL!' - only for his mind to tell him otherwise.
As it is, this act of lax ball protection means Reggie Nelson of Jaguars infamy can come in and knock the ball out. As you'll see later, it's very very touch and go as to whether Pierre was down.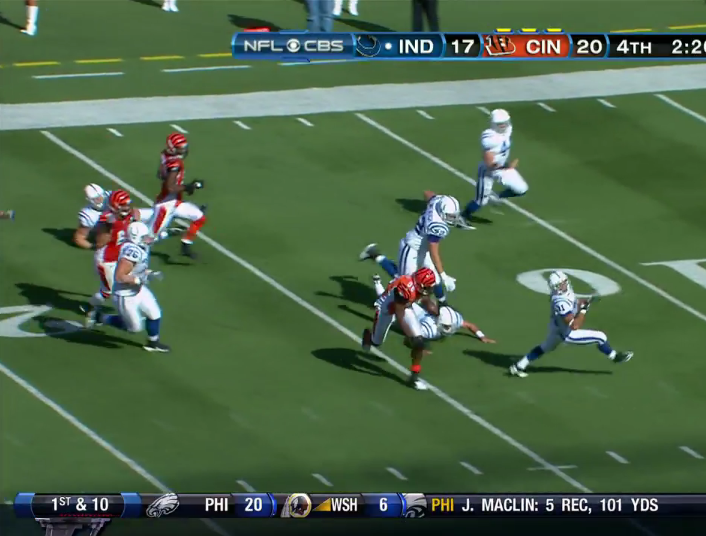 Carlos Dunlap picks the ball up and eludes a couple of guys.. (I kinda put this image up just because Don Brown's contortions amused me)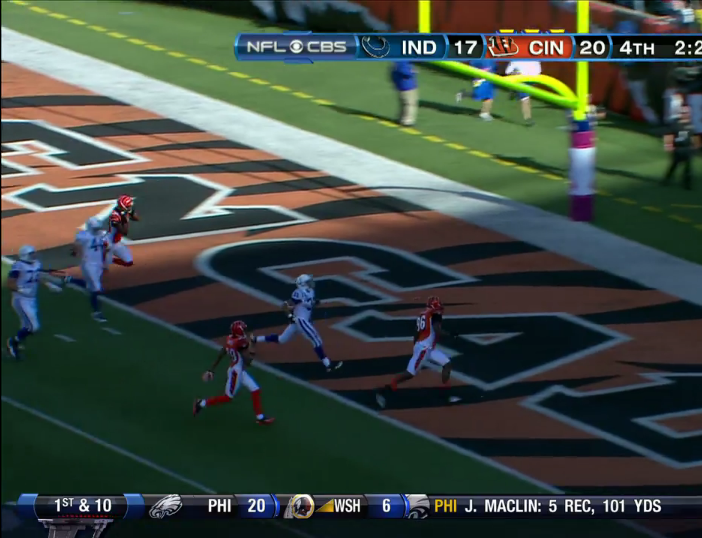 Dunlap coasts into the endzone, and the game is over.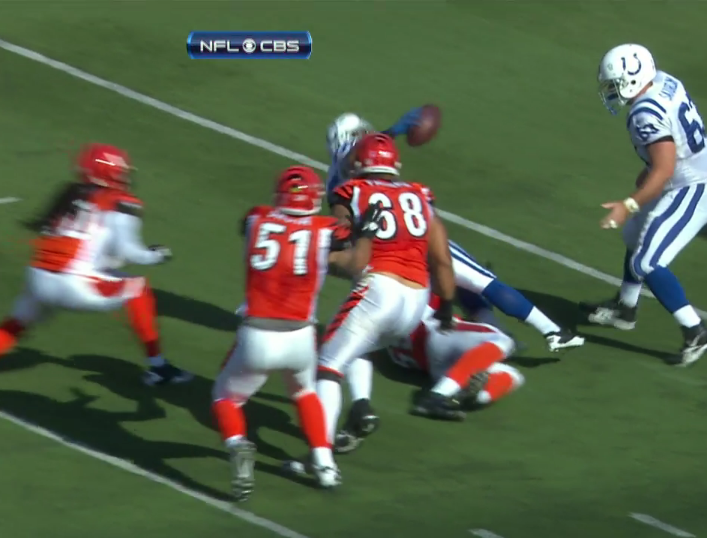 Anyway, to a closer examination of the 'fumble'. As I say, I think he saw Saturday and had the instinctive response to throw it back to him, before his head corrected the action.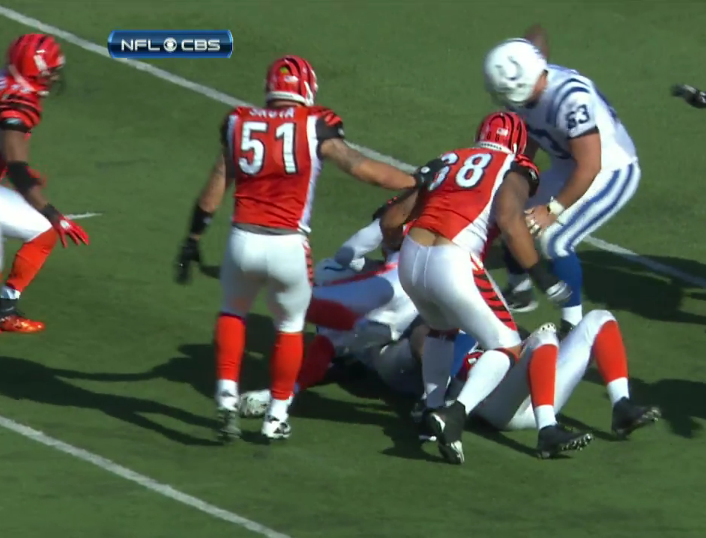 And as I say, Reggie Nelson makes a fairly heads up play, knocking the ball out. The debate as to whether Pierre is down then proceeds via an official review..
Here you can see that the elbow isn't down, and Nelson has started to make his play.
And here the elbow is down, but Nelson's body and hair blocks any possible sight of the ball. Moral of the story - make your players grow dreads. In all seriousness, it's so touch and go that you can't help but go with the ruling on the field, which is a fumble and a touchdown.
Conclusions:
The Colts again fall to a defeat by the slimmest of margins. Despite some solid running and a few nice passes, the offense didn't put up enough points, primarily because of silly mistakes. Two fumbles and a blocked field goal.. that's a lot of points going missing.
On defense, our receivers couldn't match up well enough with the Bengals' WR's - AJ Green was just a beast all day, and Jerome Simpson was matched up on Jacob Lacey. 'Nuff said. We did however see a minor Antoine Bethea renaissance, proving he's back with a return to his sure tackling self. I think Larry Coyer does need a little bit of credit for mixing it up on defense with different looks and coverages - this is the type of experimentation we need to do to truly judge our personnel and also to revamp the D for when we're back in Superbowl contention next year.
Positives:
Run Offense - Donald Brown ran fairly well, and whilst Delone Carter's YPC wasn't amazing, I think he got the yards that were there and a few more. Converted a few first downs.

Pat McAfee - Absolutely booming his kickoffs and punts, as usual. If you discount Matt Prater (which I do, given that he plays at Mile High), McAfee leads the league in touchback percentage on kickoffs. His punting is excellent too, though the coverage still leaves a lot to be desired.
Antoine Bethea - Some crucial open field tackles, proving that last week was a flash in the pan.
Conner and Angerer - Still tackling well.
Negatives:
Ball security - 2 fumbles and an INT at the end of the game. The latter doesn't matter so much, but the former led to 14 points for the Bengals. Need to do better if we're going to win games this year.
Cornerback position - Powers isn't physically built to be a #1 in man coverage, and Lacey isn't fit to see the field.

Coverage Units on ST - Again showed their frailty, struggling to contain Brandon Tate on punt returns.

Free/Math - The Bengals had an excellent scheme to try and negate Freeney and Mathis, and it worked. Screens, 3 step drops and chip blocks on the outside made it difficult for those two to get into the game. Nice work from the Bengals.
It feels like groundhog day, it really does. After these performances, you do have to feel that a win is in the pipeline somewhere, but would anyone be truly surprised if we were to lose in similar fashion all year long? This team just seems to lack a certain something that gets teams over the hump, even in the absence of significant players. I guess we'll see just what we're made of when we play the Saints on Sunday Night. We looked good against the Steelers last time out, but the thought of Brees and those WR's vs our DB's is a very, very worrying one.
As always, rec it if you like it, and comment either way.
Go Colts.