Following on from my first play breakdown of the season a few days back with all the feedback I received (both positive and negative), I've decided to make this a weekly feature. Whilst the preseason doesn't matter so much, it's always interesting to get an insight into the Colts, both schematically and from a player personnel viewpoint.
Some of the feedback I received focused on what people would like me to do for this game, and I took it on board and I've tried to tailor the play analysis to those requests. Particularly the desire to see line play more than I had focused on previously (credit to strandedincarolina).
One thing I will say prior to your reading - the majority of the plays that follow focus on the Colts defense. I justify this by pointing out that there were really no positives for the Colts offense on the night (aside from Delone Carter, who is featured), whilst defensively there were both positives and negatives to hone in on. The Redskins time of possession also amounted to 36:30 as opposed to 23:30 for the Colts, so there's clearly going to be more material for me on the defensive side of the ball.
After the jump, the analysis begins..
Play #1 - 2nd and 8 from the WAS 22 - 14:24 in the 1st Quarter - Colts 0 - Redskins 0.
Much like in the first preseason game against the Rams, the Colts began as they intended to go on. Namely, with a terrible play. This play gives us an insight into the Colts' run defense woes, which is attributable to the entire unit as opposed to isolating a single area of the defense.
As you can see, the Redskins line up in a lopsided 2 WR, 2 TE, 1 RB set. The Colts have deviated from their traditional Cover 2 base to bring a blitz, with Jacob Lacey's blitz attempt highlighted with a green arrow. I've decided to highlight four matchups on the play, three of which aren't immediately visible from the image. The first (highlighted in blue) is the Redskins RG Chris Chester vs Antoine Bethea on a designed second level block. The second (highlighted in dashing pink) is the Redskins G Kory Lichensteiger vs Pat Angerer. The third (highlighted in red) is the Redskins TE Logan Paulsen vs Gary Brackett on a routine TE vs LB block. The fourth (highlighted in yellow) is the Redskins WR Jabar Gaffney vs Kavell Conner.
I've continued to highlight the blocks for clarity, but the one I particularly want to focus on is Kavell Conner against Jabar Gaffney in yellow. According to the listed weights on the respective teams websites, Conner is listed at 242, with Gaffney at 200. Conner is a linebacker, Gaffney is a wide receiver. In my personal opinion, there is absolutely no way Conner should be blocked out of the play by Gaffney, and yet this is what transpires. In any case, as Hightower takes the handoff, the Redskins line has done an exceptional job at pushing the Colts defensive line backward, and Lacey's blitz is rendered pointless by the direction of the run.
As Hightower begins his run, the entire Colts D-line has been blocked out of the play, whilst the three matchups involving linebackers have all been consummated, taking all three of them out of the play. The only other player on our team capable of making a decisive play is Antoine Bethea, soon to be blocked by an offense lineman. Not much chance there
By this point, it's too late. Antonio Johnson (99) is the last player who can possibly have an impact, and he's a second too late to the gap, as Hightower bypasses him. Bethea, Brackett, Conner and Angerer are all blocked. The one unblocked player now able to make an impact should be Melvin Bullitt.
Finally, Melvin appears on the scene, unblocked.
..and instead of perhaps being more cautious and holding off to see Hightower make a decisive cut one way or another, he overpursues terribly and allows Hightower a free run into the open field. Bethea disengages from his block and backs off to play his usual role, namely that of failsafe.
It then becomes a footrace, with Bethea funnelling Hightower toward the sideline.
Bethea finally brings him down at the 20 yard line for a 58 yard run. Overall, a very poor play from the Colts defense. Good play design from Kyle Shanahan and good execution from the Redskins offense, but there's no excuse for a lot of what happened on defense. Conner getting blocked by a man 40lb his inferior, Melvin Bullit's overpursuit and a lack of penetration from the entire defensive line - all major factors in the play.
Play #2 - 2nd and 10 from the WAS 35 - 7:09 in the 3rd Quarter - Colts 3 - Redskins 16.
The significance of the upcoming play is the display of prowess shown by the Colts third round draft pick out of LSU, Drake Nevis. Both in training camp and in the previous preseason game Nevis has shown exceptional burst off the line with good penetration and tackling ability. This play follows in that vein.
Nevis is circled in red, and lines up in between the Center and Guard at the 1-technique position. The Redskins are in a 2 WR 2 RB 1 TE set designed for power running, with (I believe) Keiland Williams at fullback and Roy Helu at halfback.
You can already see Nevis' burst off the line as he makes a beeline for the Center's right shoulder.  The player in question is Erik Cook, a backup 7th round draft pick in 2010. Nevis treats him like a child's toy. The play itself is a draw, as you can see the QB fakes toward the nearside receiver, Leonard Hankerson.
The play was designed to go straight up the middle, but Nevis has very effectively penetrated that part of the line, meaning Helu opts for the cutback to take the route around the opposite side of Nevis.
You can see here how fully committed Nevis is to blocking that gap, and in theory that is what his job description is - disrupt that gap and change the play. However, he does so much more than we're used to..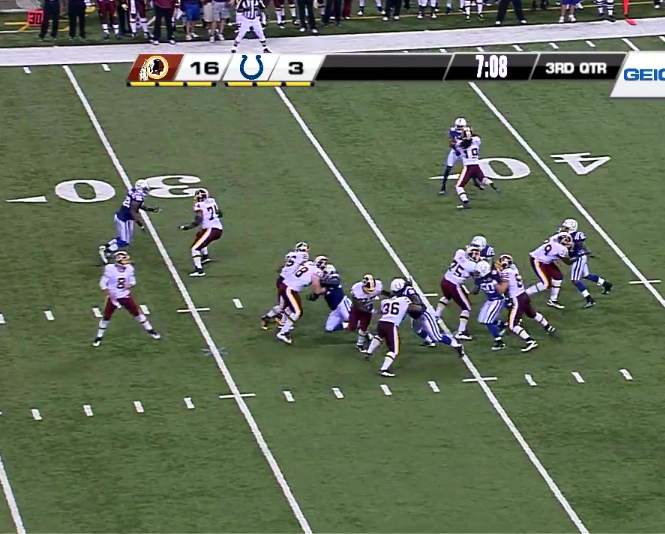 As Helu cuts back, Nevis has the awareness to see it coming, and despite coming from a positional of incredible leverage on the other side of the center, he wrestles Cook out of the way whilst he's on his knees.
He then gets just enough contact with Helu to bring him down by grabbing his ankles, and the plays is destroyed for a loss. Really fantastic stuff. We've got a keeper here.
Play #3 - 3rd and 7 from the WAS 37 - 3:28 in the 3rd Quarter - Colts 3 - Redskins 16.
You know what? That last play from Nevis was so good, I guess we'll have to continue with the young fella. Not only is this play notable for the penetration again showed by Nevis, but everyone's favourite punching bag Jerry Hughes gets in on the sack as well. Let's take a look.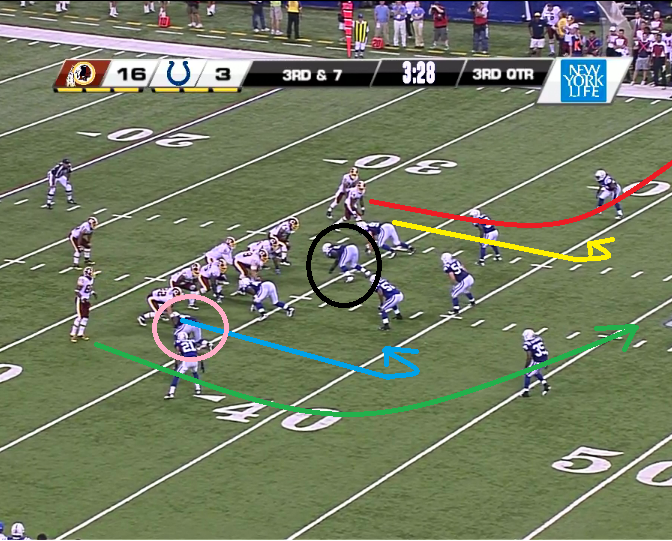 I've circled Jerry Hughes in pink and Drake Nevis in black, and to be thorough, I've drawn the receivers routes on too - not that it matters, given the incredible pressure on the play. Nevis has lined up this time at the 3-technique position in  between tackle and guard, and will compete against the latter (Maurice Hurt) in the play. Jerry Hughes lines up at the 9-technique position on the outside shoulder of the TE, but will compete against the RT Willie Smith (#72) on the play.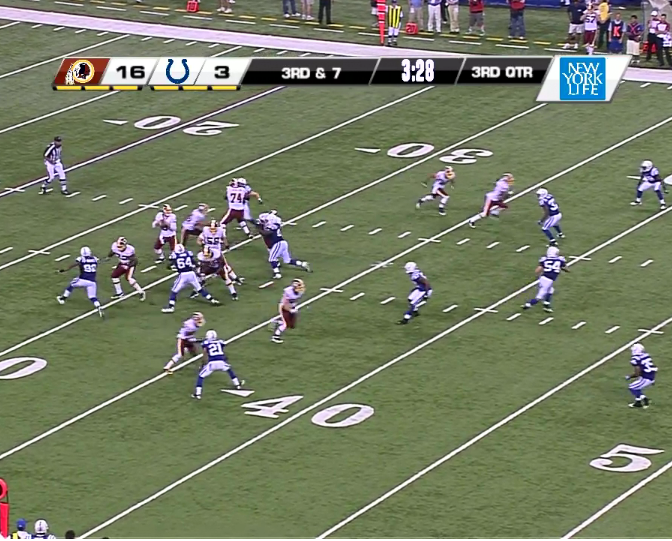 Nevis immediately gets inside leverage and begins his chuck move, whilst Hughes begins his outside rush, much like Robert Mathis from the LE position, using superior speed to get around the tackle.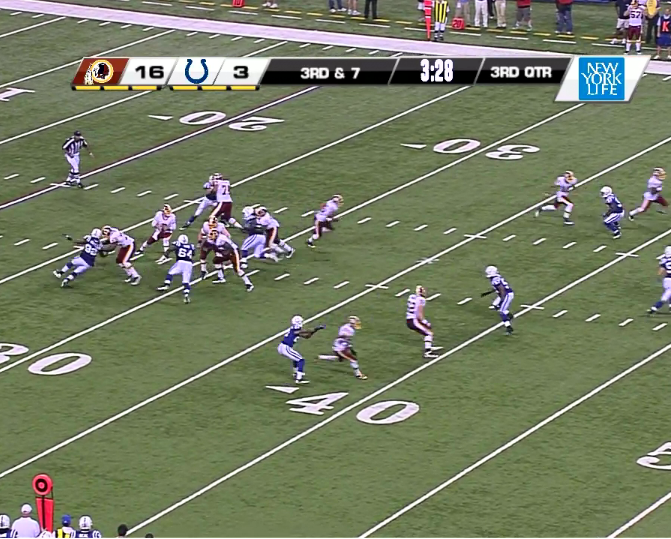 By this point, Rex Grossman knows what's coming. Nevis is bearing down on him having thrown Hurt out of the way, and Hughes is at a ridiculous angle on the speed rush.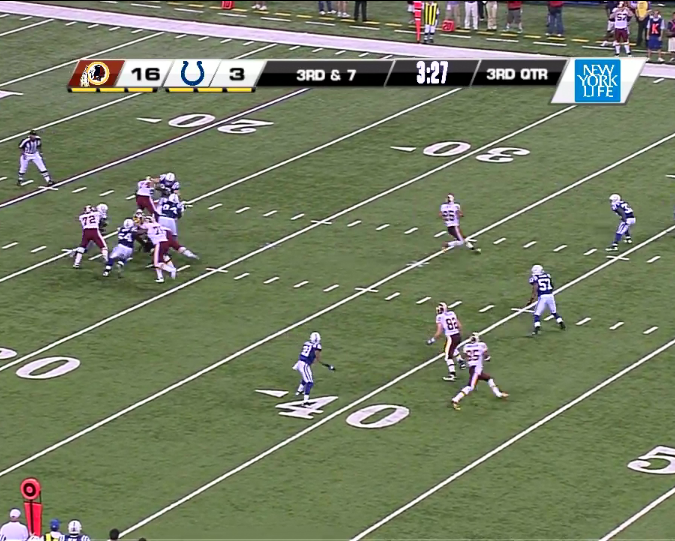 You can't really see Rex Grossman any more, having been swallowed up by Nevis who locks on and doesn't let go. Notice Jerry Hughes' hustle on the play as he makes sure that he finishes the play.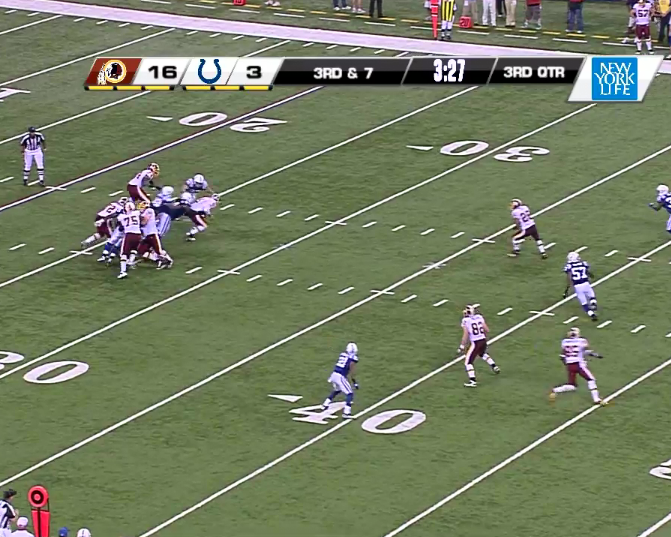 Grossman looks for a nice unoccupied bit of grass to fall onto, and Hughes steals half a sack from Nevis, getting in on the play at the last possible moment.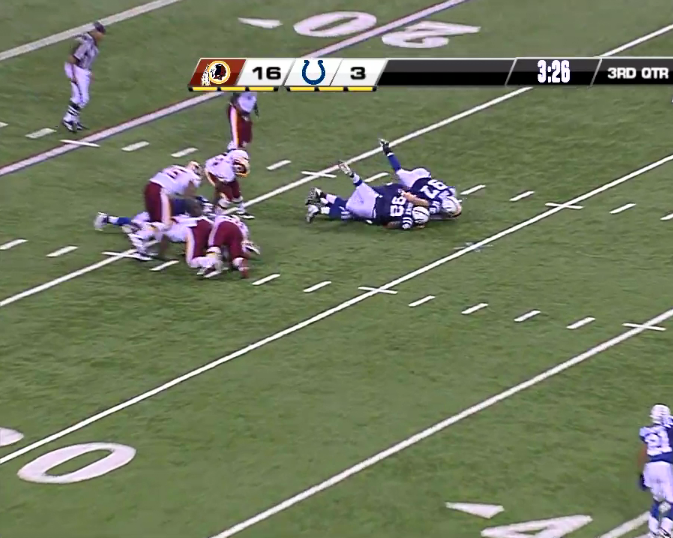 All of that adds up to a tasty Rex Grossman sandwich, and a great moment for the Colts reserve D-line, with John Chick helping out too. The last two plays just show how devastating Nevis can be - and if he can do it on third down as he has here, so much the better. Hughes beat his man as well, though I do feel the main credit should go to Nevis on the play. Having Hughes not get sacks because the DT's get there first? I can take that.
Play #4 - 2nd and 10 from the Colts 28 - 2:47 in the 3rd Quarter - Colts 3 - Redskins 16.
Finally, an offensive play! Much as I would have liked to have done 5 plays of Colts defense, Delone Carter popped up to provide a bright spot on the evening, and I can't keep the man from having his moment. I also love a good stiff arm, and the play happens to feature Ben Ijalana, who I know a lot of you are keen to see. So, let's take a look.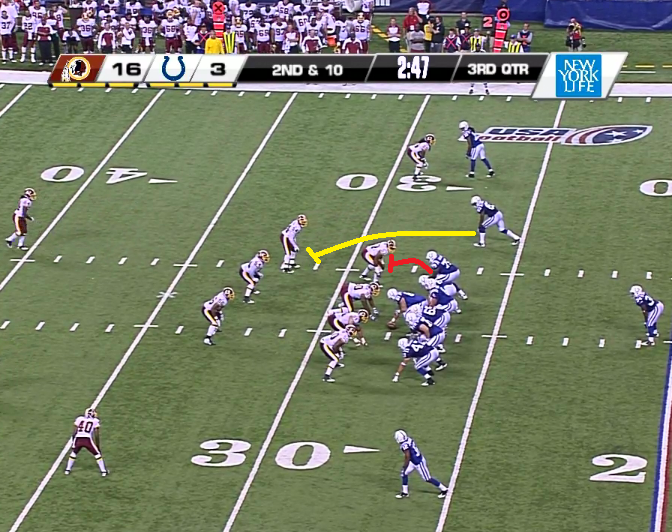 The Colts line up in a 3 WR 1TE 1RB set, with Taj Smith and David Gilreath on the outside, Chris Brooks in the slot, Mike McNeil at TE on the left side of the line and Delone Carter in the backfield. The important blocks to note from this image are from Chris Brooks coming in to make a play on the corner (Byron Westbrook), and from Ijalana who's focused on the outside linebacker Markus White.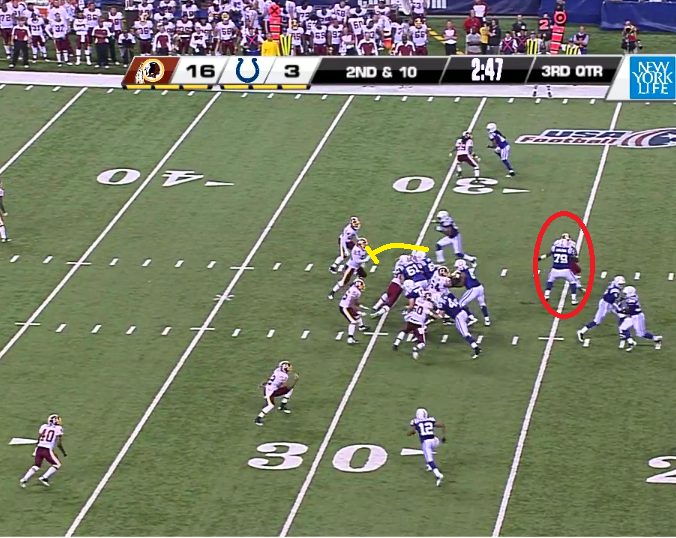 As you can see, Ijalana has engaged his man and Chris Brooks is en-route to do the same. Amidst the carnage in the middle of the line is Kyle DeVan, who will soon slip off his man to make a crucial block which springs the play.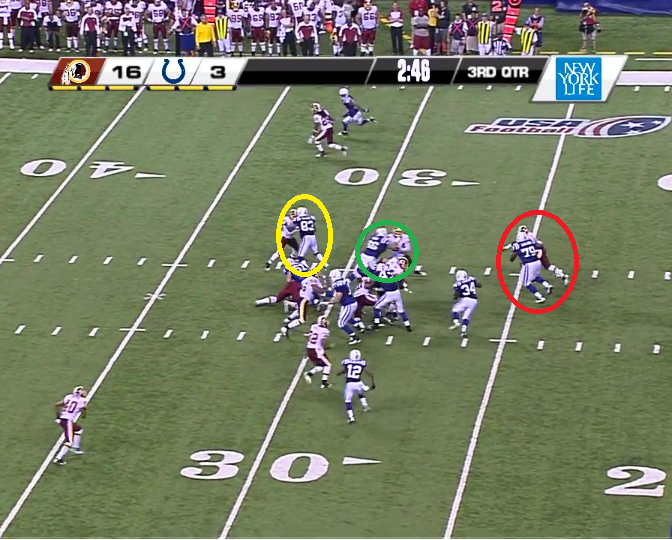 Ijalana is still doing well to keep his man away from the play, and Chris Brooks has locked on. I've circled Kyle DeVan in green and you can see how crucial his intervention is, preventing a free runner from hitting Carter in the backfield. Carter takes great advantage of this block, and will jump up and behind DeVan to continue the run.
Again you can see DeVan's intervention, and you can also see Chris Brooks making a good effort. Ijalana has his man comfortably insulated from the play.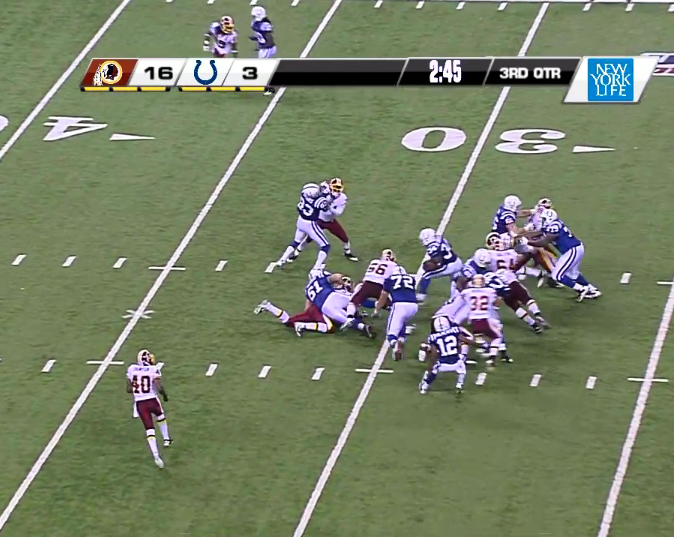 Ijalana decides he's had enough and effectively throws his man to the ground, while Carter makes a fierce cut to take advantage of Brooks' block.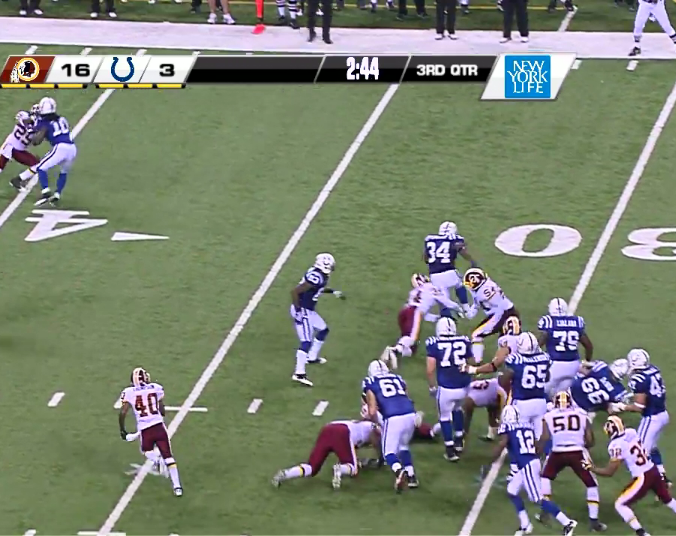 Byron Westbrook eventually sheds Brooks and tries to make a play on Carter, but it's too late. He finds the gap and makes his way across the field, searching for the first down marker.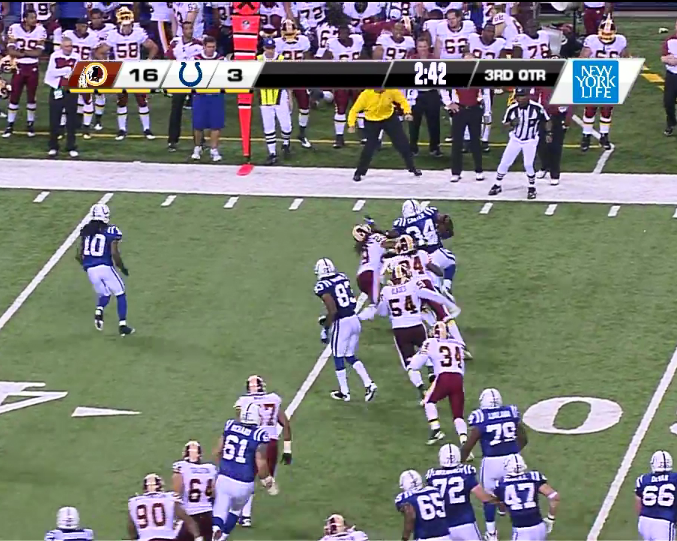 As you can see, Taj Smith's block could be better, and the DB Reggie Jones comes up to make a play on Carter. Unfortunately, given the sheer power of Carter, this doesn't work out too well for him. Note the stiff arm, in a second you'll see the consequence.
Carter delivers a brutal stiff arm and Reggie Jones suddenly doesn't know where he is. DB Dejon Gomes then attempts to take Carter out of bounds prior to reaching the first down marker.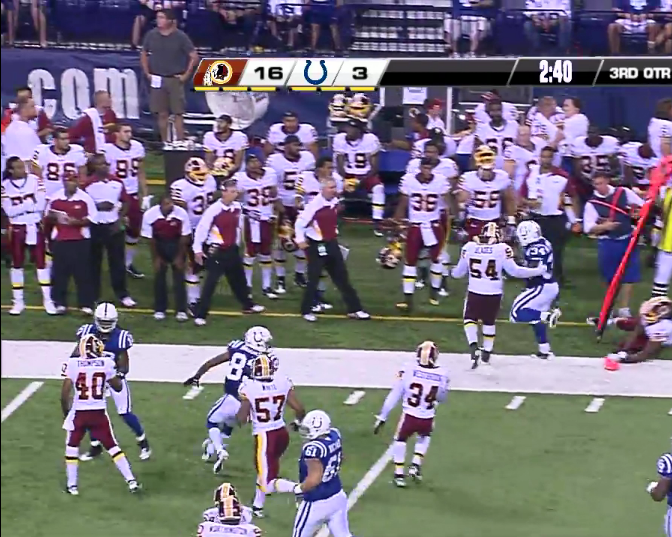 Carter runs through him like he isn't even there and makes the first down with room to spare. There're a lot of frames for this play, but I think it's important to highlight good blocking when I see it. Ijalana did more than enough to take his guy out of the play, Kyle DeVan showed some good instincts in shutting down a potential tackler, and Chris Brooks showed the willingness to block for a running play, the key in getting more than a couple of yards. Good stuff.
Play #5 - 2nd and 10 from the IND 30 - 11:51 in the 4th Quarter - Colts 3 - Redskins 16.
The significance of this play is an interception (From a Colt? My God!) by Adrian Moten deep in Colts territory. Moten made some noise last week against the Rams, a bright spot amidst an ocean of darkness. This week he continued, and this is nothing more than an old fashioned football play, down to instincts and awareness.
Again for reasons of clarity I've decided to illustrate all the routes in their design. Moten is circled in black, and the hitch route run by the TE Derek Schouman (highlighted in pink) is the route you'll want to focus on. The Skins are running a 2 WR 2 TE 1 RB formation, and the Colts are going to drop into one of their regular zone coverages.
As you can see, there's nothing spectacular about the play yet. Good protection from the Redskins gives Grossman time to think, though the deep zones give him pause and he decides he can't throw to a WR. His running back is running a route into the flat, and in my opinion should be the focus of Grossman's attention.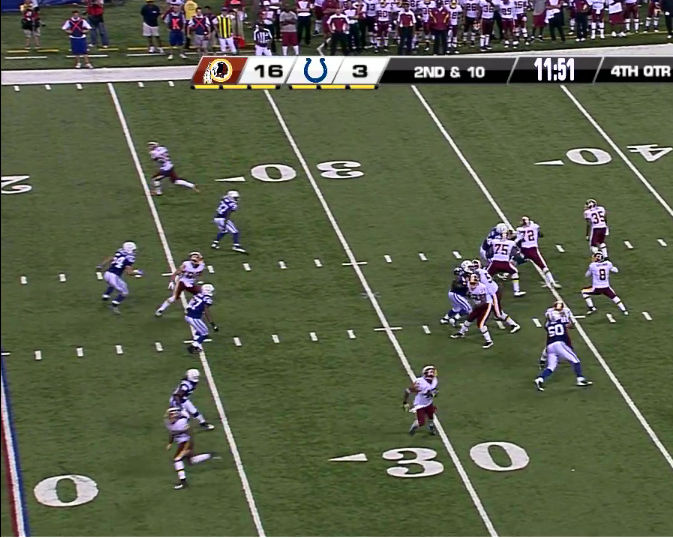 Surrounded by 3 players, Schouman probably shouldn't be receiving this football, and Grossman telegraphs his intentions, giving Moten the second he needs to realise what's going on.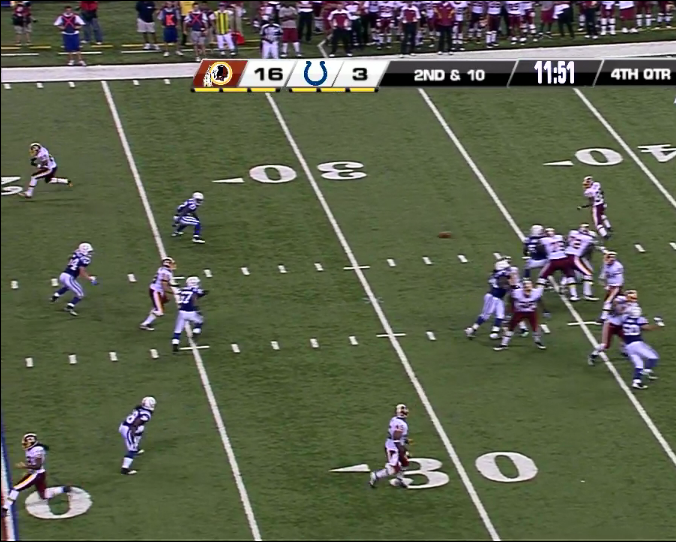 Moten begins to break on the ball, reacting very well to what's in front of him.
He makes a terrific catch right in front of Schouman, displaying exactly what is required from a linebacker in zone coverage, and begins to make a run.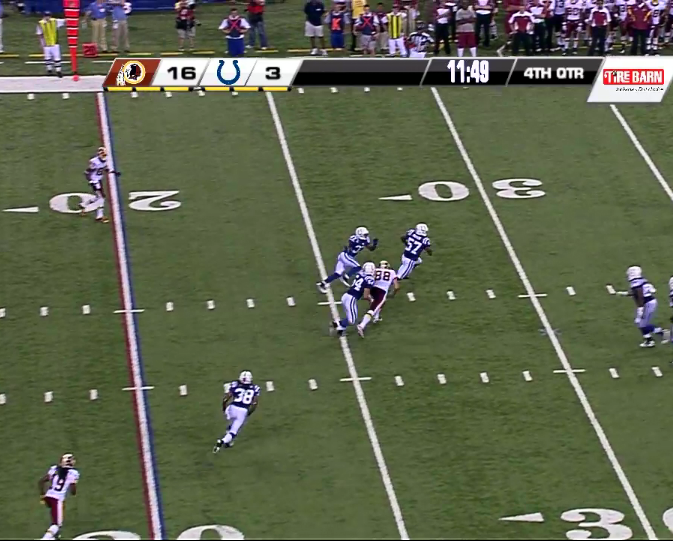 With a bit of open field in front of him, the possibilities are endless.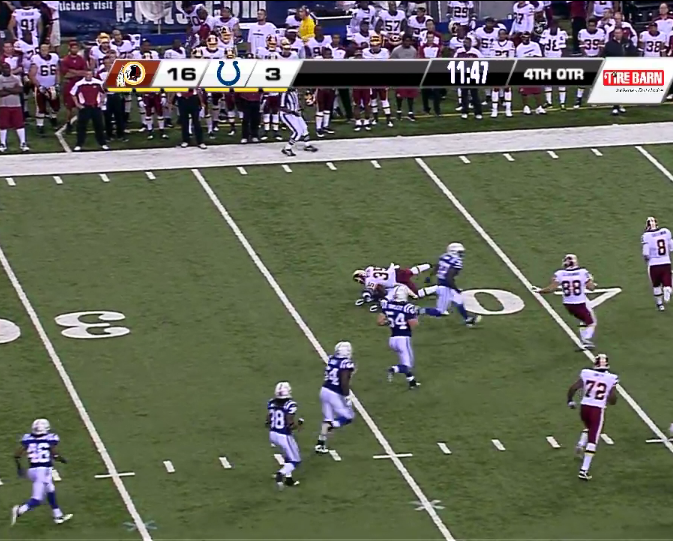 Unfortunately, he trips up and gets squished by Keiland Williams, the running back in the flat. I guess we'll give him the benefit of the doubt, great play.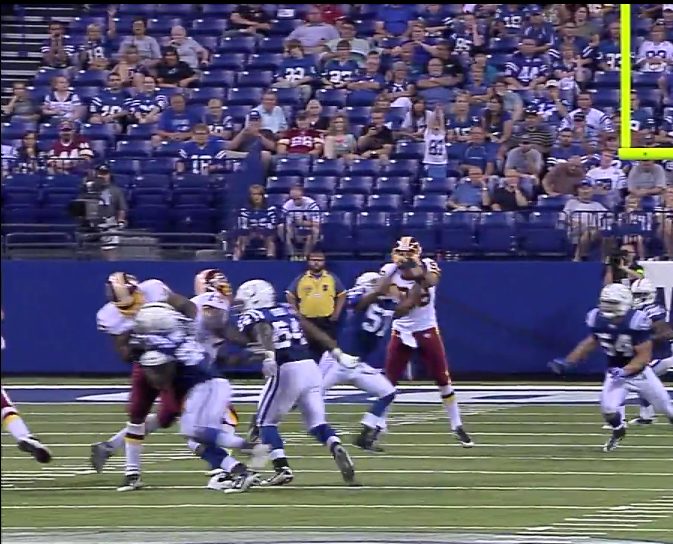 The reverse view gives you an idea how good the catch is, and with that play I think it's fair to say that Adrian Moten has made the roster for this year.
Conclusions:
Ultimately, the Colts fell to another preseason defeat in disappointing fashion. That said, there were more positives in this game than in the last game against the Rams, and I've tried to gear my efforts towards focusing on them. I haven't analysed any of Curtis Painter's plays from this week, though it's clear that he's a bad quarterback, not fit for his purpose in this league. You'll notice how all of the positive plays i've highlighted occurred in the second half - and whilst I don't want to ride the man, I do feel that there was a response on both sides of the ball after he left the game. The team seemed more energised and willing to make plays, though that might just be me projecting my own biases onto what I see.
Negatives:
Painter and the First Team Offense as a whole

First Team Defense as a whole
Taj Smith
Jerraud Powers' lacklustre tackling at times
Melvin Bullitt
Antoine Bethea's injury
Positives:
Special Teams - Vinatieri's 55 yard field goal is encouraging, and Pat McAfee was incredibly good all night long on kickoffs and particularly punts.

Drake Nevis - Made a few plays, and showed that we do have something to be excited about.
Kevin Thomas - Whilst he's not highlighted in any of the plays above, he showed himself to be very competent in coverage and he would appear to be a good tackler when coming up to play the run.
Rookie O-linemen - Castonzo and Ijalana both looked at the very least competent at their positions. I'd incline to say that Ijalana played the better of the two, though seeing as Castonzo was running with the first unit, that's understandable.
Delone Carter - Showed off his power and rugged style, something to look forward to in short yardage.
Adrian Moten - Again showed his football instincts, finding himself more often than not in the right place at the right time to make tackles, with a great interception deep in his own territory.

As always folks, rec it if you like it, and don't hesitate to comment if you have any issues with what i've said, or just wish to give feedback. This stuff takes me hours to do, and I live for the comments and feedback. If you make a request for a certain focus for the next game, it's more than likely that i'll do as you ask, so please don't hesitate.
Go Colts.