Well then. After suggesting last week that a defeat was on the cards, perhaps the result against the Texans shouldn't have been a surprise. Nonetheless, I was stunned by the sheer ineptitude of the overall performance on Sunday, and it's not a promising sign for the rest of the season. It truly felt like a watershed moment, in that the shortcomings of the roster were brutally exposed for all to see. Whether it was poor pass protection (both schematically and in execution), toothless run defense or totally inept special teams work, it felt like all of our problems were condensed into one 60 minute event. Don't expect this to be a particularly positive column this week. It truly doesn't deserve to be. And on that note, we begin..
Play #1 - 2nd and 9 from the HOU 44 - 12:24 in the First Quarter - Colts 0 - Texans 0.
The significance of this play? A shambles in pass protection, primarily down to the ineptitude of Jeff Linkenbach. Right at the start of the game when Collins needed to settle in, Linkenbach makes an absolute mess in decision making and leaves Dallas Clark to block one of the best pass rushers in the league, Mario Williams.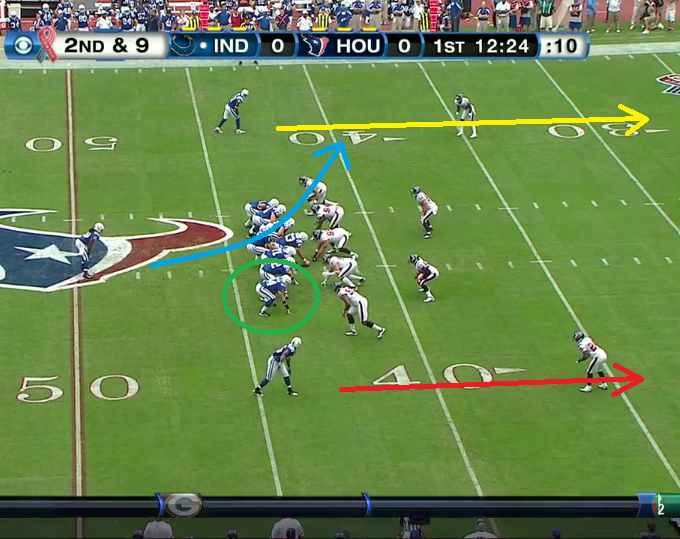 As you can see, the Colts are lined up in a base 2WR, 2TE, 1RB set with Reggie Wayne and Pierre Garcon split out wide in their usual spots. Brody Eldridge is stuck to the left hand side of the line, and Dallas Clark is on the right hand side - both will be in pass protection, on what is effectively a Max Protect PA. I've highlighted Dallas in green.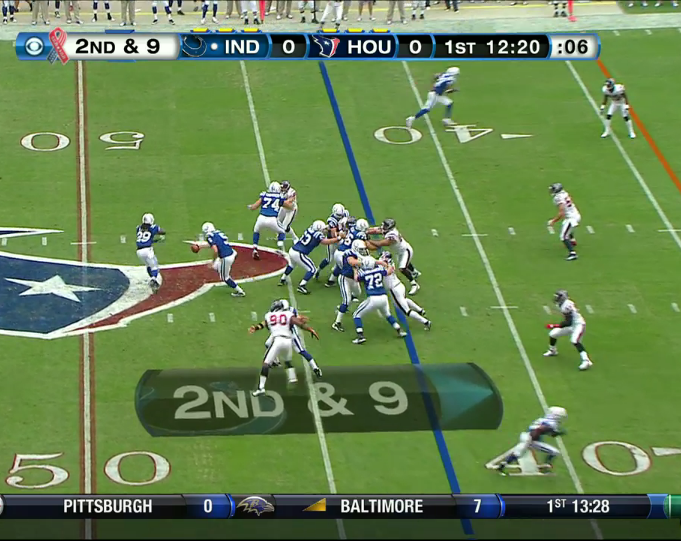 The fake isn't particularly convincing from Collins, but on a Max Protect it's not the most crucial thing in the world. You can see already that Dallas is having major issues having been left on an island, whilst Jeff Linkenbach at RT (#72, clearly visible) decides to join Ryan Diem in blocking inside, which one would have to conclude was the wrong assignment.
And here we can see why I think that this is on Linkenbach as opposed to schematic - Linkenbach has a moment of realisation, and tries to make it back to help Dallas out. Mario Williams is an athletic freak, and there is simply no way that someone as statuesque as Linkenbach is going to get there in time. The situation is truly lost. Also evident on the play is the difference between Peyton Manning and Kerry Collins - the blocking up front isn't actually bad, though they are admittedly dealing with 2 rushers. There is an intact pocket to step up into, but Collins' pocket awareness is poor to say the least. He stays back and as a result is forced to take the consequences.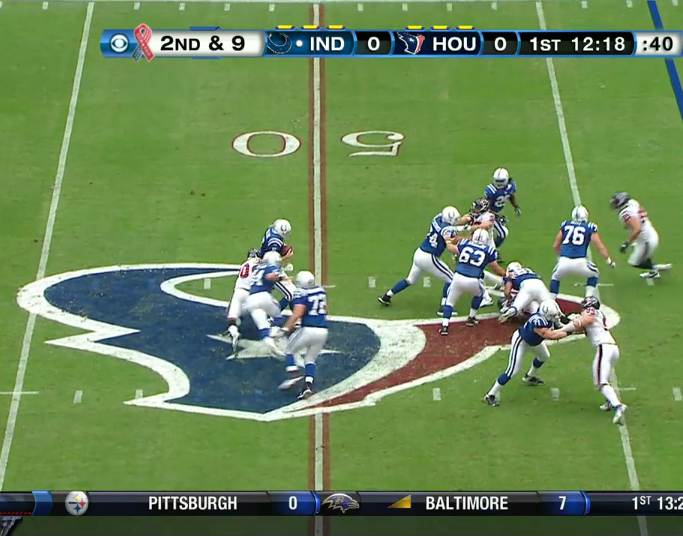 ..And the primary consequence is taking an absoluting mauling at the hands of a 290lb monster. It's poor all round.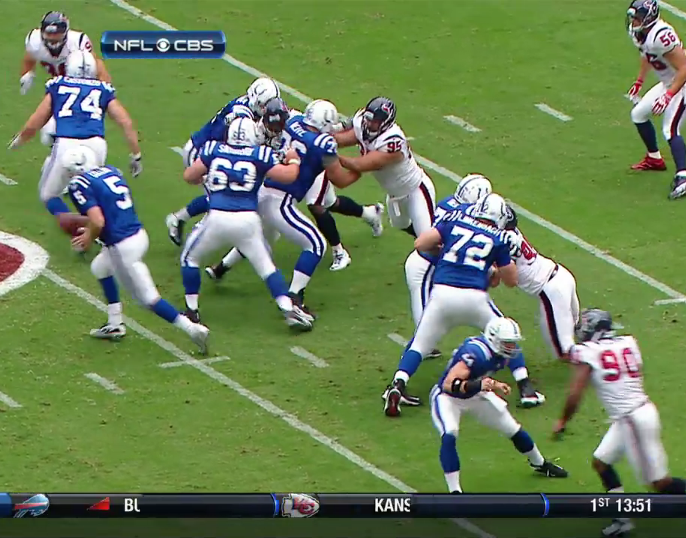 You can see Anthony Castonzo out on an island as well, against Conor Barwin. He does his job admirably, and holds up like we hoped he'd be able to. With Linkenbach however, there seems to be a fundamental lack of awareness as to the situation. Even if schematically he has been told to block inside with Diem (And if this is the case, then it displays a horrifying lack of knowledge and aptitude from the O-Line coaches and the Offensive Coordinator, so much so that I can't believe it's the case), he should be aware that Mario Williams is singled up on Dallas Clark, which is not an acceptable scenario.
Since i've started doing these analysis pieces I have however noticed one thing. When a play breaks down for one reason or another, the reaction of the players involved usually tell the story. Linkenbach's moment of realisation clearly indicates to me that this was a major lapse in concentration and an error of judgement. Not a good start, though at least they started as they meant to carry on.
Play #2 - 1st and 10 from the IND 18 - 4:21 in the First Quarter - Colts 0 - Texans 3.
The focus this week is on sub par protection and poor QB play, so why not include the turning point of the game. We were always going to be fighting an uphill battle, but this I feel is the moment that can be pinpointed when wondering where the game specifically got away.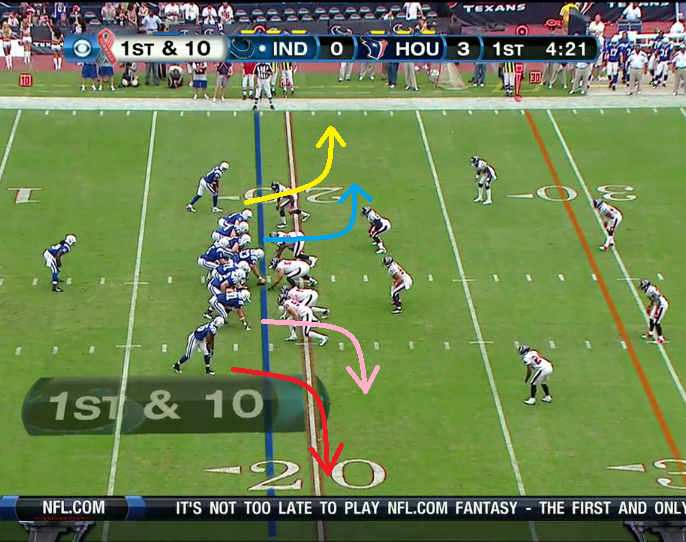 The Colts line up in their base 2WR 2TE 1RB set with everyone occupying their usual positions - Pierre Garcon out right, Reggie Wayne out left, with Brody Eldridge and Dallas Clark on the line and Joseph Addai in the backfield. As you can see, it's a fairly simple set of routes for Kerry to process, and by the execution of the play it's evident that it is supposed to be a three step drop for the quick out, designed to go to Garcon, running the red route.
As you can see, he's looking to Garcon from the moment the ball has been snapped, and he takes his three step drop and anticipates making the throw. You can see already the issues that Joe Reitz the LG is having in protection - he's been absolutely bulldozed by #94, Antonio Smith. Jeff Saturday doesn't hold up particularly well here either, which you'll notice in a minute.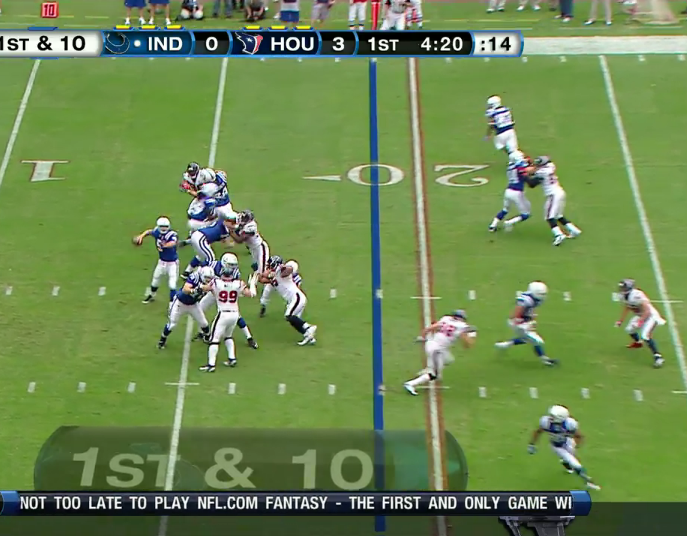 As I was saying, the protection is clearly breaking down at this point. Reitz has been pushed back several yards, and Jeff Saturday (a bit obscured in the image) has been twisted this way and that. Just out of the picture on Garcon's route is the cornerback, but you can see from the grass in between that this is a makeable throw. Failing that, if Kerry hadn't been staring down Garcon, look at the space that Reggie Wayne has around him. You can see Kerry in the pump motion, but he unfortunately doesn't throw it.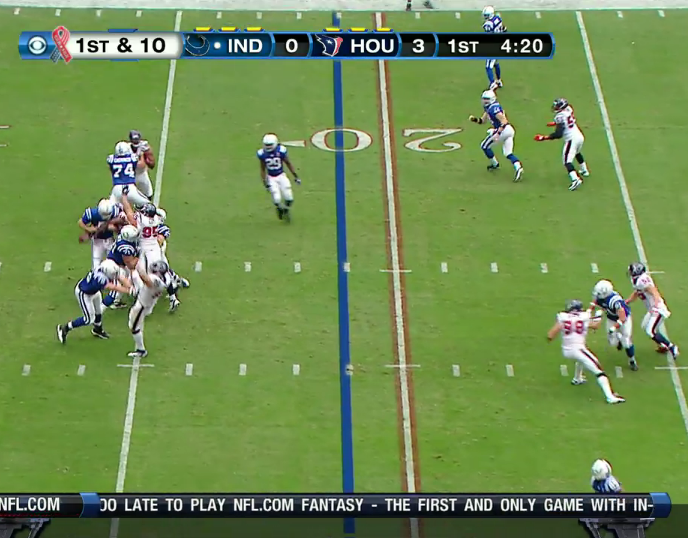 As a result, the protection crumbles further and the poor play by Reitz allows Antonio Smith to get a hit on the ball, causing Kerry to fumble. Shaun Cody is in on the play as well having beaten Jeff Saturday, and it's evident that Ryan Diem at RG is also struggling. Linkenbach gets pushed back as well, but of note is the exemplary protection displayed by Anthony Castonzo, who's matched up one on one with Mario Williams at LT.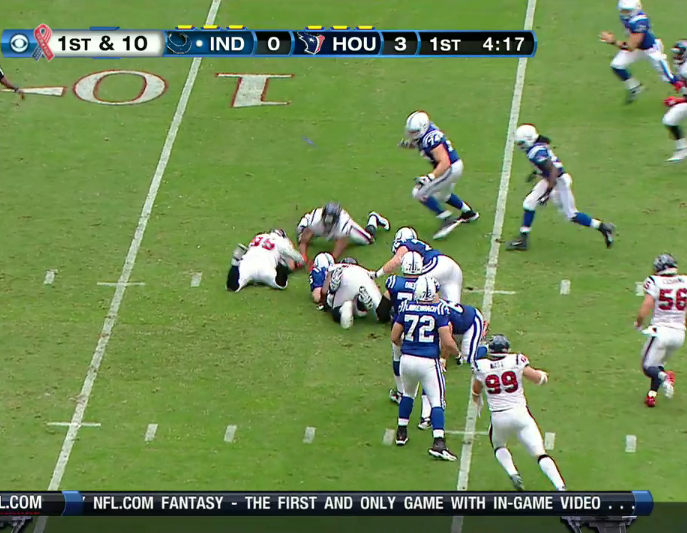 The Texans fall on the ball and recover, with great field position which they easily take advantage of.
Here you can see the quandary for Collins - Linkenbach's protection isn't enough to distract the rookie DE JJ.Watt, and his awareness leads him to jump up in an attempt to sabotage the pass. Evidently, it was enough to prevent Collins making the attempt, and instead he holds onto the ball, despite the fact that pass protection is rarely going to hold up on a 3 step drop.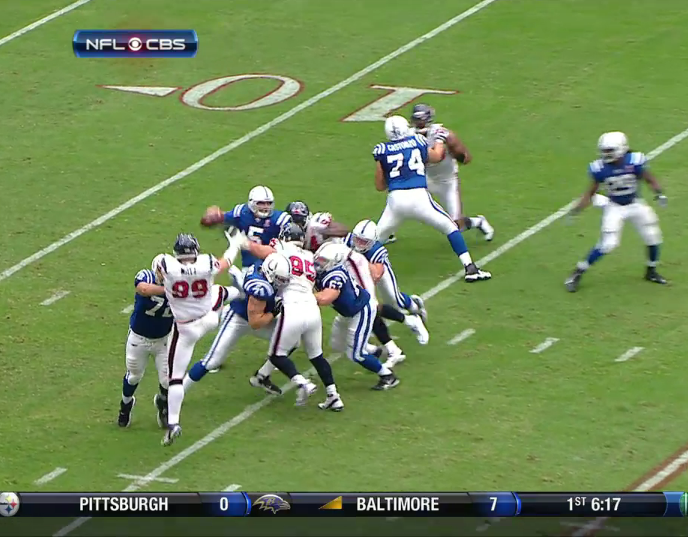 So, Reitz gets tossed around like a child's toy and Saturday is beaten fairly easily. Again, I'd like to point out the fantastic work of Castonzo at LT. I had real concerns about him in this game given his performance against Michael Johnson and the Bengals, but I really do feel that he was one of the lone bright spots for us in this game.
Play #3 - 4th and 10 from the IND 33 - 1:13 in the 2nd Quarter - Colts 0 - Texans 27.
Time to shift focus to our appalling special teams unit. In that, I do not include Pat McAfee. On another team with good ST coaching and players worthy of the field, I think he'd be acknowledged as one of the best punters in the league. As it is, he looks awful. Excuse all the images for this one play, but I do think that the poor quality of our ST gunners needs to be thoroughly highlighted.
The two primary gunners are circled, with the formation fairly routine. The yellow matchup is Terrence Johnson vs Jason Allen, whilst the black matchup is Joe Lefeged vs Brice McCain. Additional coverage will be provided from individuals within the blocking unit. Very routine.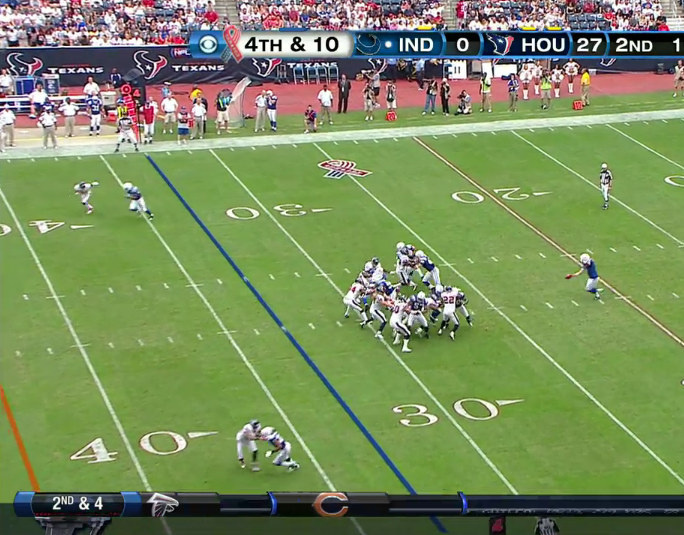 The blocking for the punt is fine, and Patty Mac has a lot of room to work with, without feeling any pressure. Lefeged seems to have a decent jump against McCain, whilst Johnson is blocked off by Jason Allen.
Lefeged evidently doesn't have the speed to really burn McCain, and Allen is mirroring Johnson nicely. The additional coverage units break nicely from the block formation.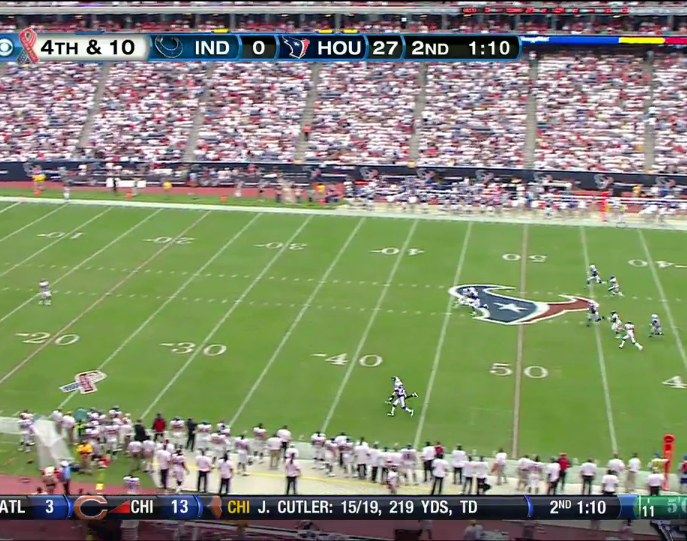 ..And the lack of speed and block shedding ability really comes to the fore. The Texans have no problem whatsoever in preventing the gunners from getting a clear run.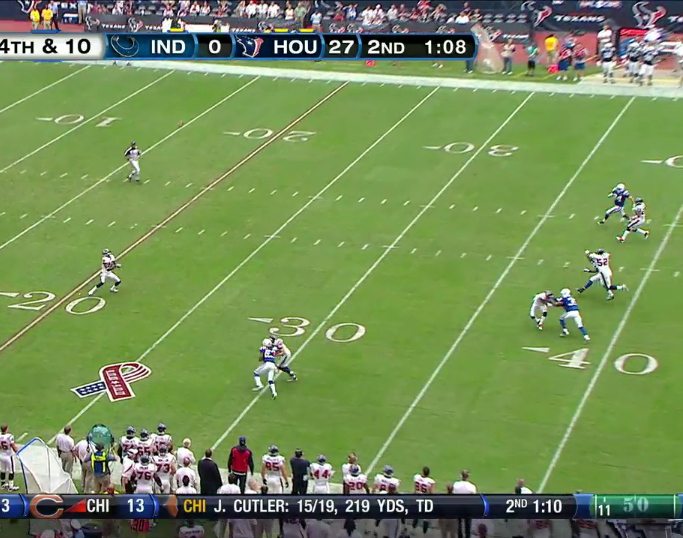 At this point, McCain totally takes Lefeged out of the play and shoves him viciously over to the other side of the field, where he becomes the closest man to Johnson and Jason Allen. That block is still working well. You can see as the ball comes down the massive amount of space to Jacoby Jones' left, which is where Lefeged was supposed to occupy.
Jones takes the ball, and a path clearly opens up thanks to some good blocking from the Texans ST unit. Special props to Glover Quin Jr (#29) and his great block of Jacob Tamme immediately to the left of Jones. You can see where this is going.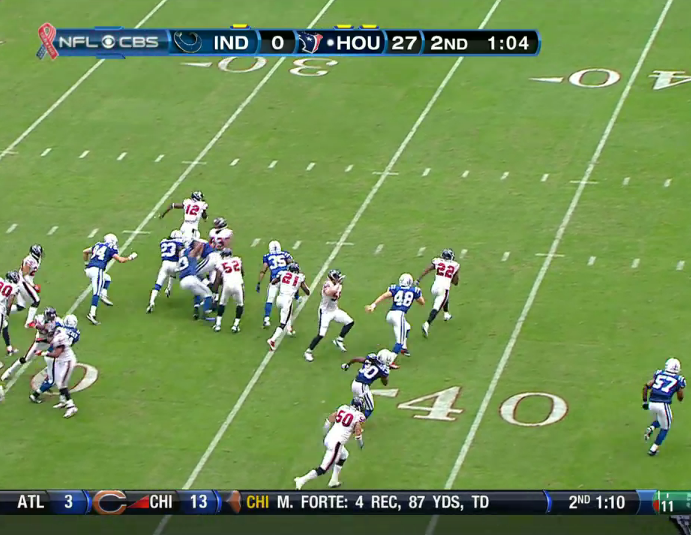 At this point, it becomes a footrace to close the angle. Knowing the Colts roster, you should know that this simply isn't a battle they will win.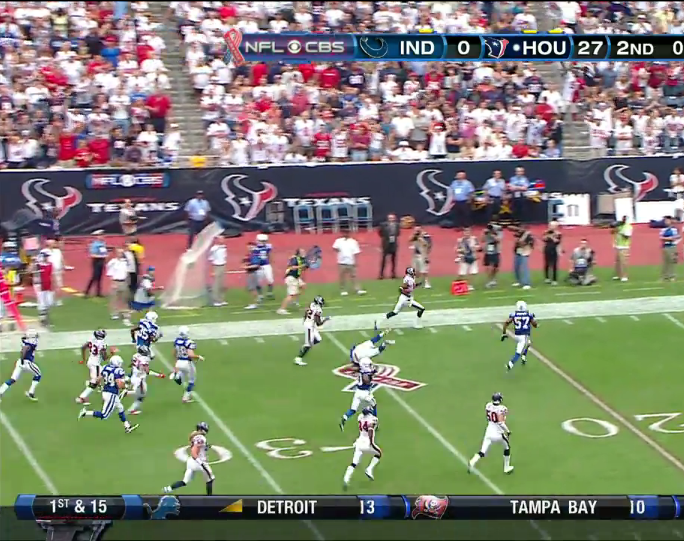 Fast forward about 40 yards, and it becomes a race to the corner. Adrian Moten (#57) is the last man back, and to be quite honest, I do feel that he should be pushing Jones out of bounds, regardless of whether he's very quick. He did some excellent work in preseason, but I can't disguise the truth.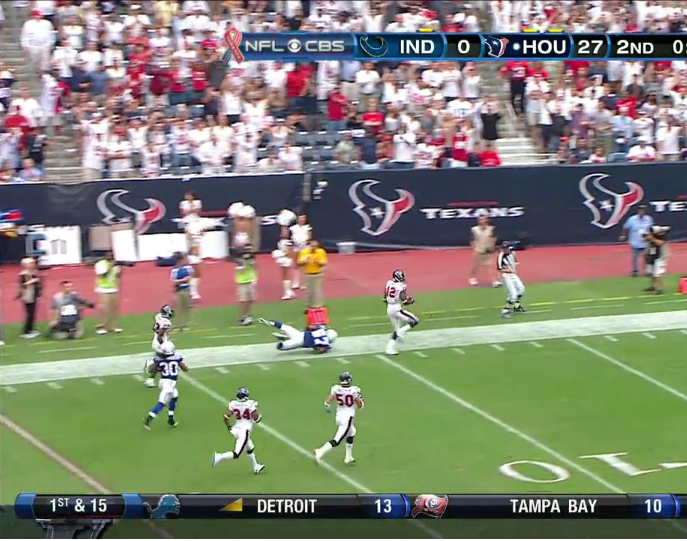 Instead what follows is a fairly weak attempt which Jones is able to jump over. Effectively, Moten gives him a weak slap on the arse, almost congratulatory.
Not good enough, i'm afraid. As quick as Jones is, he should be trying his utmost to take him out of bounds, by any means necessary. A simple attempt at pushing isn't enough, because he's not quick enough to get over there in time. I'll get into my analysis of the reasons behind our ST woes in the conclusion.
Play #4 - 3rd and Goal from the IND 9 - 14:27 in the 4th Quarter - Colts 0 - Texans 34.
As tempting as it was to show another attempted solo block on Mario Williams by Dallas Clark, I thought I'd end with some good plays by our stars. The lack of awareness shown by Matt Schaub in this play is also rather amusing, so it's lovely all round.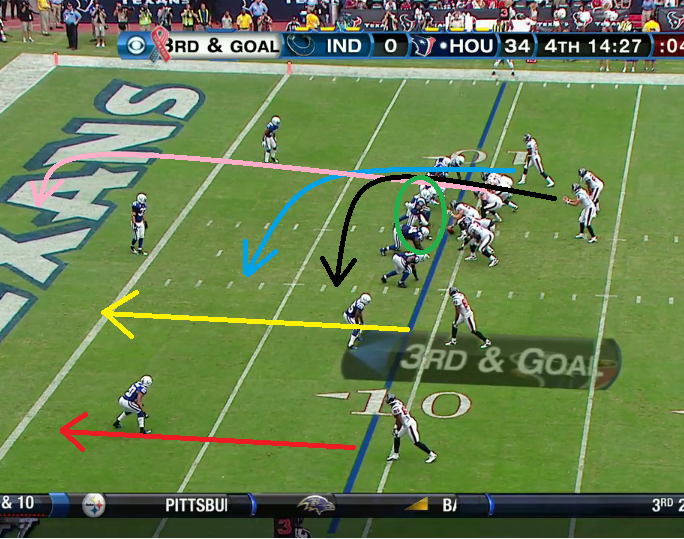 The Texans line up in a 3WR 1TE 1RB set, with (I think) Andre Johnson and Bryant Johnson split out left, Jacoby Jones out right, with Owen Daniels on the line at TE and Steve Slaton in the backfield. I've circled Gary Brackett in green.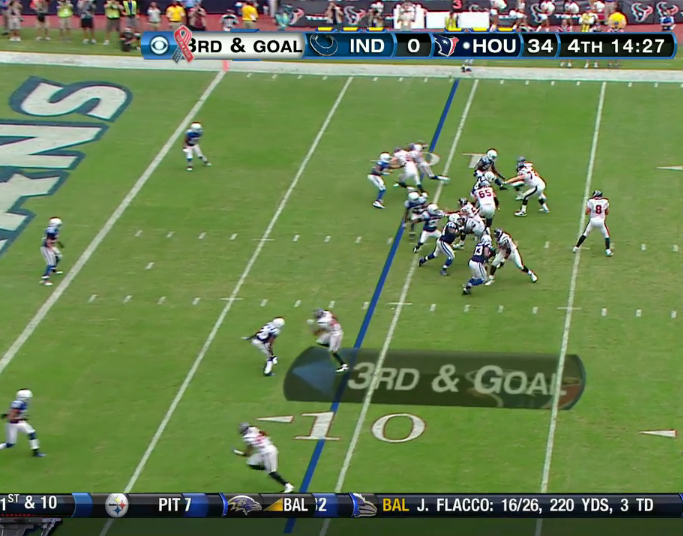 The Colts are going to drop into one of their regular zone schemes for the redzone, but what I like about this play is the role of Brackett. As you can see, he's pressing the line as if to blitz.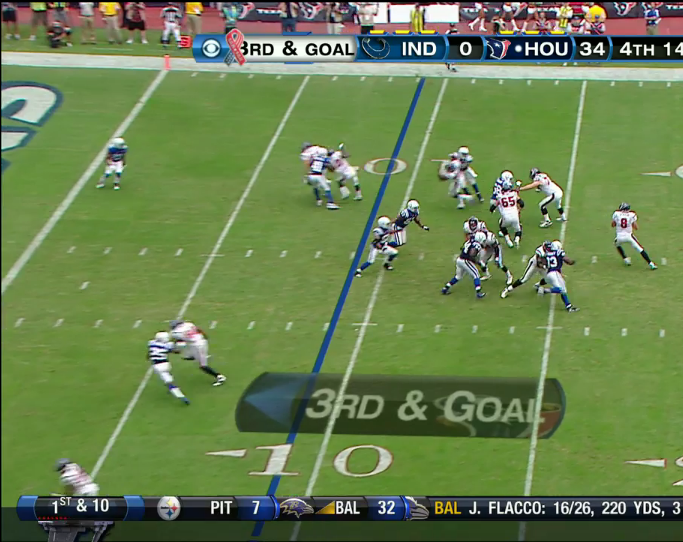 He then steps back and sits underneath, in order to prevent Schaub making an attempt at the crossing route.
The coverage is good on the outside (wait, what?!) which forces Schaub to look to his inside routes, and what astonishes me is his lack of awareness here. He fake pumps, and you can see Brackett jump up in a sort of starfish motion to try and stop the ball which doesn't come. Surely Schaub has to notice this movement within his eyeline and consequently avoid throwing it there. Surely.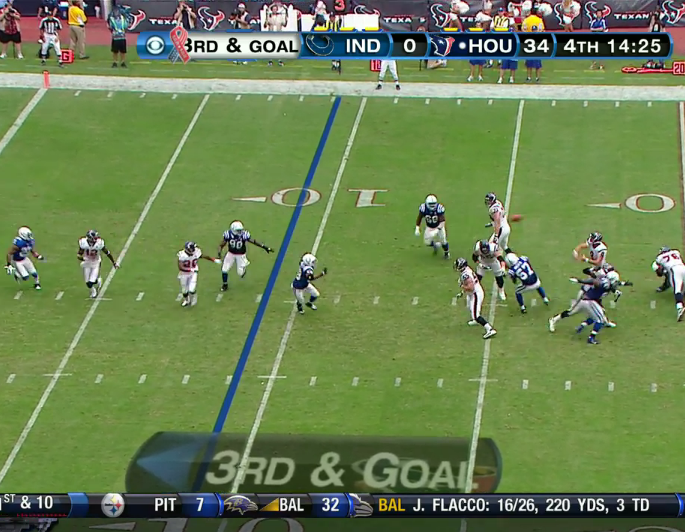 Nope. He sees Slaton coming in off his delayed route and tries to force the ball in, despite the fact that he absolutely must know that Brackett is lurking.
Gary extends and plucks the ball out of the air, and it's a nice play - but I can't quite overstate how horrible Schaub was on this play. Awful.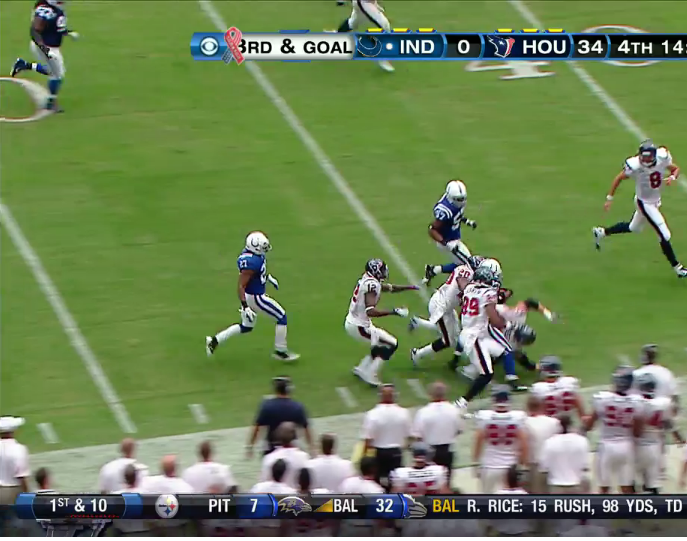 One thing though - Brackett makes a run with the ball and gets pushed out of bounds by three different Houston players, and he gets caught up in a mix. Never a good place to be, particularly for someone who we know can be susceptible to injuries.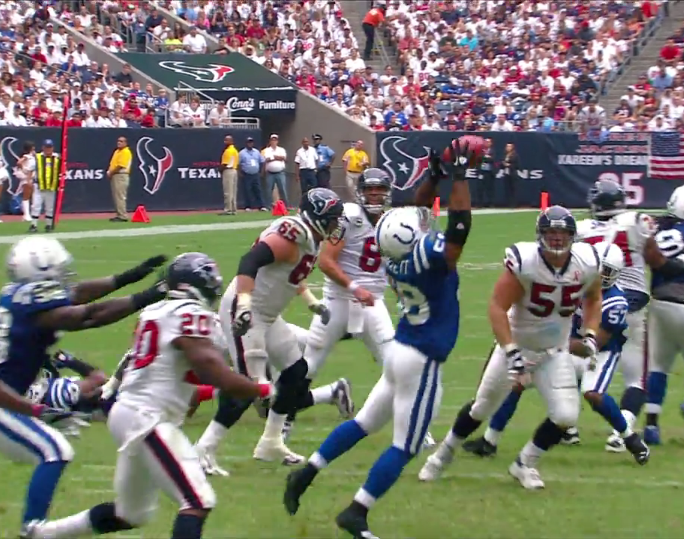 The rear view offers a better perspective of Gary's stretch interception. Good ball skills, which is what we'd expect from someone that could be said to be below par against the run.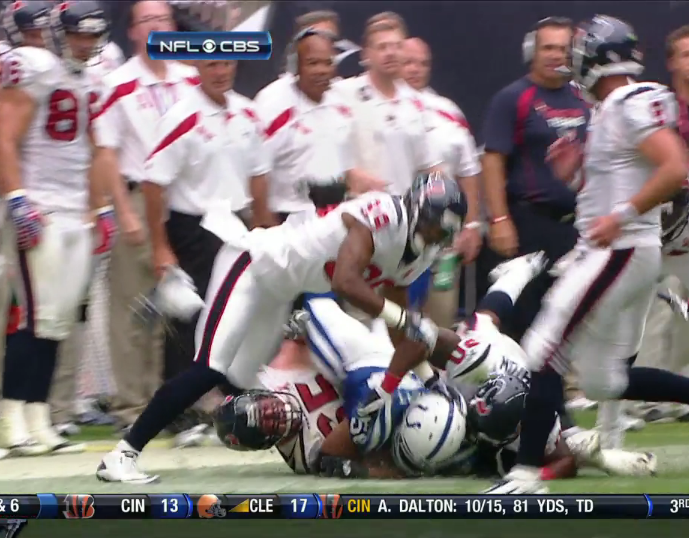 However, the rear view also offers an insight into how he was shaken up on the play, and it's not promising. He's been declared officially out for the game against the Browns on Sunday, and whilst Pat Angerer has looked fairly comfortable when spelling him, we need all the veteran leadership on D that we can get.
Play #5 - 2nd and 3 from the HOU 6 - 9:27 in the 4th Quarter - Colts 0 - Texans 34.
Woo. Something to celebrate on offense! A shutout would've been more symbolic, but I'll take the points, thanks very much.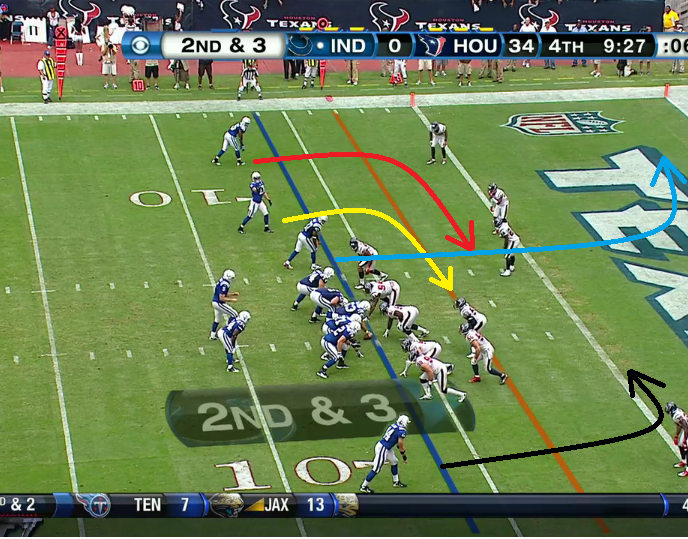 The Colts line up in a 3WR, 1TE 1RB offense, though structured differently in formation terms than we've come to expect from the Colts offense. Pierre Garcon is split wide left with Austin Collie inside, and Reggie Wayne is curiously placed in the slot. Dallas Clark is attached to the right hand side of the line, and Delone Carter is in the backfield.
It seems to me that the Texans are in man coverage, having blitzed heavily. One thing I would like you to see - look at Anthony Castonzo at LT. Having heaped praise onto him earlier, he gets absolutely brutalised by a club move from Mario Williams. This has an impact on the play, in that it causes Collins to release the ball quickly on the back foot.
You can see just how badly Castonzo is beaten. Collins has to release the ball awkwardly.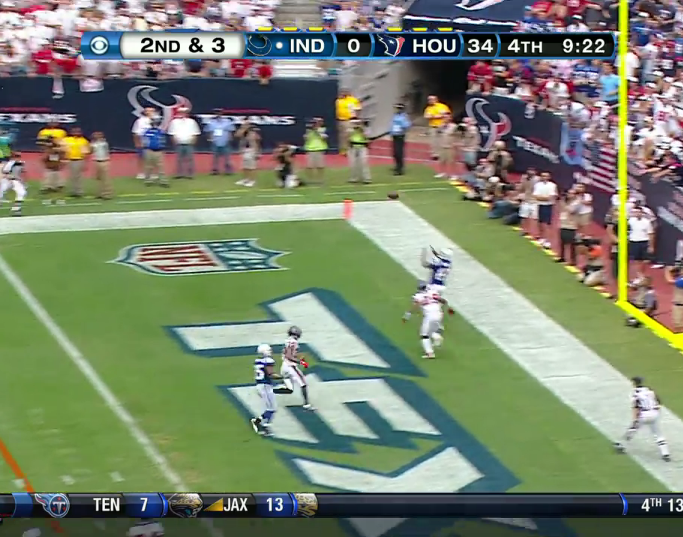 Due to the back foot release, the ball is higher than is ideal and away from Wayne's body.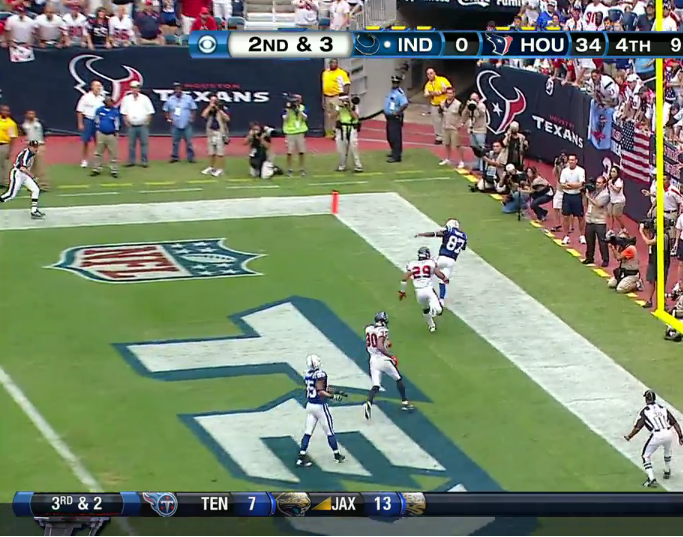 He snags the ball with one hand and toe taps in the back of the endzone. This has always been his primary asset - excellent positional awareness and ball skills as opposed to physical attributes.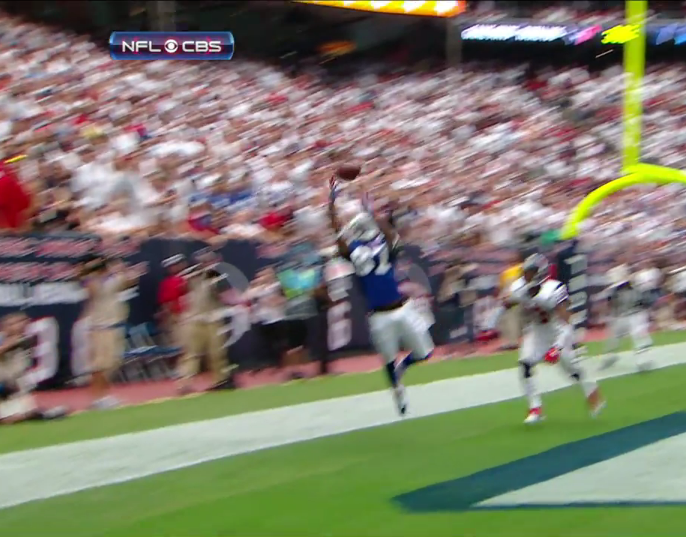 You can see here that the throw is in the general area, without being ideal. That's all Reggie needs, and you can see that his technique in making the catch is absolutely spot on.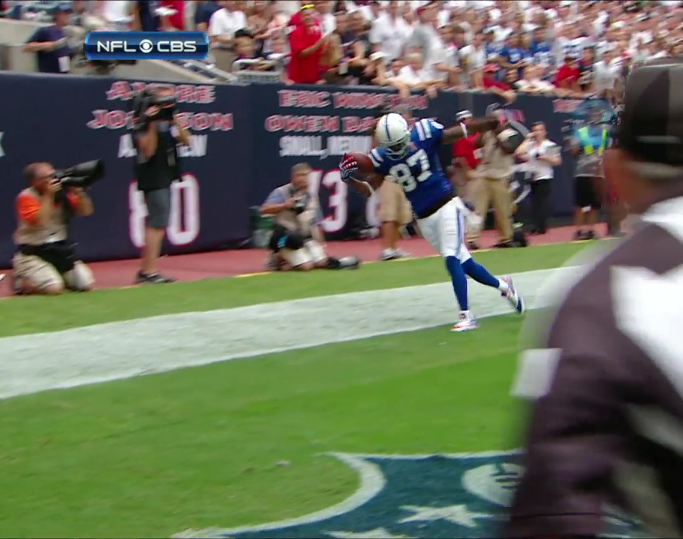 Lesser receivers wouldn't have made the catch, or would have gone out of bounds at the very least. Possessing a great sense of balance, he's just within the endzone.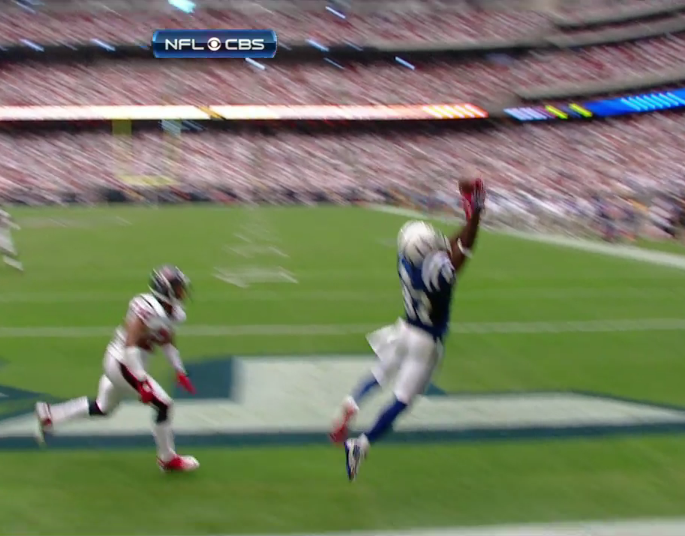 You'll have to forgive me for showing this from so many angles, but it was really enjoyable to watch over and over again. Here's another look.
So there we have it. Something to take into Week 2, at the very least.
Conclusions:
I'm not going to do a positives and negatives column here, simply because it isn't necessary. The Colts were outplayed in every phase of the game, without exception. On offense the team was stagnant, incapable and turnover-prone. The staggering ineptitude in terms of leaving Dallas Clark 1-on-1 with Mario Williams on a regular basis astounded me. On defense, the team showed itself to be vulnerable to the running game, and the repeated failure to diagnose PA bootlegs was absolutely infuriating, especially when it happened for the 5th time. We did create turnovers, yes. However, a tipped ball and a horrendous decision from Schaub aren't exactly evidence of promising defensive work. On special teams, our old issues resurfaced from the very opening kickoff and further manifested themselves in a long punt return for a touchdown. It's infuriating to watch the same old errors from the same players and coaching staff. Jim Caldwell speaks of adjustments, but these aren't adjustment problems that we should still be having - they're exactly the same as last year. I'm all for turning over a new leaf, but let's not pretend like these are new problems.
On a wider point about the roster - our team is solely built around Peyton Manning. We have large investments on offense in 18 himself, and in Dallas Clark and Reggie Wayne in the receiving corps - his favourite targets. Jeff Saturday is also earning a great deal of money, and his relationship with Peyton cannot be underestimated, despite his declining skills. On defense, we have invested a huge amount of money in lightweight defensive ends, who are ideal for when the going is good and we hold a lead. Gary Brackett also has a large deal, and is again another player that's stronger when opponents are chasing the game, given his subpar run stopping skills. The only other player on defense with a large contract is Antoine Bethea - the only defensive player on our team with true skills against the run and pass. Quite frankly, building a team of stars and scrubs which is so focused on one player is absolutely ridiculous, even if he has shown himself to be an ironman like Peyton has. The stars and scrubs policy also has major repercussions for our special teams unit - we're reluctant to play our stars, so we're left with slow, below par individuals on a regular basis. If we are to pay individuals large amounts of money, they need to be playing special teams. We lack the people in the midrange salary area that usually play well on special teams - we can't starve ST of decent resources forever.
Above all this week, I'm really unhappy with the front office management of Bill Polian. A few months back I wrote an article defending him from people that were lampooning on a regular basis. You know what? I've switched sides. I'm fed up of his absolute arrogance with regards the media, and I'm fed up of poor roster decisions and draft picks. If we go back to the 2007 draft (ignoring 2011 because it's too soon) - how many viable starters have we drafted in that time period? Clint Session, Pierre Garcon, Jerraud Powers, Austin Collie, Pat McAfee, Pat Angerer. Whilst we were unlucky with Anthony Gonzalez, our last 4 first round picks have effectively gone down the pan. He undeniably had a big run of success in the earlier part of the decade with his first rounders, but what entitles him to be so dismissive to local media and our fans? The answer: he doesn't have that entitlement. This week on the Bill Polian show (as BBS covered), he talked about not wanting to necessarily get bigger on the offensive line - getting better is instead the priority. Then why was Ryan Lilja let go and replaced by a 340lb 4th round pick (who we have since let go)? Why has Kyle DeVan been released, whilst Mike Pollack remains on the roster? Why is Donald Brown still on the roster when he contributes nothing on special teams?
When the round a player was drafted in has more of an impact than their play on the field, the team will go downhill quickly. Ever heard the phrase 'you will reap what you sow'? Yep. It's that time for the Indianapolis Colts.