First off, welcome to another 'Five Plays' piece. Appreciate you taking the time to look at what I consider important from the regular season games, and I do appreciate the feedback on my work, regardless of whether it's positive or negative. In that vein, i'd like to thank wcwills, ipwt, Ayrshire and one of my regular readers and commentators, Coltsfan504 for their contributions on my last piece. The former in particular strongly disagreed with my (in his opinion) overly pessimistic tone - something which I respect and understand. However - and this is not an 'I told you so' moment - I believe my attitude has been suitably vindicated by the result in Week 2, and to be quite honest, it wasn't particularly surprising. That said, there were both positives and negatives to take from this game unlike Week 1, so let's delve in. After the jump, we begin..
Play #1 - 3rd and 2 from the IND 41 - 4:37 in the 1st Quarter - Colts 3 - Browns 0.
If you've followed this series from the beginning of the season, you'll be aware of my appreciation for defensive line play, specifically pass rushing from the 4-3 DE position. In this case, it's the premiere 4-3 pass rusher in the league against possibly the best offensive tackle in the league. How can I turn that down? And particularly when it involves a Colts turnover? Let's get into it.
It's a crucial third down situation with the Browns in Colts territory. The Browns have designed a 'strong flood' style of play in which they flood the strong side with players, giving Colt McCoy a variety of different options within a relatively short time frame of scanning the field. The Browns have lined up in a 1WR 2TE 2RB set, with Greg Little out left, Ben Watson and Alex Smith stacked on the right side of the line and Owen Marecic and Peyton Hillis in the backfield. The Colts have 9 in the box to deal with the power running formation (wow!), and you'll see Jacob Lacey at the bottom of the image move up to the line, moving Robert Mathis inside. Dwight Freeney is of course matched up on Joe Thomas. You'll notice the seemingly bizarre route of Alex Smith (yellow), but i've incorporated pre-snap motion in the route.
As you can see in this image, Smith has moved over to the left side of the line in order to avoid congestion on the flood play. In my opinion (and particularly against someone the calibre of Freeney, regardless of how good your OT is), this should result in a little chip block before he continues into his route. It's a simple precaution, though perhaps I'm speaking with hindsight. Freeney is circled in black, though I expect you all know where he is in any case. You can see Lacey has pressured the line, and Mathis has moved inside at LE.
McCoy fakes the run to Hillis, and the Browns receivers start to run their routes. You can see Robert Mathis (#98 for those not familiar) knifing through the line to get great penetration. Robert was pretty much unblockable all day at LE, though in this case Peyton Hillis steps up in pass protection. From this still image you can see that Freeney is likely going to try the speed rush, though Thomas doesn't look like he's in trouble at this stage.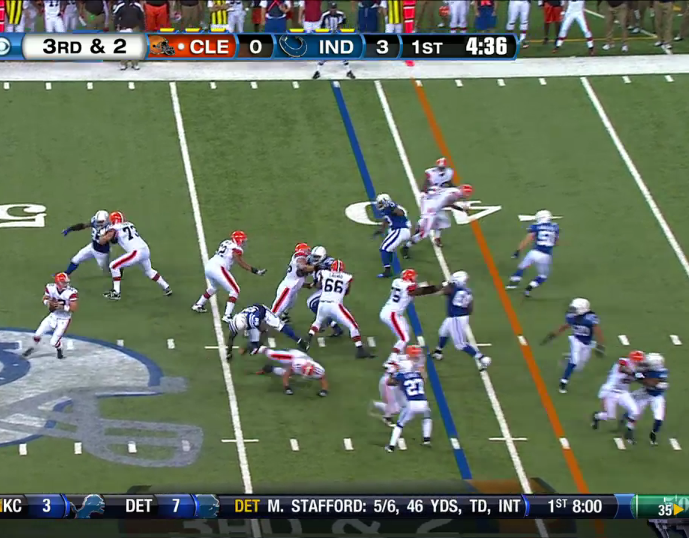 You can see Mathis' attempt has been slowed up, though it's becoming clear that Thomas isn't in a particularly good posture to deal with Freeney and the speed rush. My amateur thought is that he's trying not to commit too much due to the fearsome spin move in Freeney's repetoire, which can punish a tackle that gets too wide and quick in lateral motion. You may also notice in the middle of the picture that Drake Nevis (#94) has merited a double team from the Browns - perhaps a sign that teams around the league have noticed the young man.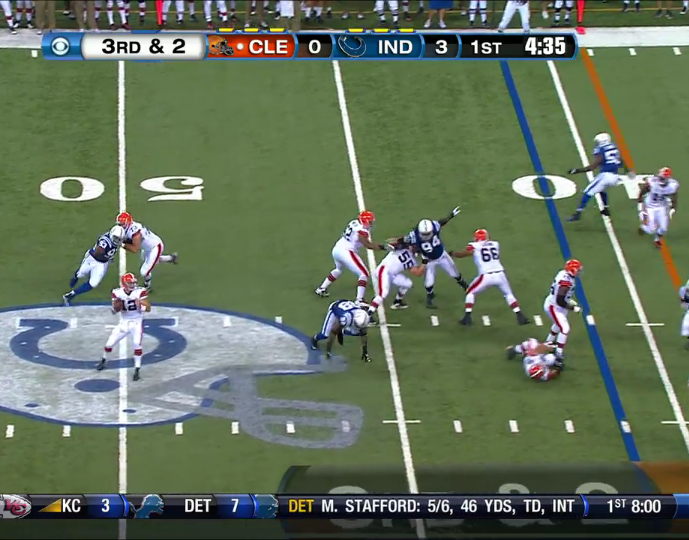 At this point, the game is up. Freeney has the comprehensive beating of Thomas, absolutely hands down. McCoy seems blissfully unaware, though in his defence he can't step up in the pocket due to Robert Mathis having collapsed it.
BOOM. Freeney absolutely destroys McCoy from behind, and gets the strip sack, which was unfortunately recovered by the beaten Thomas. Nonetheless, it resulted in a Browns punt, and at this point things were looking up for the Colts.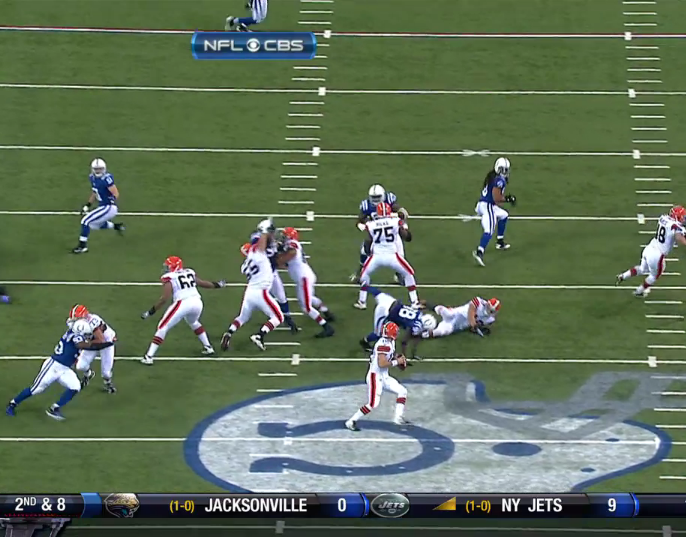 You can see here that Thomas just isn't positioned well enough to deal with Freeney's speed. It's fairly reminiscent of Anthony Castonzo's struggles with Michael Johnson when the Colts played the Bengals in preseason - which just shows that even the very best can struggle with pure speed around the edge - particularly when there may be a spin move on the cards.
The hit is worth another look, anyway. There aren't many more devastating plays in football than a sack fumble, and particularly one in which the QB gets hit this hard. McCoy learned from the experience at least - after this monumental hit, he held onto the ball far less and made moves to get outside the pocket, and I was very impressed with the second year QB.
Play #2 - 3rd and 12 from the IND 16 - 8:04 in the 3rd Quarter - Colts 6 - Browns 0.
..and this play is an example of that presence outside of the pocket. Not only that, it's an example of the most vanilla play calling known to man. It's third and long in the redzone, and Larry Coyer opts for the tried and trusted Cover 2 with a four man rush. I'll lay out my thoughts here, to save me doing it later. Philosophically I'm not the biggest fan of the Cover 2 - the idea of giving opponents short easy passes simply doesn't appeal. With the right personnel however, I can appreciate that it's a solid defensive scheme which can generate turnovers and stop opponents from scoring easily. The only team that truly runs an effective Cover 2 in the league at this moment is the Chicago Bears - a fearsome front four, with excellent linebackers and safeties that can make the play when necessary. On top of that, they have excellent coaching with Rod Marinelli at Defensive Coordinator. Our Cover 2 on the other hand, is half arsed and seemingly ignorant of the requirement for a genuine pass rush up front from the front four. We don't have the versatile linebackers that can come up and make a punishing hit or intercept the ball with great anticipation, like a Brian Urlacher, a Derrick Brooks or a Lance Briggs. If we're going to go Cover 2, we need to invest in it, both in terms of draft picks and cash. Anyway.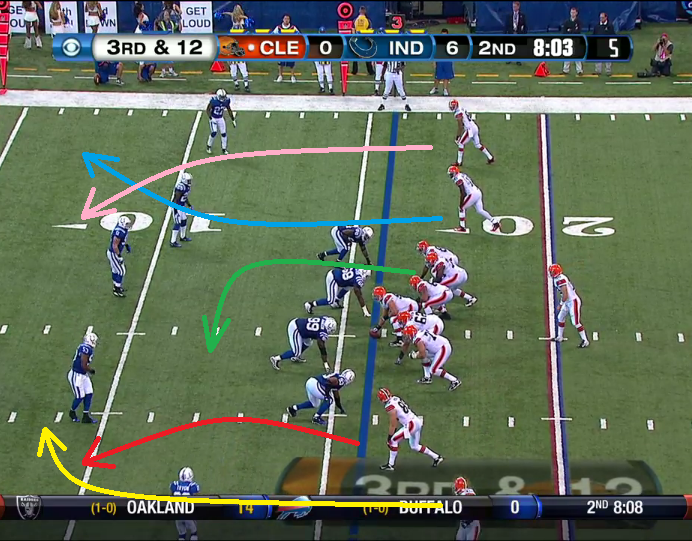 The Browns line up in an empty set after motioning Hillis out of the backfield, though the personnel is a 2WR, 2TE 1RB set for anyone interested. The Colts are going to run the most basic Cover 2 (out of the nickel, so three corners) you can imagine - linebackers and corners guard the medium zones, whilst the two safeties guard the deep zones in the endzone. From bottom to top, it's Peyton Hillis, Evan Moore, Ben Watson, and I believe Mohammed Massaquoi and Greg Little. (Very hard to tell on the latter two, and they don't matter here anyway.) As I said earlier, the Colts are in nickel, with Pat Angerer and Kavell Conner the linebackers of choice with no Gary Brackett and no Ernie Sims.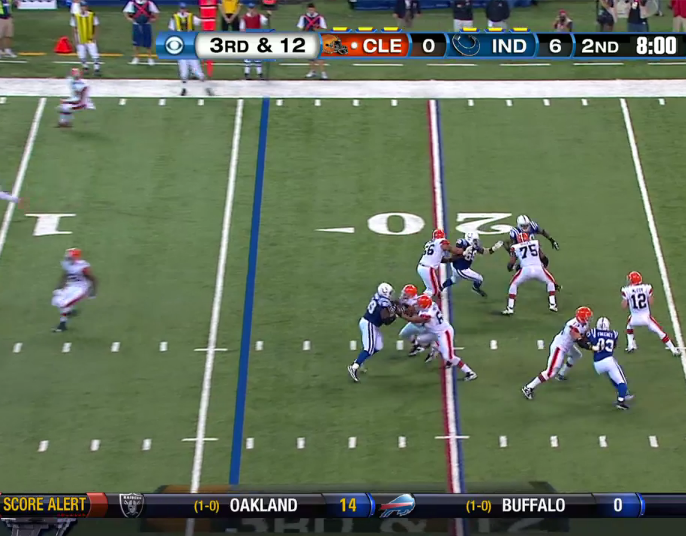 This is where you can see that McCoy has learned from his earlier 'experience' with Freeney - if he doesn't step up, he's likely going to get massacred again. Freeney has decent leverage outside against Thomas. Robert Mathis isn't doing much, and as you'd expect, neither are the DT's.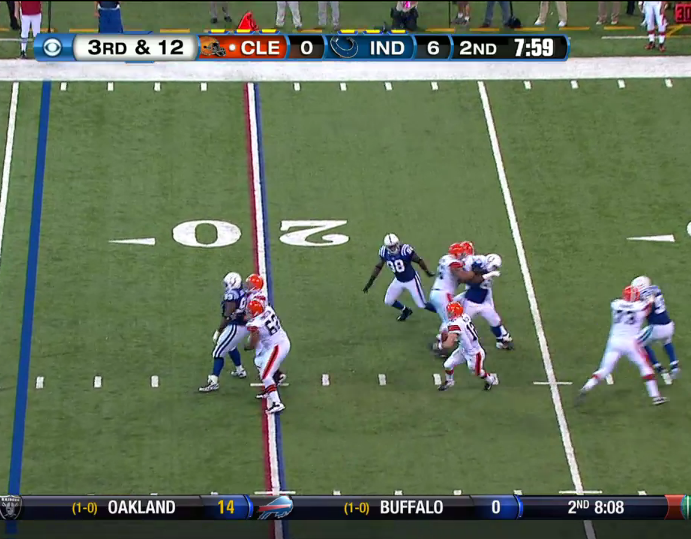 So, McCoy steps up in the pocket to avoid Freeney (and doesn't have to worry about the pocket collapsing from the interior, need I say. What the hell is Antonio Johnson doing there?) and scrambles to his left. Mathis is lurking on the right side, so he needs to get away.
He scrambles forward and makes a very, very touch and go pass. Initially when watching the game I believed he'd passed the line of scrimmage, and couldn't believe that it wasn't even mentioned by the commentary team. Turns out it was a legal throw - but it's very close indeed. Conner comes up to try and prevent the scramble, but by this point he's irrelevant.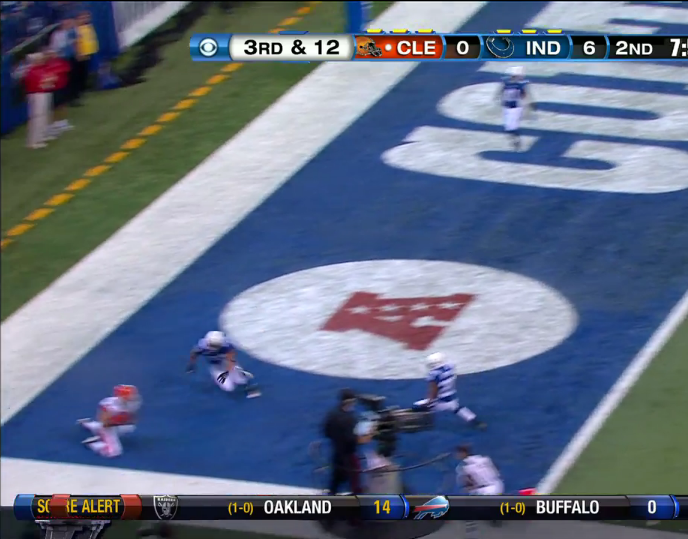 McCoy threads the needle and finds Evan Moore in the back of the endzone, who'd literally been waiting there for three or four seconds, sat in the weak area of the Cover 2 - behind the corner and to the side of the safety.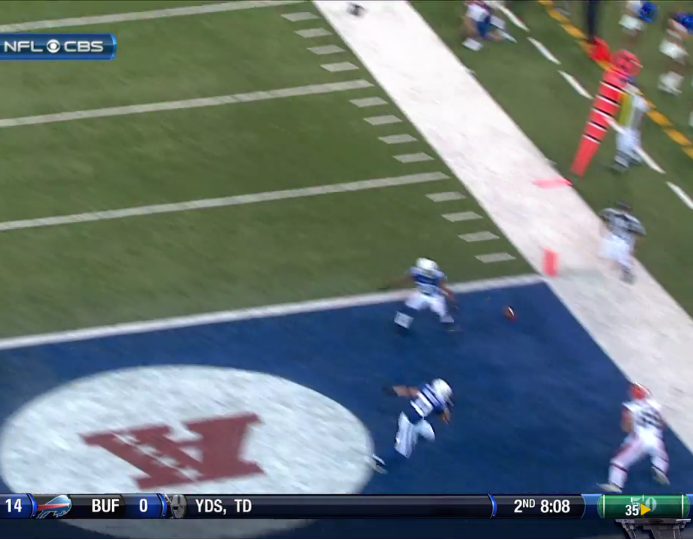 You can see here just how well McCoy threads the needle to make the pass, on the run no less. That leads me to just think it was a nice throw and catch, but I'm irritated at the play call, I'm irritated somewhat at the lack of reaction by Bullitt to a guy that at the end of the day is more his than anyone elses, and i'm irritated that it came on 3rd and long, which is supposed to be our strength. I'm not going to use this specific play to beat Bullitt around the head, but I think it's painfully clear in general that he's nothing more than an average safety, and I think that's being kind.
Play #3 - 1st and 10 from the IND 49 - 10:51 in the 3rd Quarter - Colts 9 - Browns 14.
Despite my railing at our Cover 2 and the playcalling from Larry Coyer, I think our defense played fairly well in this game. They generated turnovers (against an admittedly poor Browns team) and did more than enough to expect a win. They may have given up 28 points, but that's only because our offense was so dismal, and kept giving the ball back. The Browns had 35 minutes TOP compared to our 25, and in that they obviously had an advantage. Here's another example of the defense making a play, however.
I've circled Phillip Wheeler in red - he's going to be the key guy for the Colts on this play. The Browns have lined up in a 2WR 1TE 2RB formation, and they're going to run power left. The Colts are in their regular 4-3, with Wheeler lining up at SAM. It's Marecic and Hillis in the backfield for the Browns.
The Cleveland line does an okay job blocking out front, and Marecic is poised to burst through the gap and make a key block. Hillis takes the handoff without any drama, and it's now a race between the Browns RB's and the Colts LB's, to see if they can shift over in time.
The Colts linebackers burst through with good anticipation to the location of the run, and Hillis is surrounded. You can see Wheeler making his way over from the strong side with his distinctive long hair.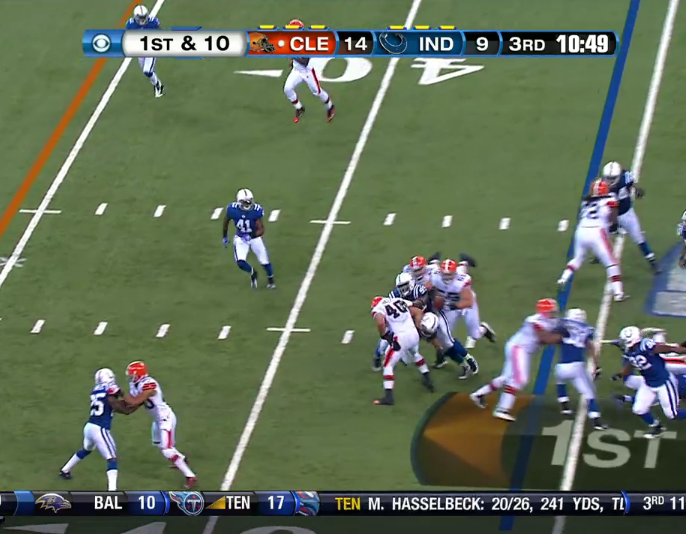 Wheeler then proceeds to lay the wood on Hillis, who fumbles the ball. He did so 8 times last year, and had a running DVOA lower than Joseph Addai. Just thought i'd put that in there.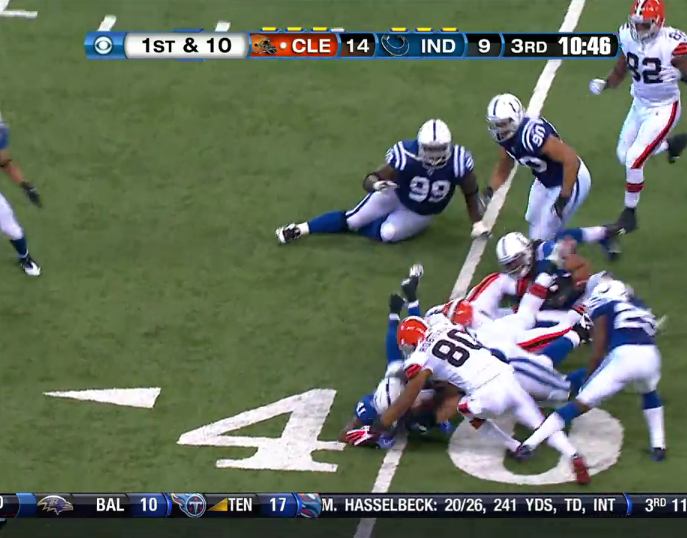 Antoine Bethea makes a great heads-up play to fall on the ball and recover the fumble amidst a massive pile of bodies.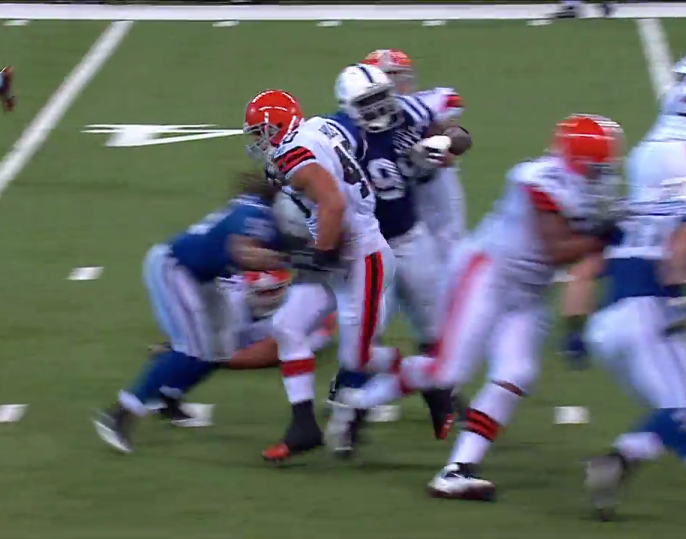 You can see from this angle how Wheeler goes in low and hard on Hillis, and the hit has the desired results. However..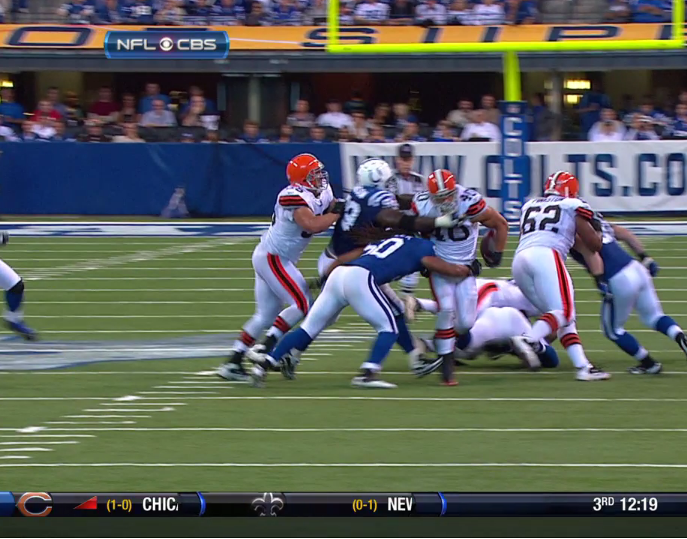 Just what on earth was Hillis doing carrying the football like that? It's a nice play by Wheeler to punch the ball out, but that's reckless and stupid from Hillis. Our run defense was good all game, but one thing I drew from the game was that Hillis is rather overrated. Whether it's due to the enthuasism and fanaticism of the Cleveland fans, or whether it's down to his tough running style, I'm not sure. Seems to me that he's a fumble prone running back who in fighting for extra yards lets the ball go far too frequently.
Play #4 - 3rd and 13 from the IND 28 - 15:00 in the 4th Quarter - Colts 12 - Browns 14.
When thinking about the plays that I saw as crucially important in the game, I didn't really want to include any of us on offense, because we were simply awful, and the only play that I could see really falling into the 'important' category came from Reggie Wayne falling over. After much deliberation, I may as well show it.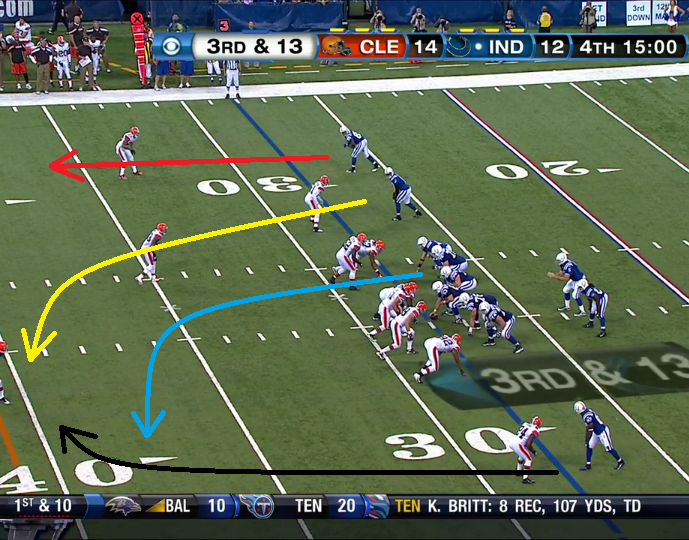 It's third and very long (due to a Castonzo false start), and the Colts line up in a 3WR 1TE 1RB formation, which Wayne and Garcon out left and right respectively, Collie in the slot, and Dallas on the right side of the line. Joseph Addai is in pass protection.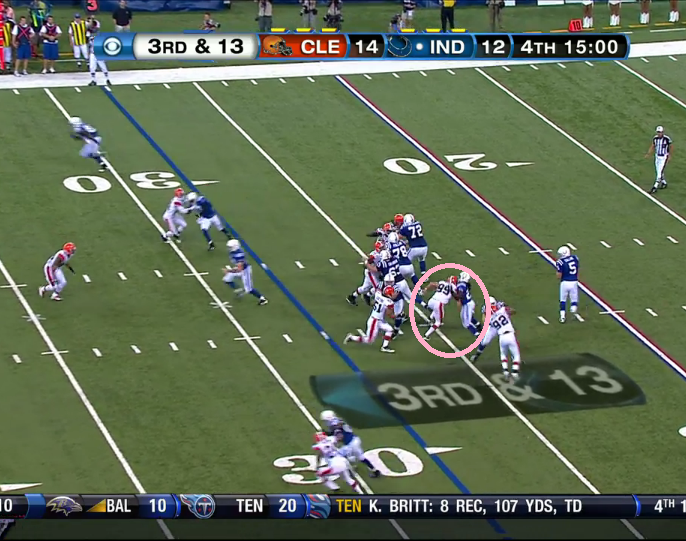 And as we're used to, Joe shows his aptitude in pass protection with a great block. It ensures a minimal pocket for Collins, as the O-Line gets pushed back all around him.
Kerry is in the eye of the storm, as it were - but he's got enough time and space in there to move and make the throw, and he does so with aplomb.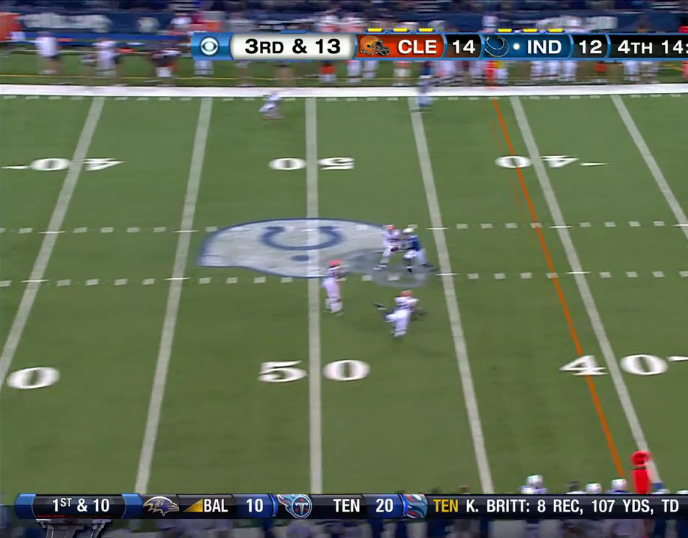 At first glance, it looks like a throw straight to the safety - with perhaps a hint of PI from Sheldon Brown on Reggie Wayne.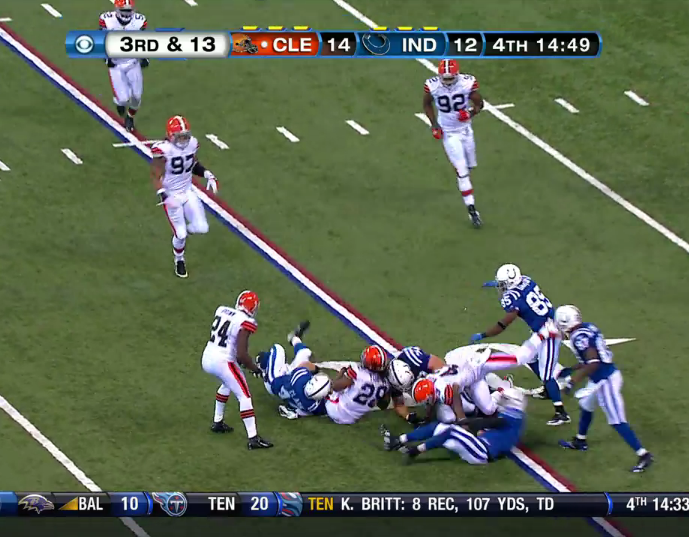 Nonetheless, Usama Young picks the ball off and returns it to the Colts 20, with Dallas Clark eventually wrapping him up.
On a second view though, this is all on Reggie. He simply falls over coming out of his break, and this allows the safety a free run at the ball. If he doesn't fall over, he either catches the ball or it's incomplete. If he catches it, I think he can go a long way with Collie's convenient location for a block.
Love ya Reg, but yeah. It's on you. Cleveland only got a field goal on the subsequent drive, but it was symptomatic of our woeful performance on offense throughout the game, and by this point the crowd was audibly exasperated.
Play #5 - 4th and 10 from the IND 13 - 5:07 in the 4th Quarter - Colts 12 - Browns 17.
And so, to the crucial play of the game, in my opinion. Not the 24 yard touchdown run by Hillis that finally put the Browns out of reach, but another awful effort by the Colts special teams which allowed a 43 yard punt return. It's on both the players and the coaches, this one.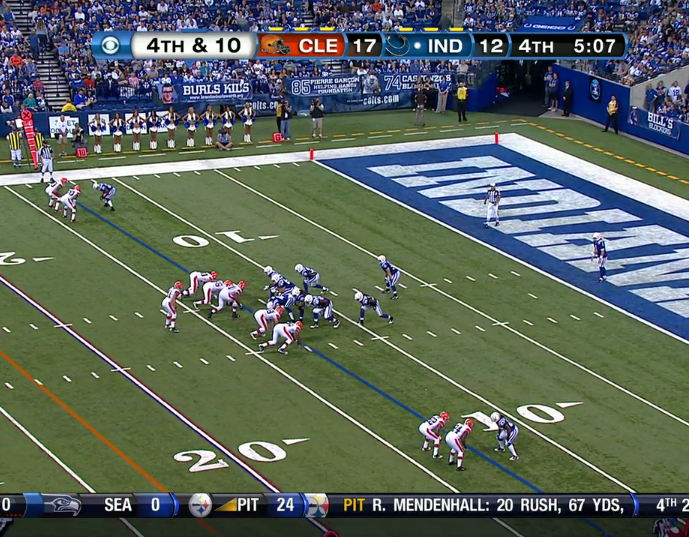 The Browns wisely line up with a soft block unit, doubling the gunners to maximise Cribbs' effectiveness. On second thoughts they might not have bothered, because our gunners are useless, as is the rest of the unit with Patty Mac the exception.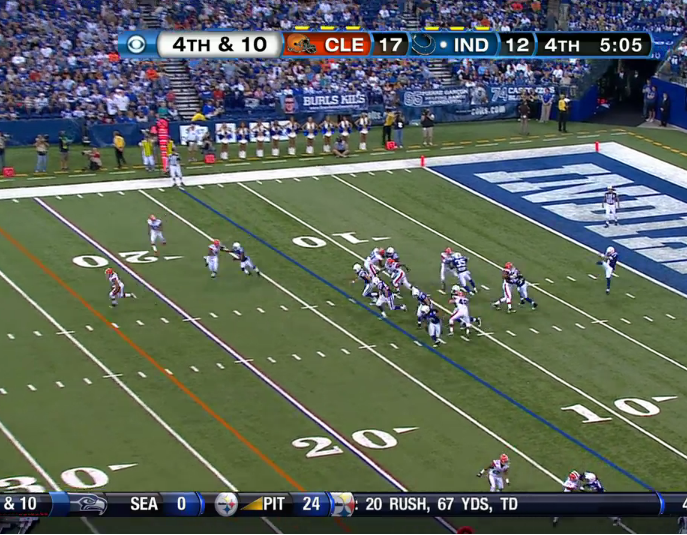 McAfee gets the punt off okay given that there's really no pressure coming, and the gunners are immediately stymied at the line of scrimmage.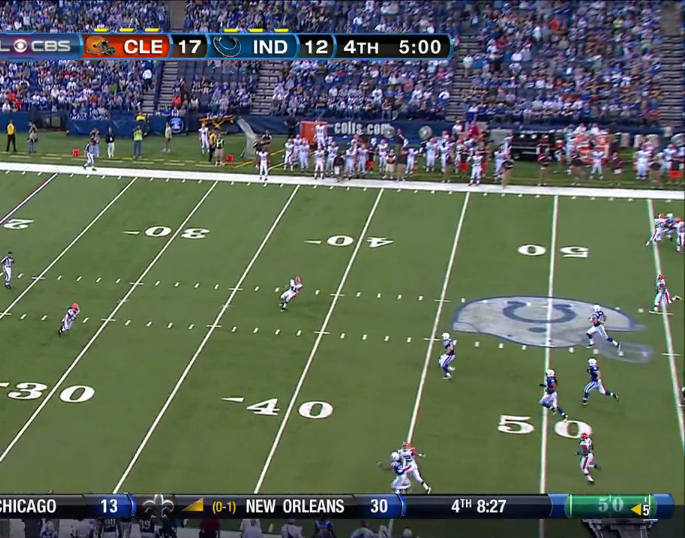 As you can see, the gunners are nowhere to be found, having been blocked out of the play. I don't have so much of an issue with them on this play - not many players are going to be able to break a double block, and certainly not ours. This isn't on them. Look however at the middle of the field - I am no rocket scientist, but surely, SURELY it cannot be in the programme to have 5 individuals (one is slightly cut off, but you'll get a better view later) all pursuing the middle of the field (with a maximum distance from end to end of 10 yards) against one of the best lateral movers in the NFL. Whether it's by design, or whether it's in execution, it's awful. Surely spreading the coverage unit over the width of the field (if not comprehensively so, it has to be more extensive than this) will have more of a deterring effect and will allow players to prevent any running lanes.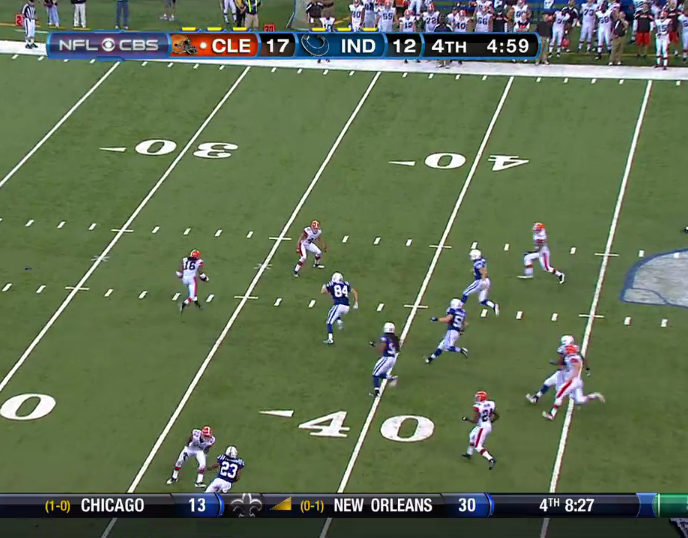 Surprise of all surprises, the coverage unit is taken entirely out of the play by a single cut from Cribbs. Staggering, absolutely staggering.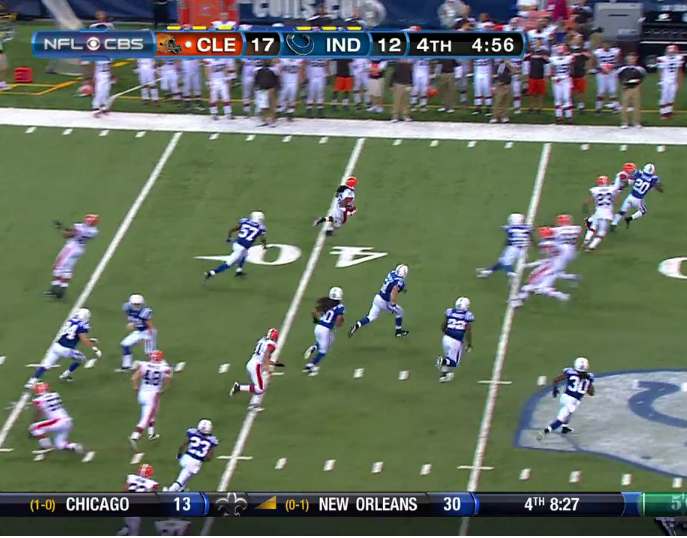 Cribbs takes the ball up the field as we've learned to expect, and the coverage unit is left 20 yards behind.
Eventually Cribbs is squeezed out by the sidelines and the gunners who've been left so far behind having been double blocked, but the damage has been conclusively done.
Community whipping boy Jerry Hughes eventually brings him down after a 43 yard return.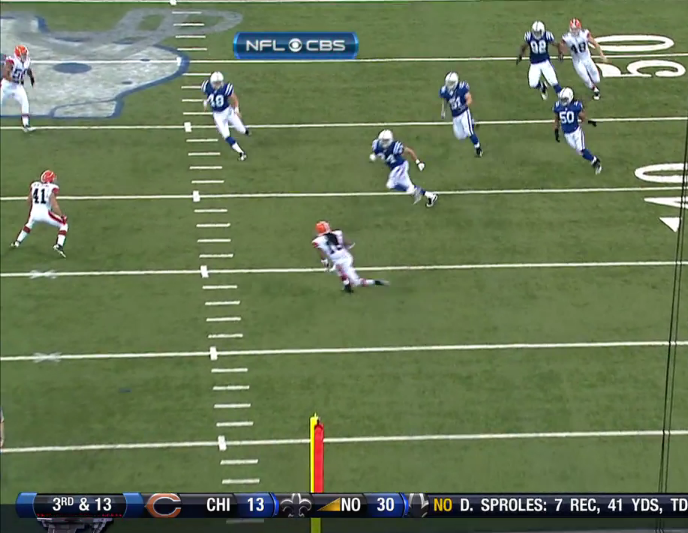 This is the better angle I was talking about earlier, though. Seriously? That's just piss poor. I'm no special teams coach, and perhaps I'm wrong, but that appears to me to be such a contravention of basic common sense that I'm actually lost for words, which is a rarity. Whether it's schematic, whether it's the execution of the players involved, this is simply not good enough - why are 5 players within such a short area of the field?! It's not even approaching acceptable. What a note to end on.
Conclusions:
The Colts lost at home to the Browns. That's all that needs to be said, really. This season I feel can be effectively written off at this stage - our offense is nothing short of a shambles, our special teams is even worse, and those so called 'adjustments' which were due from Jim Caldwell didn't come. The man is simply unfit to be a head coach in the NFL, and he's being undermined at every stretch by the Polians and Jim Irsay. The press conference where he didn't mention Collins' arrival whilst Irsay was simultaneously tweeting it just shows the disconnect in the organisation, and it's not acceptable. Either the dynamic changes, or he needs to go at the end of the year.
Positives:
Run Defense - We held Hillis to under 3YPC for the majority of the game, which is something to be very happy about. Angerer and Conner are two effective run stoppers, and if complemented by a genuine playmaker at the other LB spot, I think we're set for years there.
Run Offense - Averaging over 4YPC isn't something we're used to. Joseph Addai and particularly Delone Carter ran hard with success against the Browns front, and did themselves proud on a day where the offense was appalling.

Pat McAfee - The guy is punting really well, it's just the coverage units which are letting him down.
Pierre Garcon - He didn't make any highlight reel catches or even break the 100 yard barrier, so why is he here? He had the beating of Joe Haden all day long, drawing flags on a regular basis (and had he got a merited flag late on for PI, it could have changed the game). If Peyton were on the field, he would've torn Haden to shreds. Another play who seems to have been built up by the Browns faithful.
Freeney and Mathis - Freeney made a nice play in getting a sack fumble on McCoy, was largely bottled up afterward, but that's still a game changing play. Mathis was in the backfield all day long.
Negatives:
Jacob Lacey - He was absolutely hideous all game. Awful doesn't do his play justice. I believe the Browns converted on at least 4 third downs of varying distances (some of them long) on Lacey, who was giving massive cushions all day and was punished for it by Massaquoi. How he is starting above Justin Tryon who is a superior corner in every single aspect, I simply don't know.
Special Teams - We allowed a long kickoff return to Cribbs, and a long punt return which killed us off in the 4th Quarter. I've shown the utter ineptitude of the coverage units, and I still can't quite believe it. This unit needs to improve if we are going to win a single game this year.
Passing Offense - Collins was awful, Reggie Wayne had an off-day and was at fault for an interception.. the list could go on forever. Simply put, we aren't winning anything with an offense like this. And no Kerry, scoring a garbage time TD when the Browns are in prevent defense doesn't impress me. You did it last year to bust the spread against the Colts on Thursday Night Football to cost me a fair bit of money, and I haven't forgotten.
Melvin Bullitt - Poor angles on attempted tackles, and nothing special in coverage. He's not justifying his new contract at all. Not good enough.
So now to the Steelers on Sunday Night Football, in primetime. This isn't going to be pretty. 0-3 beckons, as does a high draft position. However - you often don't see the real players when the team is being carried by one of the greatest players of all time, so this gives us an opportunity to see who we can build around for the future. Angerer, Conner and Bethea are a decent core to build around on defense, and our O-Line has shown great improvement from last year, even if Linkenbach is well out of his depth.
As always folks, rec it if you like it, and comment if you don't. (Or if you do, for that matter.) I may have rushed this one a little bit, due to obligations that I've got to fulfil today and tomorrow.
Go Colts.
This is a FanPost and does not necessarily reflect the views of Stampede Blue's writers or editors. It does reflect the views of this particular fan though, which is as important as the views of Stampede Blue's writers or editors.
Poll
What do you anticipate will be the result of the Steelers game?
6%
Colts win by 10-20 (6 votes)

8%
Colts win by 0-10 (8 votes)

9%
Steelers win by 0-10 (9 votes)

31%
Steelers win by 10-20 (31 votes)

26%
Steelers win by 20-30 (26 votes)

17%
Steelers win by 30-plus (17 votes)