Well, that was unexpected. The Colts suddenly turned on the competency button and decided to come up with a performance, albeit in a defeat. Performing that well against Pittsburgh however does bode well, and as such there are many positives to be taken from the game. We were able to stop the run and run the football, which is pretty rare for this Colts team. Not only that, we produced turnovers on defense, which should've allowed us to take control of the game. Unfortunately, our offense (specifically our passing offense) was as poor as it has been for a long, long time.
Before I jump into the analysis, I've got a list of people I'd like to thank for their feedback and commentary from the last piece - 18man, parcel621, KBUnitz, Sparhawk, GoHorse88, Coltsfanintexas, coltsfanbeforemanning, liveandbreathecolts, and of course Coltsfan504. Thanks for the acknowledgements and discussion, chaps. Wouldn't write it if people didn't read and comment, so thanks again.
And so, we begin..
Play #1 - 2nd and 5 from the PIT 18 - 3:40 in the 1st Quarter - Colts 0 - Steelers 3.
There aren't many better QB-WR combinations in the NFL than Ben Roethlisberger and Mike Wallace. Ben's talent regarding the extension of plays combined with Wallace's speed results in a potent combination, similar in ways to the Mike Vick - DeSean Jackson combination in Philadelphia, the main difference being that Roethlisberger and Wallace clearly have a closer connection in terms of what they see on the field. In this case, the Colts' vanilla Cover 2 doesn't hold up to the 'extended play' scrutiny, and due to a mistake by Antoine Bethea, concedes an 82 yard touchdown.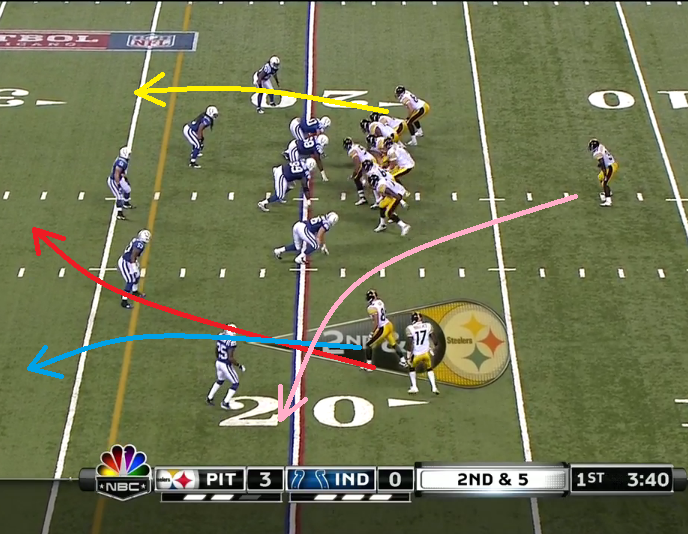 The Steelers line up in a base 2WR, 2TE 1 RB formation, with Hines Ward (blue) and Mike Wallace (red) split out left. Heath Miller is on the right hand side of the line alongside a blocking TE (as yet unidentified), whilst Rashard Mendenhall is in the backfield. The Colts line up in a fairly run of the mill Cover 2, with Brayton and Anderson at DE given that it's a potential run down. They're in base formation and so only have two corners on the field, with Wheeler, Angerer and Conner as the linebacking crew, as it was all night. David Caldwell and Antoine Bethea are at S, with the latter taking on more responsibility in the box (as he should be schemed to do) given his excellent tackling. The Steelers are going to run a play action, and the routes to be run aren't particularly complicated.
Ben fakes the handoff, and you can see #53 Kavell Conner jump up to meet the potential run. Don't have much of an issue with that, as we were predicated on stopping the run and excelled in that aspect all night. You can see Pat Angerer stood a couple of yards past the first down marker in no-man's land, really. He's ready to come up to deal with the run if necessary, but given Wallace's speed, he's effectively sold himself out for the pass over the middle. As it is, this isn't the biggest error made on the play.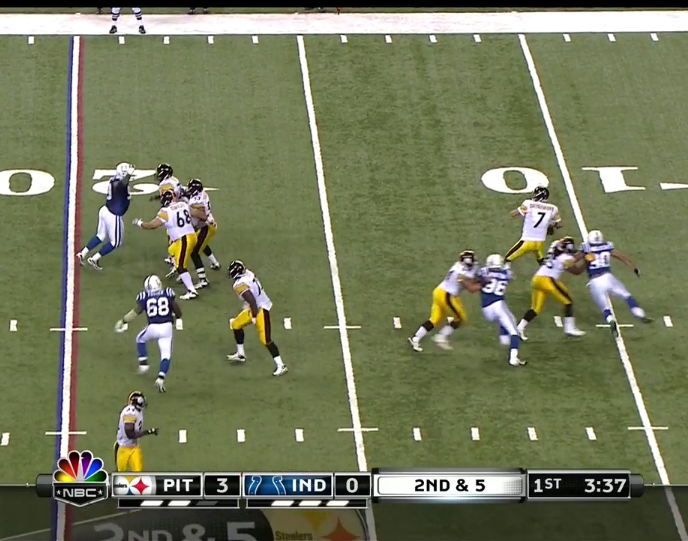 Ben has a few seconds and uses his manouvreability to make a nice intact pocket away from the intentions of Anderson and Brayton, and flings the ball downfield.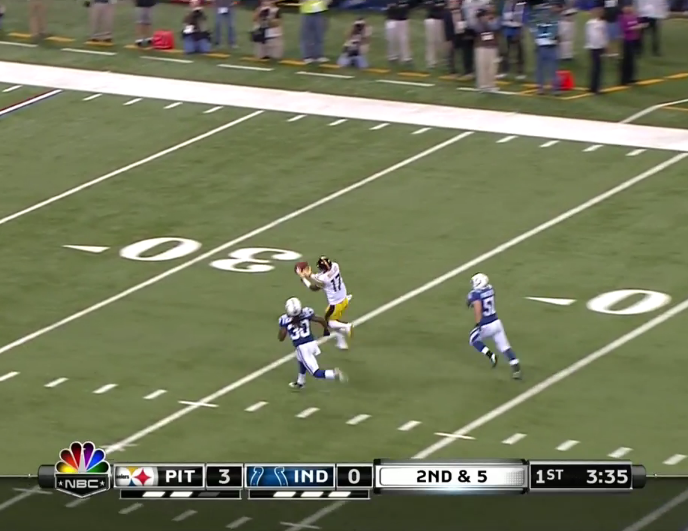 ..It's a simple throw and catch, and Wallace has an 80 yard touchdown reception. Notice Angerer's hustle on the play, though. He's trying to play FS and MLB on the same play, and he had a great game overall. Question is, how is Wallace so open?
And here we can see the answer. The vanilla defense chosen (the real, old school Cover 2) was obviously deciphered pre-snap by Roethlisberger, and it's not the biggest assumption in the world, given that we run the Cover 2 on pretty much every play. You can see here the issue - the play action has held Antoine Bethea (circled in yellow) close to the line. The play design on offense has a vertical route run by #83, Heath Miller to further freeze him on that side. You can see Big Ben's line of sight here with the blue arrow. Consequently, Bethea sits in a shallow zone, and removes the symmetry of the defense. You can see now how Wallace's route could be so devastating.
Here's a simpler view, with credit to Cris Collinsworth for his touchpen skills. Bethea has come down closer to the line, stacking the strong side (which is reinforced with 2 TE's, hence it's reasonable for Antoine to think a run might be coming on that side).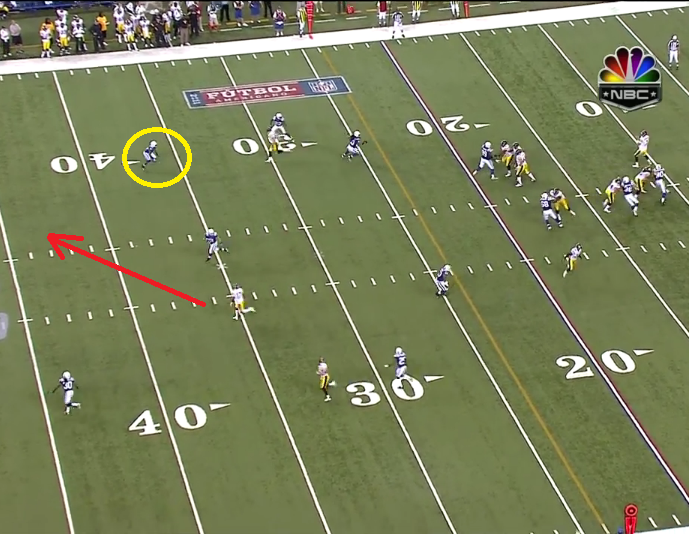 And at this point, he's really stuck between a rock and a hard place. Wallace has the beating of him vertically, so he might as well sit on the Miller route and hope that #30, David Caldwell has the pace to deal with him. Of course, and as is the case with 99 percent of safeties in the league, he doesn't.
I love Antoine as a player, I think he's a fundamentally solid guy in all aspects of his game. His tackling is nothing short of fantastic, and he's proven on many occasions that he deserves everything he gets in terms of credit and a highly paid contract. This is simply what happens when you play a vanilla defense that can be schemed for prior to the game, and adjusted pre-snap. If Bethea is deeper, Big Ben can hit Miller for a 15 to 20 yard gain. As such, it's hard to pile on one of our 3 best players, team-wide. (Peyton, Freeney, Bethea, before you get on my ass about that.)
Play #2 - 3rd and 10 from the IND 47 - 12:05 in the 2nd Quarter - Colts 0 - Steelers 10.
I enjoyed the game a lot despite the defeat. Guess why? That's right, more 4-3 DE dominance! As such, it's only fair that I show Freeney and Mathis with the great games that they had. The 23-20 scoreline was deceptive, and it's only the play of these two guys that kept us anywhere near the Steelers.
The Steelers line up in an empty set with a fair few vertical routes, given that it's 3rd and 10. The personnel appears to be 4WR 1TE, but either way, it's going to be a medium to deep pass. The Colts are going to drop into zone coverage. Surprise! If you don't know where Freeney and Mathis are by now, I'd question why you're reading - but just in case, Mathis is at LE (#98), whilst Freeney is at RE (#93).
Mathis gets his customary blast off the line of scrimmage and goes for the speed rush, while Freeney has decided to stunt inside to Mathis' side.
At this point, Marcus Gilbert the rookie RT has held Mathis off and kept the pocket clean for a few seconds - that's his job description, and against the Colts, it's painfully clear that you absolutely must not hold onto the ball for longer than necessary. Big Ben considers himself impervious to such limitations, and tries to scramble and make a play.
He even know's that it's a stupid idea and that he shouldn't be doing it - look at his head. It's swivelled, looking around for the All-Pro DE tandem. He can see #93 perfectly fine, but he has no idea where Mathis is. To his cost.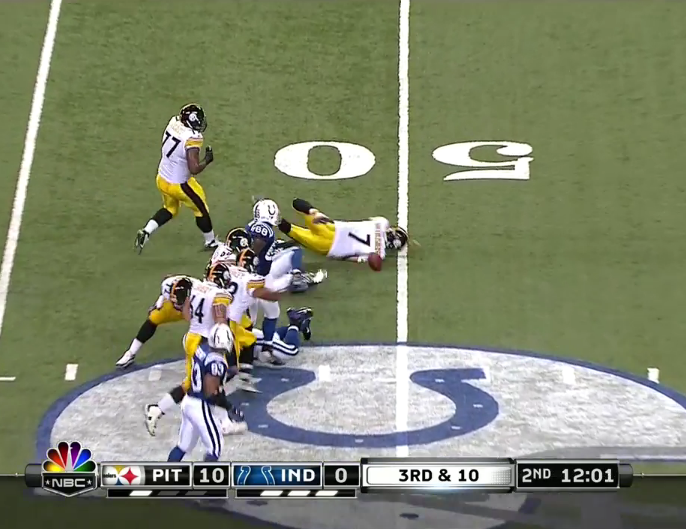 Mathis smashes into him from behind and forces the ball loose, in clinical fashion.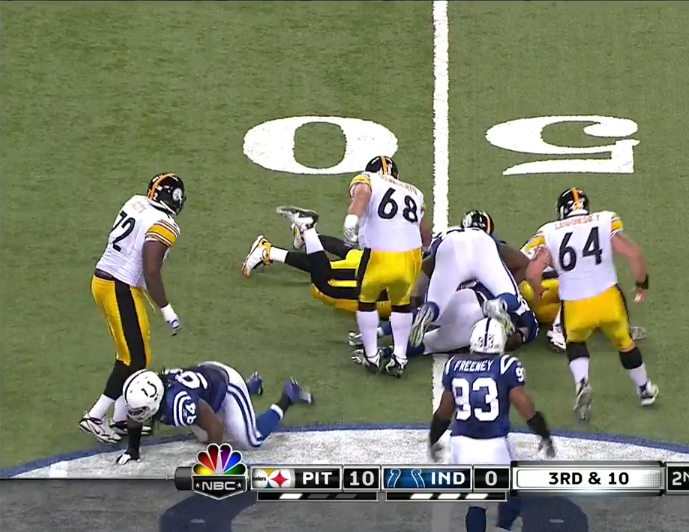 Mathis then completes the job, and falls on the loose ball.
You can see here that Gilchrist actually does a reasonable job, and you can also see Ben cocking the ball and looking as if he's going to throw. At this point, the ball has to come out, whether it's a throw downfield or a throw out of bounds if the coverage is too tight. Against other teams, you might have a chance to make a spectacular play when coverage breaks down, but against this DE tandem on 3rd and long? It's simply idiotic.
Yes Ben, there's Freeney. But where's Mathis?
Play #3 - 2nd and 10 from the IND 42 - 2:00 in the 2nd Quarter - Colts 3 - Steelers 10.
More DE play to savour, this time from Freeney. This play changed the game in favour of the Colts in the first half, and led to a deceptive scoreline at HT. The lack of help afforded to the OT's by the Steelers was shocking to say the least, but hey, it's compelling viewing.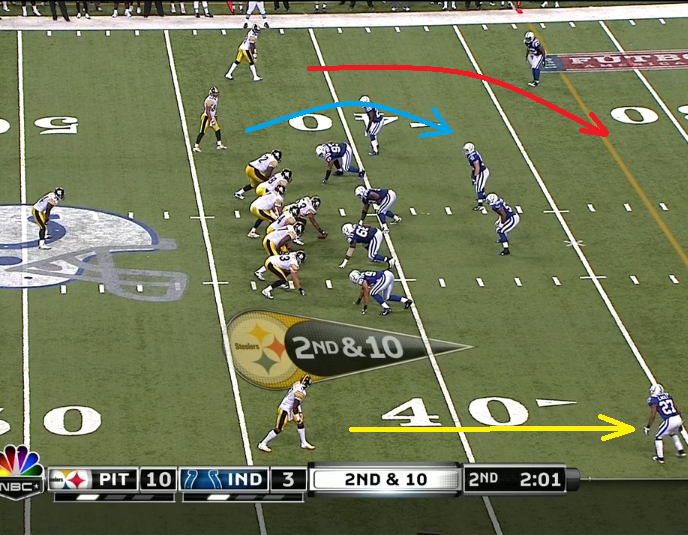 Another basic route set by the Steelers. They're running a 3WR 1TE 1RB set with Wallace out right, Ward and Sanders out left, Miller on the right side of the line and Mendenhall in the backfield. The Colts are playing zone as usual, though Jamaal Anderson is at LE instead of Mathis.
Freeney gets a frankly disgraceful jump off the snap, and obviously knows that it's coming. The sheer ease with which he beats LT Jonathon Scott is ridiculous.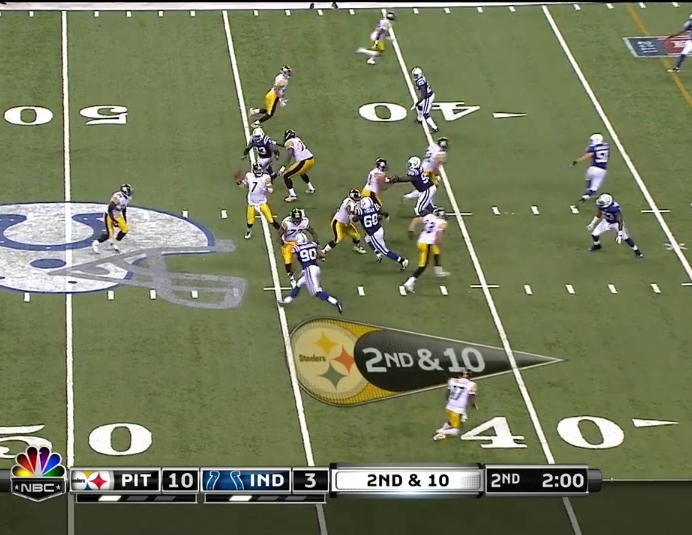 Big Ben has barely received the snap and Freeney is (unbeknownst to him) already bearing down. It's a combination of Freeney's jump off the snap, and the same reluctance that we saw last week with Joe Thomas to commit to the outside speed move. Here's where the spin move comes in handy - he doesn't even have to use it, and he gets sacks as a result. Part of the reason I admire Freeney so much is the psychological aspect of his game - his move variance is just beautiful to watch.
Look familiar? Yeah, we've been here before. Even in the short time since I started doing the 5 plays pieces, we've seen this 3 or 4 times. If it's a sack, there's a massive chance it's going to be a fumble. Joe Thomas, Chad Clifton, Jonathon Scott. Add their names to the list for this year.
Ben gets hit, loses the ball. Simple.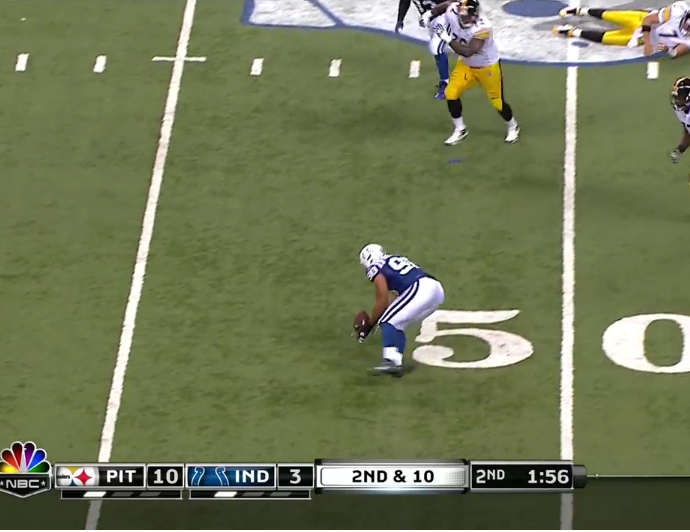 After a lot of bouncing, Jamaal Anderson picks it up and starts to run with it.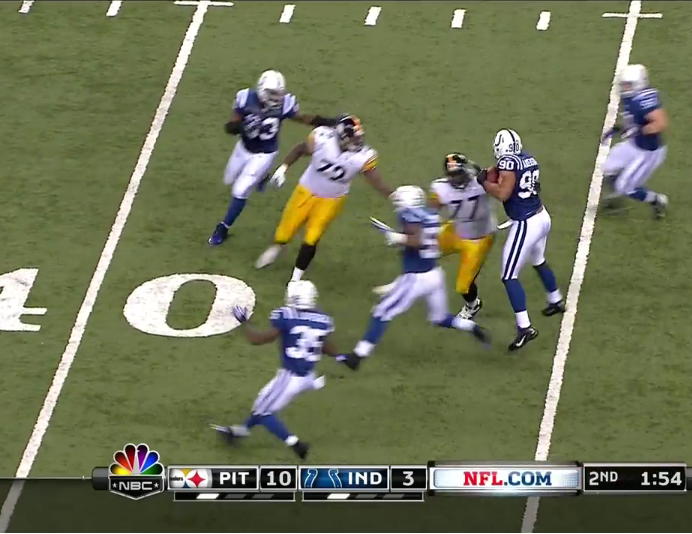 He gets several excellent blocks on his way to the endzone, but the play is only possible when he shows his athleticism by juking backwards and stiff arming #77 Marcus Gilbert. Really nice work from Jamaal.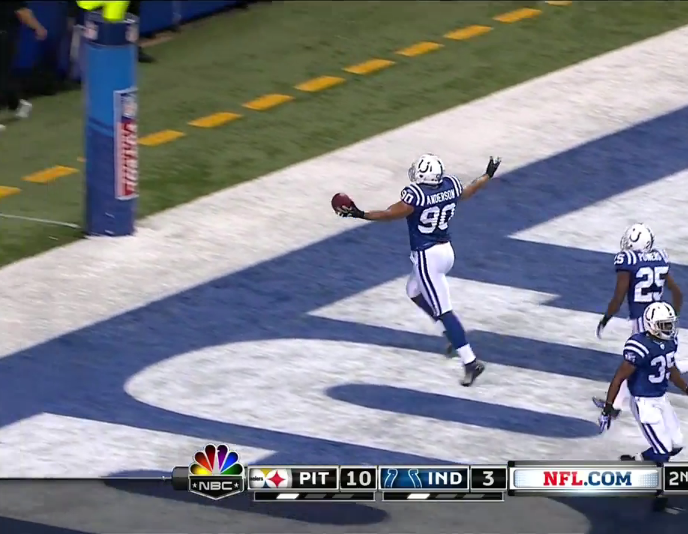 As stated, he takes it to the house for a defensive touchdown, and makes the play of the game for the Colts. I've been impressed with his play so far, and I think our DE rotation (alongside fresh talent at DT) which incorporates his run stopping aptitude has a major role to play in future. As for Freeney - as Cris Collinsworth said on the broadcast - "It's Sunday night, what do you expect?"
Play #4 - 1st and 10 - 1:46 in the 2nd Quarter - Colts 10 - Steelers 10.
I wasn't initially going to include this play, as I don't like overemphasising bad throws and the like when analysing defensive players. Then the news broke today that Melvin Bullitt was headed to IR (again), and so I thought i'd take another look. Given the ball skills shown and the fact it's a UDFA success story, I reconsidered. So, Joe Lefeged - it's your time.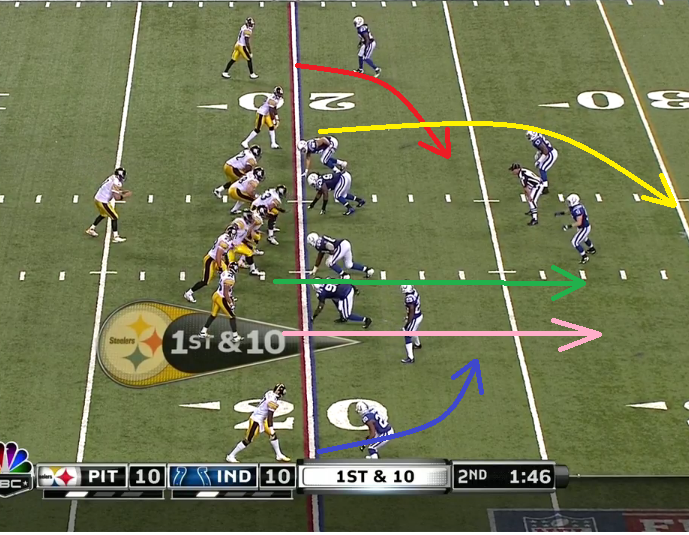 The Steelers again line up in their empty set, with Antonio Brown (red) and Emmanuel Sanders (yellow) wide left, Mike Wallace (blue) and Hines Ward (pink) wide right, and Heath Miller (green) on the right side of the line at TE. The Colts are going to drop into zone coverage.
Mathis and Brayton get good pressure off the edge, and push the pocket, constraining Ben. That said, there's absolutely no excuse for the throw that's coming up.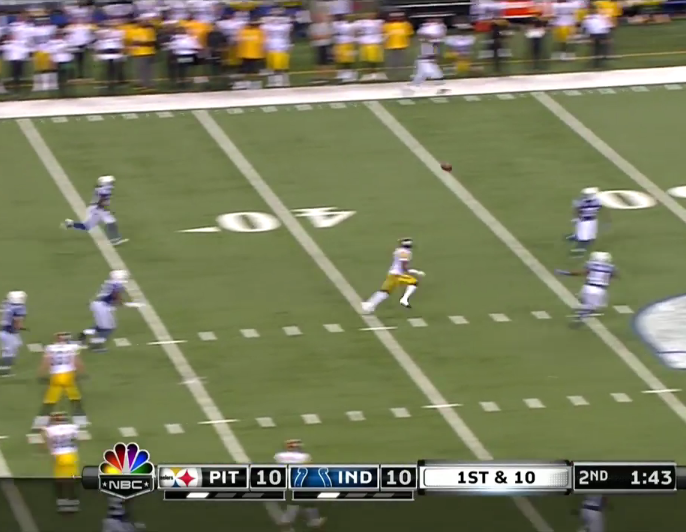 Ben throws the ball deep to Sanders on a post route, and it's just awful. If the guy was 10 feet tall, he still wouldn't catch that.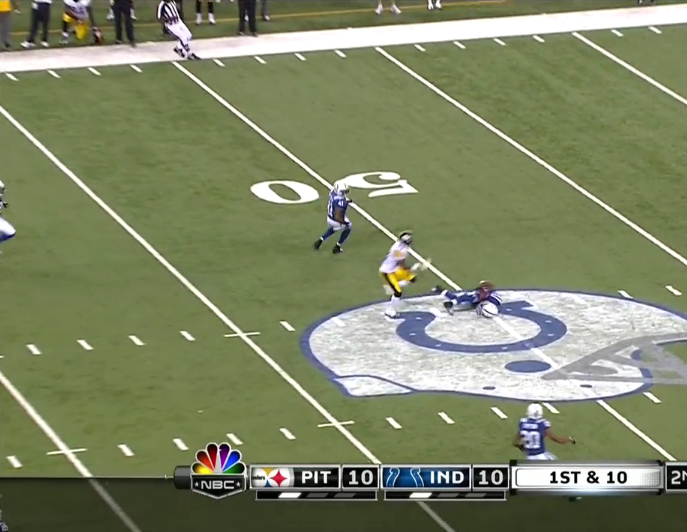 There's no reason to diminish the play made by Lefeged though - the ball is there, and he dives and makes a nice play on the ball for the interception. Curiously enough, Emmanuel Sanders decides to avoid contact.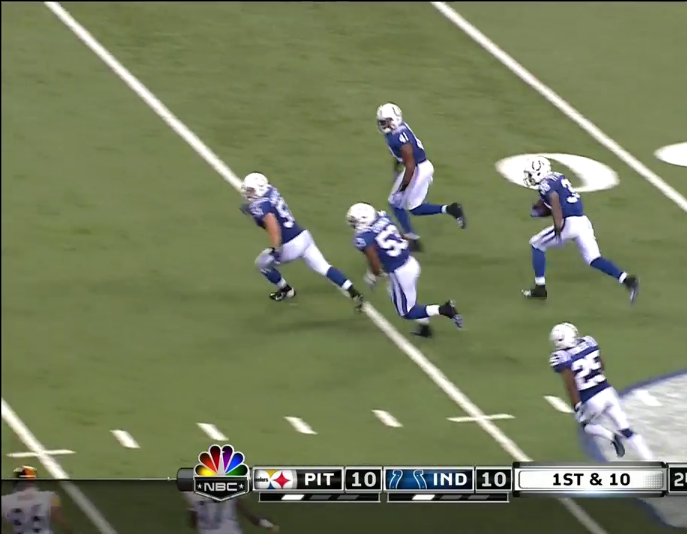 This allows Lefeged to get up and begin to run the ball back.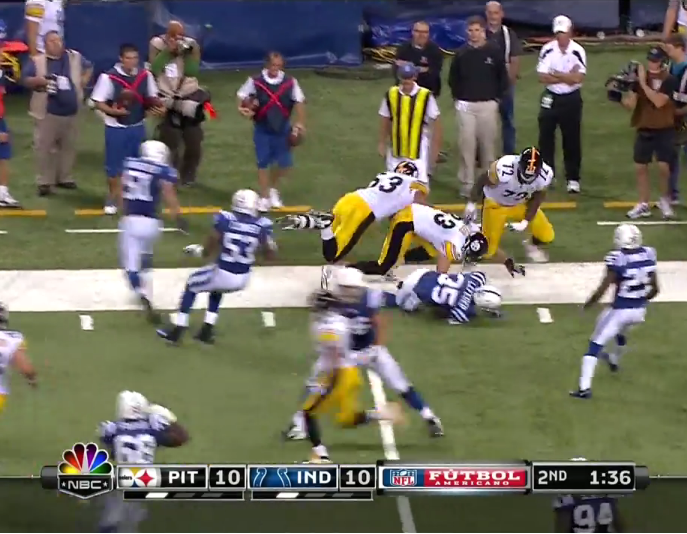 He's eventually brought down at the 25 yard line after a 25 yard return.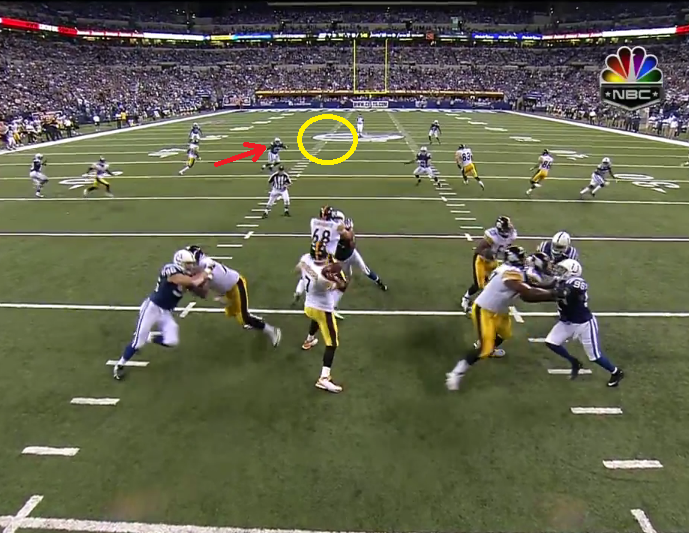 I've tried to illustrate the route that Sanders is running, and where Ben should likely be aiming to throw the ball. Don't get me wrong, he's the 2 time SB winner, but this seems fairly easy to point out.
He just sails it. It's over twice the height of Sanders. If that was a Kerry Collins pass, just imagine the repercussions from the fanbase? Ben played a pretty bad game, this was the low point.
Again though - it's a nice play by Lefeged. I've got no issue with him taking over the SS position full time. Melvin Bullitt has never convinced me with his tackling angles and coverage, and to be honest I wasn't looking forward to having him at the position this year. I don't really understand why we kept him, and now his injury history has come back to haunt. You'd think he'll be cut after this year.
Play #5 - 2nd and 3 from the IND 25 - 5:21 in the 4th Quarter - Colts 13 - Steelers 13.
..And so we come to the play that effectively killed the game. Yeah, we scored subsequently, but this took it out of our hands to an extent, and the Steelers closed out the game as you'd expect a team of their calibre to do. This play again serves to show the problems that Anthony Castonzo is having at LT.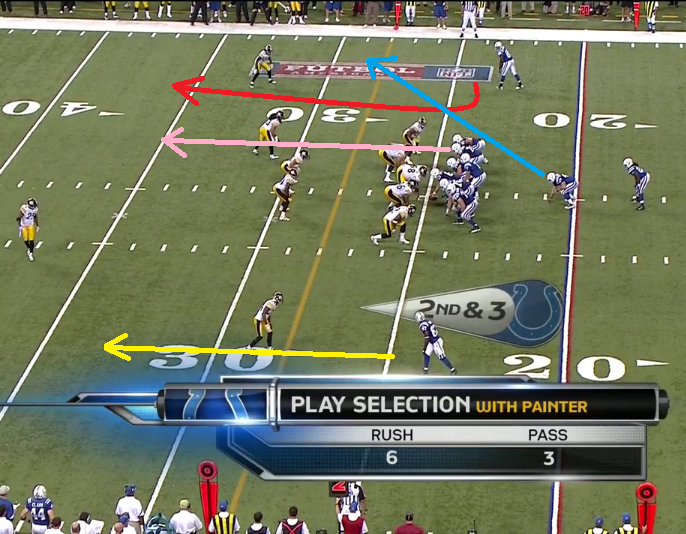 The Colts are running a strange formation, with an actual NFL fullback in the game. Wayne and Garcon are to the left and right respectively, while Jacob Tamme is on the right side of the line, with Chris Gronkowski and Joseph Addai in the backfield. The Steelers are going to bring the heat with a typical zone blitz.
Castonzo is matched up against James Harrison at LT, and to be quite honest, this is getting to be quite a concern. The frame captures just how inadequate he can be with regards to lateral motion, and he's getting consistently punished on speed rushes which result in sacks. Look at his posture there, and the lack of traction he has with his hands. He's overextended and just not where you want him to be.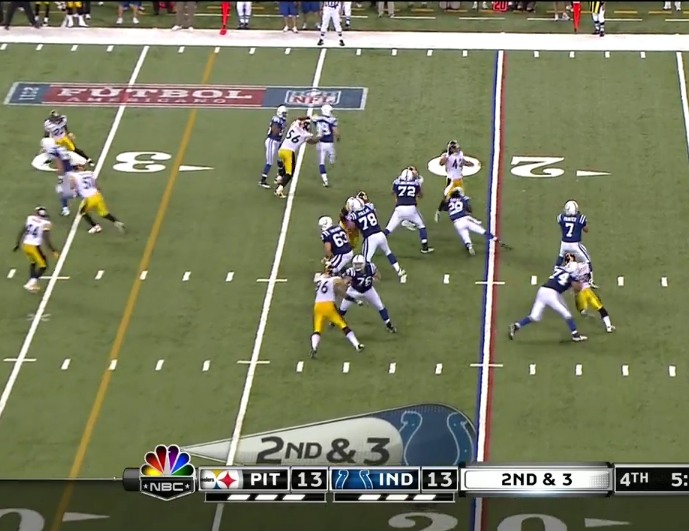 Harrison carries on round as if Castonzo didn't exist, and bears down on Painter, much like Freeney in the first half.
And just as Freeney does so well, Harrison pops the ball loose to complete the play. Painter doesn't have any pocket awareness whatsoever, but he isn't expecting to get blown up like this from the blind side.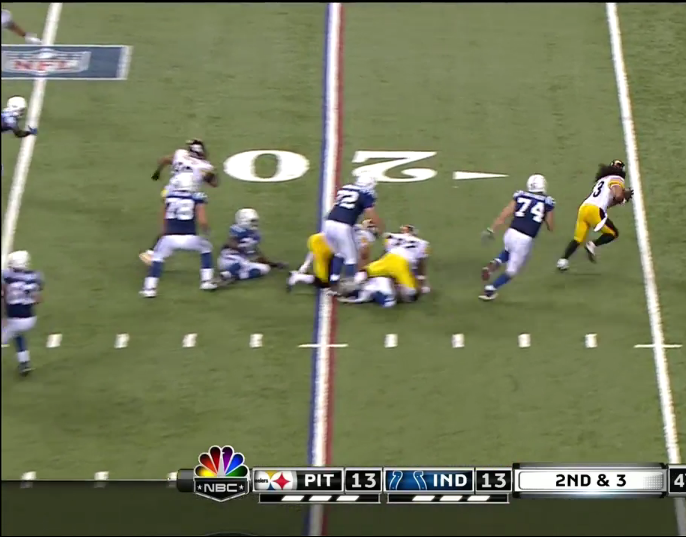 Polamalu has come on a blitz, and despite a good pickup by Joseph Addai, is in the right place at the right time to stride into the endzone for a touchdown, after picking the ball up on the hop.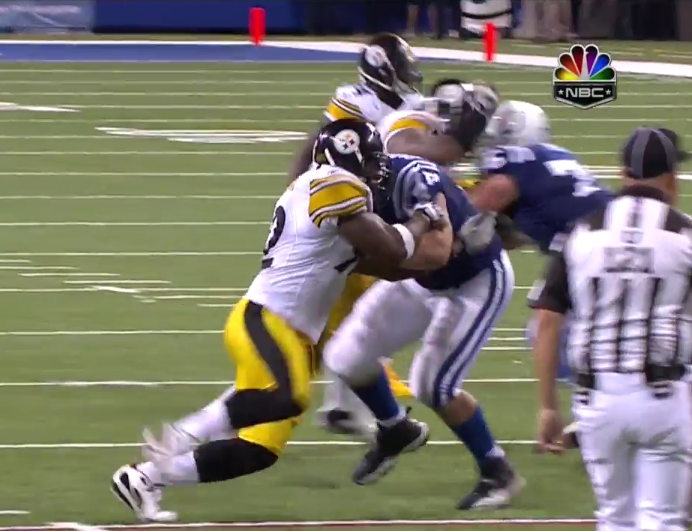 His head is down, his feet aren't placed correctly, and he doesn't have the power to resist Harrison.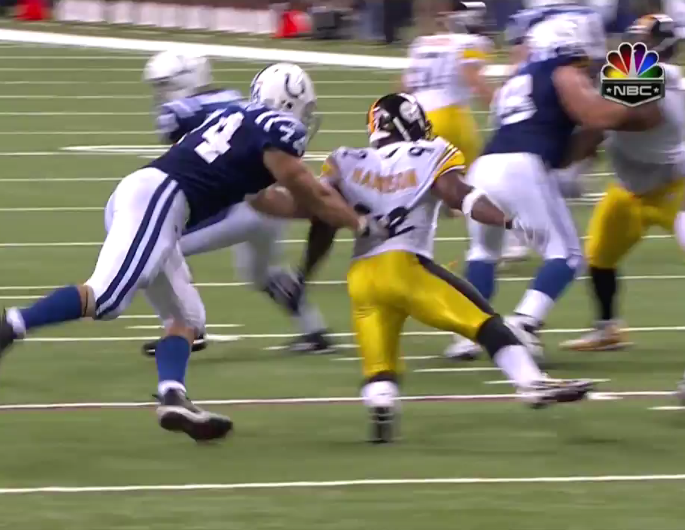 And he makes a perfunctory attempt to get his hands on Harrison with little success. All the concerns about Castonzo coming into the draft revolved around his lateral movement and his capabilities against speed rushers, and it appears rightfully so. James Harrison is a fantastic player in this league, don't get me wrong - but he shouldn't have such trouble with a simple speed rush on a regular basis like he's having. Disappointing, because he's shown athleticism in his run blocking and he isn't easily bull rushed.
Conclusions:
The Colts move to 0-3 for the first time in well over a decade. That said, there were certainly positives to take from the game. The performance of our marquee DE's was a joy to watch, and they were complemented by great play from the linebacking crew. Pat Angerer with 20 tackles (?!) was flying around the field all night, and did himself proud. With Gary Brackett now on IR, his play will be something to watch for the rest of the year, though he's showing himself to be more than capable at this point in time. Count me among the people who think that Brackett will be released this summer. Gary has been good for us both in terms of leadership and play on the field, but the simple fact is that he's now too injury-prone and poor against the run to factor highly in a revamped Colts defense, which we're hoping for (And getting, at this point).
We were able to run the ball confidently all night and ripped off smaller chunks of yardage at will, with Joseph Addai showcasing his 'juke for every yard' mentality, which I love. Our O-Line has been run blocking very well, and if this improvement were to continue throughout the year, I'd be very confident of a deep playoff run when Peyton comes back.
Positives:
Run Blocking - The O-Line is beginning to step up. Major props for Jeff Saturday, who took Casey Hampton (possibly the best NT in football) out of the game.

Run Defense - As I said earlier, we were predicated on stopping Mendenhall and the running game, and we did so successfully. Our Front 7 outperformed expectations by a wide mark.

Young players stepping up - Angerer, Lefeged, Nevis in particular.
Negatives:
Pass Defense - The Cover 2 is weak in certain areas, and the Steelers came ready to attack deep and in the gaps between corner and safety, doing so successfully all night. Need to step it up, and that includes playing our best personnel. Drop Lacey, play Tryon. I don't care if you don't like him, Caldwell.
Pass Offense - Our QB situation is nothing short of a joke, and Kerry Collins has enough time to make throws that he's been missing. Painter is no better - his miss of Garcon on a double move was inexcusable.

Anthony Castonzo - Becoming concerned at his failure to deal with speed rushers. Needs to show that he can do it when asked, otherwise he'll be targeted around the league and his weakness will be exploited.

Special Teams - surprise! The usual pathetic effort from the personnel on the field. Patty Mac took to punting out of bounds whenever possible, something that I wholeheartedly endorse. 
So now we move to the other primetime slot, Monday Night Football against the Bucs. A repeat of what happened 8 years ago is unlikely, but we can certainly take positives from this game into it and hope for the best. As usual, rec it if you like it, and comment either way. Flood me with them.
Go Colts.