So, the preseason has finally come to a conclusion. I thought i'd wait until after the main roster adjustments had been made, in order to focus on the players we still have on the roster. There were some surprising removals on cutdown day, with Tommie Harris, Kyle DeVan and John Chick foremost among them, while players like Donald Brown and Anthony Gonzalez get a second chance. This is puzzling to me at the very least, and whilst I'd love to go into it in this post, I think I'll save it for another. Five Plays is going to be sacrosanct, with no agenda. Maybe. Either way, I digress. After the jump, we begin..
Play #1 - 1st and 10 from the IND 45 - 13:18 in the 1st Quarter - Colts 0 - Bengals 0.
Straight out of the gate, something positive. The Bengals received the ball and immediately went three and out, meaning the Colts got the ball in nice field position, and Kerry Collins comes in for his first play as a Colt. As it is, it's a designed play action heave deep, which is a nice way to test whether he still has the arm.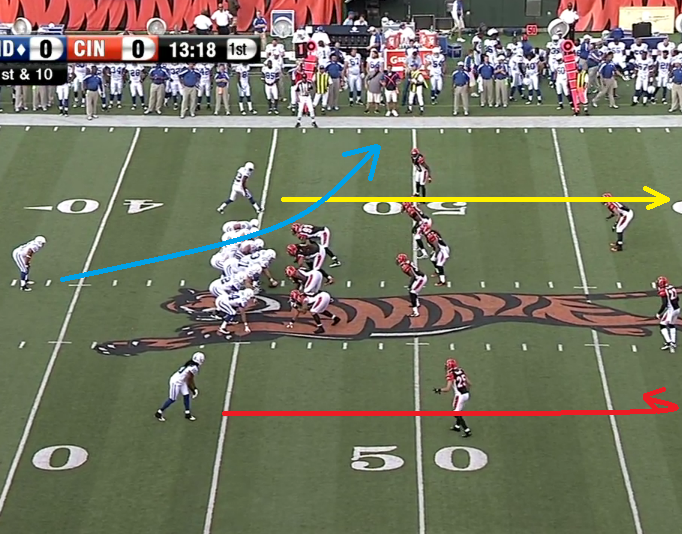 The Colts are lined up in a 2WR 2TE 1RB formation, with Taj Smith and David Gilreath out wide, Tamme and by the looks of the quality block Eldridge staying tight to the line and Donald Brown in the backfield. Fairly simple stuff to start Collins off, and I must say I love the playcall.
Collins fakes the handoff fairly well, and the Bengals defenders located at the top of the image next to Gilreath pursue horribly. They're in a zone coverage with safety help over the top, but it's pretty poor stuff.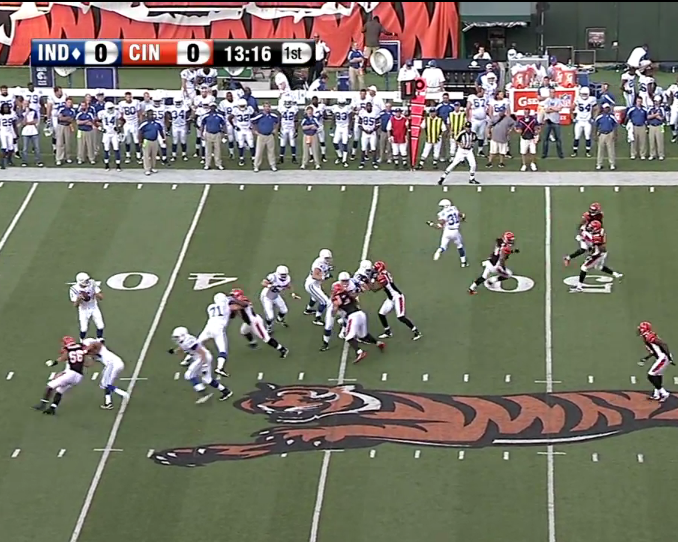 The O-line with the two TE's protects pretty nicely, as you'd expect with that many people taking care of a four man rush. Prepare yourself for the 2nd round 2010 pick Taylor Mays and his comedic attempts at coverage.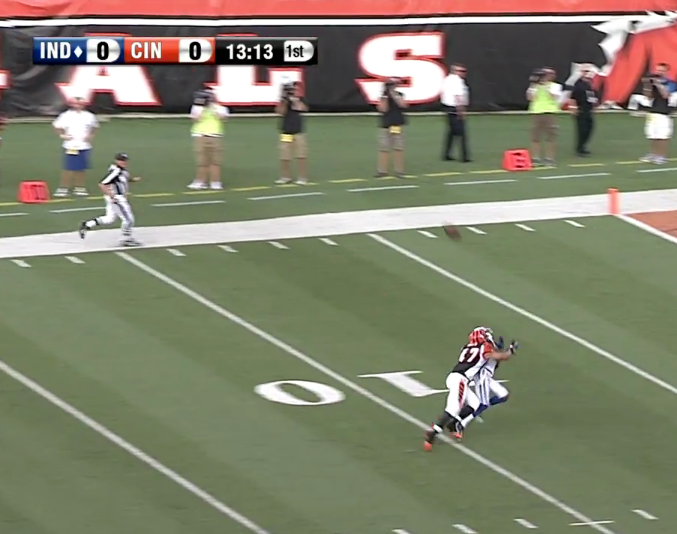 I've caught the frame at a time where his jumping on Gilreath looks a bit more acceptable, but he's been there for a while. He absolutely mauls him clumsily before the ball gets there. Of note is the lovely spiral and accuracy put on the ball by Collins.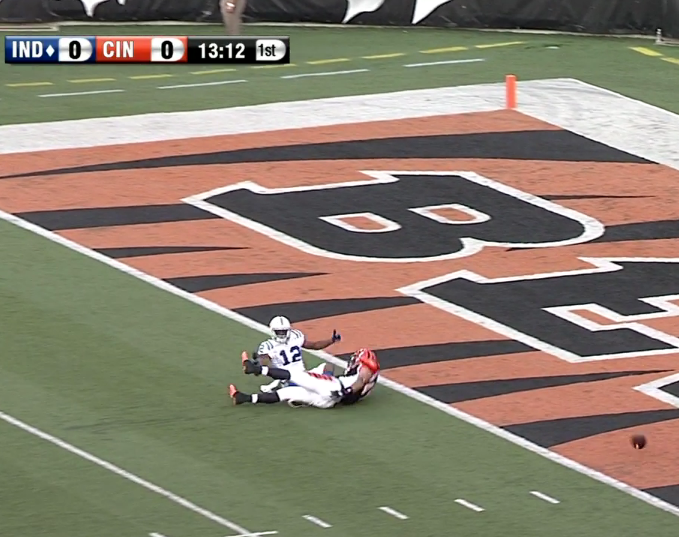 Gilreath isn't particularly amused by developments, but a flag gets thrown.
Pretty poor from Mays, but it's a good route and a nice throw from Collins. Let that be a lesson to those of you who wanted Mays as a cheap pickup. He's way too raw to be successful for us in the short to medium term.
Play #2 - 2nd and Goal from the CIN 8 - 12:31 in the 1st Quarter - Colts 0 - Bengals 0.
Following the penalty and a rushing attempt, we can finally put some close scrutiny on Anthony Castonzo, as many of you have desired throughout the preseason. Unfortunately, it doesn't show him in a positive light in this case.
The Colts line up in the spread formation, going from right to left: Taj Smith, Jacob Tamme, Brody Eldridge, Donald Brown and David Gilreath. The Bengals are going to play man coverage, so it's fairly straightforward. Castonzo is at LT, as you'd expect.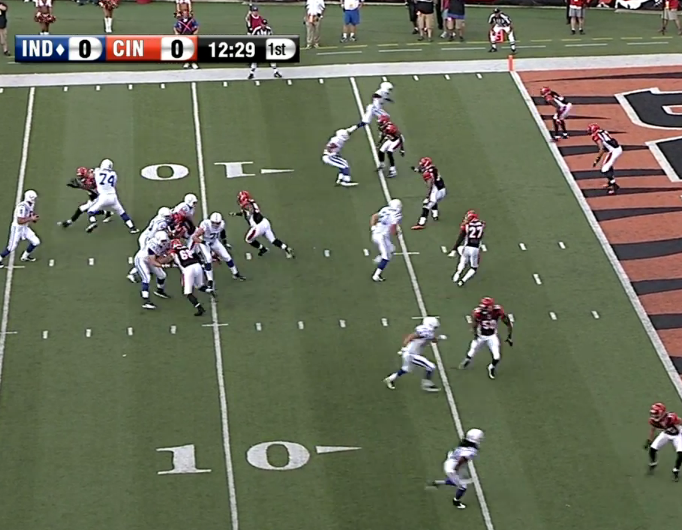 You can see already that Castonzo is in dire straits. He should absolutely not be beaten by a simple speed rush, and yet Johnson seems to have superior burst, and Castonzo's lateral movement leaves something to be desired.
Johnson's long arms prove to be very useful and he gets a hit on Collins, who's attempting to throw to the left side, to whom I am not sure. The rest of the protection is good enough.
The ball ends up as a duck due to the hit, and the play is wrecked.
From this angle you can particularly see the issues that Castonzo faces with the speed rush, but I don't see it is particularly promising from the young LT.
And without wishing to alarm you, you might get a sense of deja vú in a minute.
Play #3 - 3rd and 10 from the 50 - 3:53 in the 1st Quarter - Colts 3 - Bengals 0.
It's not particularly pleasant, but it's only fair. Another speed rush undoes Castonzo, and you bet that teams are going to take note of it. Mario Williams in Week 1 might be a concern.
The Colts line up in a 3WR 1TE 1RB formation with Delone Carter back in pass protection. I stress though, this play is absolutely not his fault. Taj Smith is split out wide at the bottom of your screen, and Kerry Collins is the QB. Castonzo is at LT with Michael Johnson at RDE. Taj is running a fly, and it'll be the desired route for Kerry.
You can see already the issues Castonzo is having again. Carter gave the protection a quick look, and when he does so, all seems to be okay. A first round LT shouldn't really be beaten by a straightforward speed rush, let alone twice, and it's clear that again his lateral movement in this case leaves something to be desired.
Johnson finishes what he started, and in all honesty Castonzo should be doing much better. Collins could certainly have stepped up into the pocket more than he did, but he definitely went a couple of yards, and he isn't going to expect a simple speed rush like that to beat Castonzo twice in a quarter. Johnson's rather lanky frame and long arms help to force the fumble, much like they helped with the QB hit earlier on.
The ball hits the floor, and as is common in this scenario, the Bengals recover.
It's obviously not very good, and it shows that he's just as susceptible to the bumps in the road as anyone else, despite his much heralded skills and immediate adaptability. It's not the sort of mistake that's going to get a QB killed, but it's a play that will really cost your team in the regular season. If it grows to be a larger issue, it's something to worry about.
Play #4 - 1st and Goal from the IND 7 - 1:12 in the 4th Quarter - Colts 10 - Bengals 13.
The significance of this play is the touchdown scored by the Colts (after a nice 4th Quarter drive with Orlovsky at the helm) to put the Bengals in a bit of a pickle, 4 points behind with a minute to go. Of note is the nice catch on a slant by Taj Smith.
The Colts line up in a 3WR 1TE 1RB set with Taj Smith out wide right (he's the only player of note here). He's going to run a straightforward slant against the coverage of David Pender, who for some reason has given a full 10 yard cushion in the redzone. His previous team before the Bengals? The Colts. Seriously, what are we doing to a whole generation of DBs?
The Bengals are in a soft zone coverage endzone package, but that doesn't give an excuse for this sort of cushion. I understand the risk of a corner fade or something like that, but come on now. You can't give up the simplest pass play in the book because a much more difficult throw and catch is potentially there. You could perhaps get away with it if you're a corner with exceptional burst and 4.3 speed, not to mention incredible anticipation and instincts. But with those attributes, you'll likely not be in the position in the first place. Taj begins his route, and the separation from Pender is clear.
Orlovsky spots the simple route and makes a tidy throw behind reasonable protection.
Taj makes a nice little grab and holds onto it despite being hit from behind.
It's straightforward like I say, but it's something that a lot of people thought Taj wasn't capable of. I don't particularly like his drops and the potential for a boneheaded play on ST like in the Wildcard round, but he was one of our better players on ST, and he has the potential to be a decent backup WR. Not the best decision to cut him in my opinion.
Play #5 - 3rd and 1 from the IND 26 - :19 in the 4th Quarter - Colts 17 - Bengals 13.
The significance of this play is the continued improvement of one of my favourite players in the preseason, Kevin Thomas. I like this play for a number of reasons - even though it's a terrible throw, he at least catches the ball, and he presses the receiver nicely too.
The Bengals line up in a straightforward 2WR, 2TE, 1RB formation as far as I can tell. With personnel being chopped, it's rather difficult to identify players from the third and fourth string, but we'll run with it. The Colts are in a straightforward zone look which is heavy on corners. I've circled Thomas in Green, and the routes are drawn on as relevant, as per usual. The yellow route of Chase Coffman is pertinent here.
As you can see, Kevin Thomas is pressing his receiver nicely, preventing him from getting past and going anywhere at all. I drew the drag route on the first image, but it could equally be possible that he's running a straight vertical and Thomas does such a good job at pressing that he has to alter it. The pocket is fairly intact, though there's pressure coming from the RT area. Lefevour feels the need to roll out.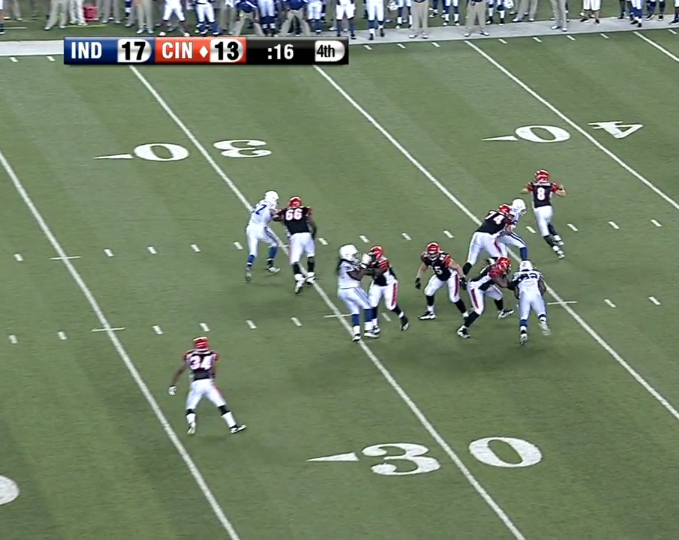 He rolls out, makes a quick read having seen Coffman wide open against the ordinary Cover 2, and he needs to make the throw over Thomas and in front of the safety.
Unfortunately for Lefevour, whether it's through the movement or just a terrible throw, he pings an absolute duck straight to KT21. (I've just invented that.)
Thomas takes a nice posture to make the pick, and catches it cleanly. Cue horrible flashbacks to Kelvin Hayden's dropped pick vs the Jaguars last year.
He runs out of bounds safely and soundly and guarantees a Colts win in the preseason. Amazing stuff.
Conclusions
I didn't watch this game as closely as the others, simply because I hold less interest in the 4th string backups from the respective sides than I do the starters. The format of the other preseason games (Starters in the 1st/2nd Q's, Second stringers in the 2nd/3rd Q's, Third stringers in the 4th Q) is much more viewer-friendly, in my opinion. Nonetheless, a win is a win, and that's something to be happy about. Restricting any team to 13 points, whether it's the starters or the backups, is clearly the ambition. What do we draw from the game as a whole, though?
Positives:
Taj Smith - He might not be on the roster any more, but 8 catches for 140 yards suggests he's better than the opposition, hands down. If he hadn't had a couple of drops by my count he'd have had even more. He's not a consistent #3 WR, but I'd be happy with him at #4 when Gonzalez inevitably gets injured.
Kevin Thomas - Made a clutch pick to end the game, regardless of how simple it was.

Kerry Collins - He still clearly has something in the tank, even if he's still nowhere near Peyton. Short of Tom Brady and Aaron Rodgers, who is?
Negatives:
Anthony Castonzo - The speed rushes are a real concern. Michael Johnson isn't exactly Osi Umenyiora or Dwight Freeney over there at RDE, and he can't afford to do that. Look for Mario Williams to speed rush the hell out of him in Week 1.
O-Line as a whole - Poor run blocking again characterised their performance, and whilst it's not a surprise it's a disappointment.

Pass Defense - Dalton completed 6 of 9 for 43 yards, Gradkowski completed 14 of 17 for 90 yards, and Lefevour completed 8 of 12 for 45 yards and an INT. No touchdowns conceded via the pass, but the high completion percentage for opposing QB's has been a theme throughout preseason. The Cover 2 obviously allows for short completions, but it's been too high for me to be comfortable, and it's throughout the roster.

This game was a pretty poor one to watch in terms of quality and entertainment, but nonetheless, it had to be done. That's the preseason over, it's time for the real stuff. Quick note on Peyton - I had us down as losing at Houston this week regardless, so it's really not that bad. We lost there first game last year, and if anything it's a decent one to get out of the way. Don't get too down, guys. Collins played them last year and did reasonably with a mediocre receiving corps in Tennessee, so for those of you that retain hope, don't lose it.
As always, rec it if you like it, and feedback is very welcome.
Go Colts.