Based on watching this, I'm convinced "Living on a Prayer" sounds better when Dallas Clark signs the lyrics. I don't know what's more impressive: His ability to destroy opposing defenses, or his talents as a sign language lip singer. Great find DallyDrake. Made my morning.
News from around the Colts blogosphere is rather humorous. Saw this post on Cranky Colts and thought it proper to share here. Cranky Colts writer Buckett gives his take on the Colts in the first period of the Jacksonville game:
Then, it's Kenton Keith for a 4 yard touchdown run and we have the early 7-0 lead. I think I just heard crickets and saw a tumbleweed roll through the stadium.
We piped in silence.
7-0 Colts.
The "piped in" comment is a slap at ESPN's resident Jerry Jones whore, Ed Werder. Back in 2005,
Werder claimed the Colts piped in amplified crowd noise
during a home game against Pittsburgh. Werder had no proof for this claim, and has never retracted it despite the fact he had no proof to back it up. ESPN also did not fire his ass for making a claim without sufficient proof, a big no-no for any real reporter. In fact, ESPN's "blogger" Matt Mosley
seems to think Werder was a victim
in the whole thing:
Ed Werder once accused the Colts of piping in artificial noise, and barely lived to tell about it.
Yes Matt. When hack reporters make false claims questioning the integrity of a fanbase's team, it tends to piss the fanbase off just a tad. Werder, who should have been bagging groceries after he made that false claim, is just a few generations removed from toe fungus, which is what looks to be growing under his nose. That is, without question, one of the worst mustaches I've ever seen.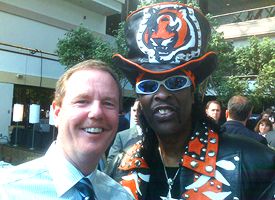 Believe it or not, the goofy dumb ass pictured here is NOT the Bengals fan.
The Charlie Weiss boys have some more Dallas Clark love. I'd forgotten about this hilarious Madden 07 tribute to Dallas:
I think it's pretty clear that, right now, Clark is the best TE in football. He's faster than Tony Gonzalez and Antonio Gates, and he's a better blocker. He's a matchup nightmare for linebackers and safeties, and even Champ Bailey had a hard time covering him. Clark needs to sty healthy because I'm starting to think he's THE most important offensive weapon not named Peyton Manning.
CWAMB also made this hilarious "poster" from the Jags game:
The poster comes from this hilarious Jags crowd vid capture from the game.
Also, looks like Oakland is sick of Dom Rhodes, and might cut him. Again, this is Mike Florio reporting this rumor, which means it's about 65% bullsh*t. Still, if Dom were cut, would you want him back? My feeling is yes, I would. Dom's a great teammate and a super guy. He and Joseph are good friends, and Dom works well in the Colts' system. Having Joseph, Kenton, and Dom would be pretty scary.
Poll
If Dom Rhodes is cut by Oakland, would you want Polian to sign him?
This poll is closed
Yes, but for the right price

(47 votes)

No, we don't need him

(51 votes)
106 votes total
Vote Now