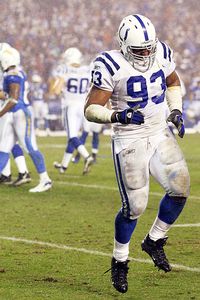 Dwight Freeney must return 100% from the foot injury he sustained last season.
One of the reason
newspapers like the Trib Star in Terre Haute
are so much better than the litter box liner known as the Indianapolis Star is because of
articles like this
. Unlike the Star, which is more concerned with Peyton Manning's commercials, Tony Dungy's retirement plans, or Bob Kravtiz's flaming bunghole, the Trib Star actually writes about what the football team is doing and how they plan to win lots of games in 2008.
It's shocking, I know.
The Trib Star article articulates very well what the Colts are looking for during the 2008 off-season, and how they used the Combine to gauge those needs:
The Colts will most likely be looking for an athletic pass-rushing defensive end, a tight end to be a primary backup for starter Dallas Clark, a backup running back who can be a tempo changer as well as a pass receiving force out of the backfield, a backup middle linebacker, and a fourth wide receiver.
In this series, we've talked about the Colts needing another wide receiver, a dynamic special teams return threat, a veteran special teams ace, and a reliable back-up running back. Now, we conclude this series with the area many of you said is the #1 need to address during the off-season: The pass rush.
It's important to make one point before jumping headlong into what the Colts should do: Indy was decimated last season with injuries to their pass rushers. By the time the San Diego playoff game rolled around, the Colts d-line was a shell of its former self. Dwight Freeney and Booger McFarland were gone for the season, and both Raheem Brock and Robert Mathis were severely hobbled. After Freeney went down during the first SD game, the Colts still managed to generate a good pass rush. Sack numbers remained consistent, and the line was getting pressure, but it was not the same ferocious, un-relenting pressure we fans are used to seeing. Then, when Mathis and Brock went down with injuries (and essentially never recovered), it doomed the defense. Any team that suffers injuries like this in such a way at such a vital position is going to lose something on defense. The Colts lost most of their safeties in 2006, and the defense suffered mightily. However, when the playoffs came the Colts got healthy and dominated. In 2007, the d-line never got healthy. To put things into perspective, imagine the NY Giants playing without Osi Umenyiora and David Tuck, and with Michael Strahan and Michael Alford extremely hobbled.
So, a key element to getting a better pass rush is just getting players back and healthy 100%. That said, it is also important to shore up depth at the position because, quite frankly, guys like Josh Thomas and Darrell Reid did not step up and produce when those players went down. It had nothing to do with effort, because there was plenty. It's just that Thomas and Reid are not pass rushers. They are good, solid back-ups who can play well in spots, but they are not starters. And with the emergence of Ed Johnson, Quinn Pitcock, and Keyunta Dawson (all good DTs who can stuff the run), the need for speedy, aggressive d-line players with unrelenting motors is key.
So, how does this need get addressed?
Free agency: On NFL Sirus radio, Bill Polian recently said the Colts are done with free agency. They said the same thing in 2006, and then signed Adam Vinatieri and traded for Booger McFarland. It's very unlikely that Polian and crew will throw big money at players like Antwan Odom, but it is certainly possible that a guy like Travis LaBoy will get an offer from Indy. LaBoy is a free agent this season, and after spending four years on Tennessee's bench he might be looking for a change. LaBoy is a perfect Cover 2 DE, and has strong pass rushing skills. He totaled 6 sacks, 4 forced fumbles, and an INT all in limited time. That's pretty damned impressive. LaBoy is someone the Colts are seemingly interested in, and adding him would break with a yearly tradition. Instead of Tennessee poaching Colts rejects every year, Indy can poach one of Tennessee's for a change. There's been some chatter for Indy to take a look at former Bengals DE Justin Smith, but I'm not sold. The feeling is Smith struggled in Marvin Lewis' scheme, but he'd be ideal in a Cover 2 scheme. The problem here is Smith wants to start, and that's not happening in Indy. Another possibility is Buffalo's Anthony Hargrove. I talked about Hargrove as a potential special team ace. Hargrove knows the Cover 2 system (they play it in Buffalo), and could fill a dual need for pass rusher and special teams ace. Hargrove hasn't been able to return to his 2005 St. Louis Rams glory (6.5 sacks), but he is still young and the Bills bloggers seem to think highly of him.
Draft: This is the forum where everyone thinks the Colts will address this need, but after reading the Trib Star's article, I wouldn't be surprised if Polian drafted 2 safeties, 2 TEs, and a kicker this April. The one thing about Polian is he will never do what other people expect. He'll do what he thinks is right, and when all is said and done he'll end up being right. From a practical standpoint, the draft is the best (and cheapest) place to get pass rushers. Remember, pass rushers can come from both the DE and DT positions. You can forget about LBer. The Colts don't draft pass rushing LBers. This is a Cover 2 system, not a 3-4. No one system is better.

The Colts are minus a first round pick in 2008 after trading it last season to move up in the 2007 draft to draft LT Tony Ugoh. Looking back, that was a pretty kick ass move considering Ugoh (if he were in this year's draft) would have been a first round pick. The Colts could have several compensation picks after losing players like Nick Harper and Cato June in 2007 to free agency. With those picks, the Colts could find some second day gems ala Robert Mathis and Raheem Brock. It's possible that two of those picks could involve players who spent their college careers in the state of Indiana. Notre Dame's Trevor Laws has Cover 2 DT or DE written all over him. He was the only good player on a bad Notre Dame defense throughout his tenure with Charlie "I'll eat your babies" Weis. His motor is non-stop, and he has the height and weight Dungy looks for with DTs (6'1, 297). NFL Draft Countdown describes Laws as:

Has a non-stop motor...Great strength...Technically sound and really understands leverage...Is real quick and a decent athlete...Outstanding tackler...Can penetrate and make plays in the backfield..Versatile and has played multiple positions in two different schemes...Has a ton of experience against top competition...Really smart and a hard worker...Active hands...Productive...Had a great senior year...A leader.

Again, he's most certainly a Tony Dungy guy, and though he might not have much upside, he seems to have all the intangibles one needs to succeed in the NFL. His versatility is huge in this defensive scheme, and his experience playing top competition might make the NFL transition run smoothly.

Trevor Laws could have a long, productive NFL career as a Cover 2 DT.

The other state of Indiana product is Purdue's Cliff Avril (cue MasterRWayne's Purdue hating comment). Contrary to some here, I have no problem with Purdue players, and Avril might just work as a Dungy-type pass rusher. Like Laws, he has a non-stop motor and tremendous speed. He doesn't have an assortment of moves, but his quickness helps. He reminds me a lot of Robert Mathis (6'1, 245), and could start out as a situational rusher for the Colts. MonkeyBusiness, in his Combine live blogging thread, said there's talk of moving Avril to LBer. I think he could work as a DE in the Cover 2, and would be better suited there. Another prospect is Georgia's Marcus Howard, who had 11 sacks for the Bulldogs in 2007. Howard also ran a 4.60 40. Bulldog fans seem to think Howard came into his own as a pass rusher in 2007, and his insane speed and Cover 2-like size seem to make him ideal for Indy. Howard also has a knack of getting to the football and creating turnovers; a big plus for a DE in the Cover 2.

Like Purdue's Cliff Avril, Georgia's Marcus Howard is fast, fast, FAST! off the edge

Trade: It's not a trade, but signing former Purdue standout Roosevelt Colvin, who was just cut by the New England Patriots, is a possibility. Colvin is a solid pass rusher, and his knowledge of the Patriots could help shed some light on the whole Spygate thing. You might remember Colvin for spiking the football on the Colts logo after the Patriots defeated the Colts last November. A few weeks later, Colvin was injured and placed on IR. Now, he's out of a job. Perhaps Indy's positive, classy environment will help Colvin appreciate the importance of having good karma. Colvin's entire career with New England was defined by injuries. They wanted him to be a starter. His career could blossom, and he could last longer, if he were a situational pass rusher in the Cover 2.

One possible trade (and this is just me shooting the breeze) is Indy sending Booger McFarland to Chicago (a team desperate for healthy or consistent DT play) in exchange for draft picks or a player like Mark Anderson. Anderson disappointed last season as a starter, but might work better as a situational pass rusher. Plus, with the depth the Colts have a DT (I still can't believe I'm writing that), a player like McFarland is a luxury. Is this trade likely to happen? No. But, I use Chicago as an example because 1) They run a similar defensive system, 2) The coaches love each other, and 3) Because I enjoy Bears fans telling me my trade proposals are stupid.
Would the Bears trade DE Mark Anderson to Indy?
As you can see, there are several options open to address the need for more pass rushers. Literally, all three options could be maximized to bring in a stable of very capable players. Of all the needs areas, I worry about this one the least. Even if the Colts bring in players like Travis LaBoy or Trevor Laws, it is absolutely vital that guys like Freeney and Mathis come back 100% in 2008. I personally feel that Laws would add the most, and someone like LaBoy would likely not cost much but bring a tremendous amount of production to the table.
And with that, the 2008 Off-Season needs series comes to a close. I hope you enjoyed it, and found it beneficial. I will refer back to these posts periodically throughout the off-season and during the regular season (and beyond). I did my best to leverage SB Nation's gaggle of college bloggers, and post some of the news and notes on free agents from our NFL bloggers. As always, your comments and feedback on my suggestions are appreciated, welcome, and (in all likelihood) more insightful than my initial post.