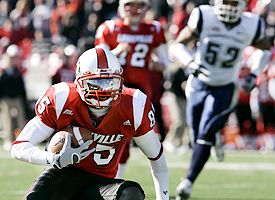 Could Harry Douglas thrive in the Colts offense the way he did at Louisvile?
Colts fans have been spoiled for years. Our team has had, arguably, one of the best WR duos in NFL history. Marvin Harrison and Reggie Wayne are as good as it gets. Harrison is a HoFer, and might be the best receiver to play the game not named Jerry Rice. Reggie Wayne is awesome in his own right, and when placed in the role of #1 option, he can rise to the occasion (as he did in 2007). These two greats have terrorized opposing secondaries for over 5 years. However, like all great things, we must come to the harsh, grim reality that sometime (possibly soon) this great duo must end. It might not happen in 2008, or 2009. But it will.
Fortunately, Bill Polian might have found a successor in Anthony Gonzalez, a guy who seems to have that special something that makes players great. His sideline ballet dance for a TD in the playoffs against San Diego was a big time big play, and special players make special plays on special days. But even with Gonzalez, the Colts need to replenish their WR corps. I will profile a few receivers (most of them late round guys) in the 2008 draft that could help, starting with a prospect who played his college ball just down I-65: Louisville's Harry Douglas.
When the Colts look at WRs, the typically do not emphasize the all misleading attribute known as "size." Seriously people, Wes Welker lead the league in receptions, and the guy is shorter than my mother. Marvin Harrison is listed at 6', but I've seen him up close. He ain't 6'. What the Colts look for are guys who A) Run great routes, and B)Catch the friggin' football. I'm paraphrasing here, but I recall once a radio interview with Bill Polian talking about drafting receivers. He said (and again, I'm paraphrasing) that he tells his scouts he doesn't want to hear about some guy who runs the 40 at such and such speed, or how tall a guy is. The Colts have the best QB in football, maybe ever. It's stupid not to draft someone who can't catch the ball, because you know Peyton will get it there on time.
That said, a guy like Harry Douglas would fit Indy's system, and unlike Gonzo (who is better flanked out rather than in the slot) Douglas would excel as a slot receiver in Tom Moore's "Check with Me" offense. Douglas is not a tall player, listed only at 5'11. He does, however, do the things the Colts look for:
Excellent timed speed...Quick and elusive...Runs well after the catch...Deep threat who can separate and stretch the field vertically...A good route runner and knows how to get open...Nice ball skills...Extremely tough and plays much bigger than he is...Real productive...Hard worker with top intangibles...Has some return potential.
Douglas played in a pass happy offense at Louisville with a big time college QB in Brian Brohm, but facts like that shouldn't deter one from seeing what kind of player Douglas actually is. For one, playing at Louisville means he's used to big time competition, and fans at Louisville
seem to love Douglas
.
Douglas was invited to the Combine, and impressed scouts:
During the gauntlet drill Douglas ran fluidly, used his hips well and stayed close to the 20-yard line. He caught every pass.
When the passes weren't that great, Douglas did a fine job of adjusting. He used his lean frame on a 10-yard out as the quarterback nearly threw the ball over Douglas' head. He did a great job of using his entire body to reach up, get the pass and stay inbounds. He also adjusted well to an underthrown pass on a streak route. And, he made a fingertip catch on the sideline on a two-move route when Colt Brennan led him a little too far.
Overall, I was impressed. He catches the football fundamentally well, has good speed and quickness and controls his body well when he has to make the more spectacular catches. If you're looking for negatives, he may not accelerate as quickly off the line as other receivers and his cuts could be sharper.
It's interesting because most Combine reports I read rave about how well Douglas catches the football, but when I read NFL Draft Countdown, I get a different picture:
Will have some trouble beating the jam..Hands are merely average and he allows the ball to get into his pads too often...
Again, not sure what to believe. Douglas
got mixed reviews at the Senior Bowl
, but his displayed talents at the Combine bumped his draft stock a bit. He is leaving Louisville as their
all-time leader in receiving yards
, and once had 223 yards in a single game. For a little guy, he's known to play tough and through pain. He did miss a few games in 2007, and he does struggle with blocking, but I haven't read anything that questions the guys physicality or willingness to get dirty in the trenches.
Douglas is predicted to go in the late 4th or 5th round, and from what I've read he offers a lot as a potential slot option in the Colts offense.