Based off yesterday's thread, I've compiled the following list of players we all miss. Now, it's time to determine who is the most missed. Who is the one player, out of all of these, that you'd like to see back? Adjust the person's age accordingly. For example, yes Marcus Pollard is ancient, but I'd love to have Marcus two or three years ago still on this team. You all know my favorite: Booger McFarland. but my opinion is adjusted to the fleeting hope that he is healthy, which it seems he isn't. But, if he were, I'd like him back.
Here are the other former-Colts you all mentioned:
Edgerrin James, #32, RB (1999-2005)
Read shake n bake's article to gain a full appreciation of this future Hall of Fame running back. He lead the league in rushing as a rookie and top over 2,000 total yards in each of his first two years. After a knee injury in 2001, he continued to produce, averaging 4.3 yards a carry, and helping the Colts win the AFC South from 2003-2005.
Memorable Games: His dominant performance against the Cowboys in 1999, signaling the end of the old Tripplets and the beginning of the new ones (Manning, Edge, and Marvin); Rushed for 127 yards and 3 TDs in shootout with the NY Jets in 2003; Rushed for 95 yards and 2 TDs against the league's #1 rush defense, Tennessee Titans, in 2003, helping to win the Colts first AFC South title.
Brandon Stokley, #83, WR, (2002-2006)
This is the man Mike Shanahan and the Broncos still have nightmares about; so much so that they signed him to their team in 2007 because his ghost continues to haunt the Denver faithful. Brandon Stokley as a Colt defined what a slot receiver is supposed to be in a modern NFL offense.
Memorable games: 2003 Wildcard Playoff game against the Broncos; Catching Manning's 49th TD of 2005 against SD to tie the game and send it into OT
James Mungro, #23, RB (2002-2006)
Goal-line specialist and all-around team player, James Mungro was willing to do anything for the Colts. His TD reception (on a play nicknamed the "Mungro Shovel") in the fourth quarter of the San Diego game in late-December 2004 helped Peyton Manning tie Dan Marino's TD record at 48. Mungro's career ended in 2006 with a knee injury during training camp.
Memorable games: In 2002, with Edge and Dom Rhodes hurt, Mungro started against the Philadelphia Eagles #2 ranked defense and ran for 114 yards and 2 TDs; catching Manning's record tying 48th TD pass against SD in 2005.
Rob Morris, #94, LB (2000-2007)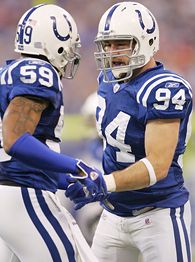 Rob Morris used to be the fan's whipping boy, until people finally figured out that he was a pretty good player. He started at MLBer for years, but was benched in favor of Garry Brackett. Morris would regain his starting job, but at SAM LBer, where he flourished. His play at SAM LBer helped the Colts win the Super Bowl in 2007.
Memorable games: Three sacks in a huge regular season win in Denver in 2002; 13 tackle performance to beat Cleveland in a come-from-behind win in 2002; 2006 AFC Wildcard Game against the KC Chiefs.
Cato June, #59, LB (2003-2006)
One of the best coverage LBers in the league, Cato June was as good at intercepting the ball as most corner backs are in this league. When Cato was on his game, he was capable to turning any tipped ball or deflected pass into a TD.Cato June is to Tom Brady what Ty Law was to Peyton Manning.
Memorable games: INT returned for a TD against the Rams in 2005, sparking a 21 point comeback; Three INTs against Tom Brady in a regular season win over the Patriots in 2006.
Ken Dilger, #85, TE (1995-2001)
Solid all-around TE who could catch, block, and even sometimes throw, Ken Dilger did it all for the Colts. He was a rookie when Indy nearly beat Pittsburgh in the 1995 AFCCG, and he saw the maturation of a younger Peyton Manning first hand.
Memorable games: 10 grab, 1 TD performance against the then-defending champion San Francisco 49ers in 1995; TD pass against the NY Jets in 2001.
David Thornton, #50, LB (2002-2005)
Great person and one-time leader of the Colts defense, David Thornton brought speed and power to the WILL LBer spot. He lead the Colts in tackles in 2003, and then switched positions in 2004 to play SAM backer and continued to produce.
Memorable games: INT in the fourth quarter iced win over Buffalo Bills in 2003; Forced a fumble to help blow the game open in Detroit on Thanksgiving Day 2004;
Ray Buchanon, #34, CB (1994-1997)
Nicknamed "Big Play Ray" for his knack for turning INTs into TDs, Ray Buchanon was part of the Colts transition in 1994 from doormat to dominant. He held down the CB for one of the best defenses in Colts history in 1995, and was a consistent tormentor of Dan Marino. Fun fact: Ray's daughter, Destinee, is featured on MTV's My Super Sweet 16.
Memorable games: Returned two Marino INTs for a TDs in a 1994 regular season game.
Luke Lawton, #45, FB (2006-2007)
He only played one year, and only scored one TD, but Luke Lawton is still a fan favorite. The chant Luuuuuuuuuuuke from the stands was starting to take the same status as the old Reggie! Reggie! chants they used to do for Mr. Reggie Miller at Market Square Arena.
Memorable games: TD reception against Jacksonville to help win the AFC South in 2007.
Mike Doss, #20, SS (2002-2006)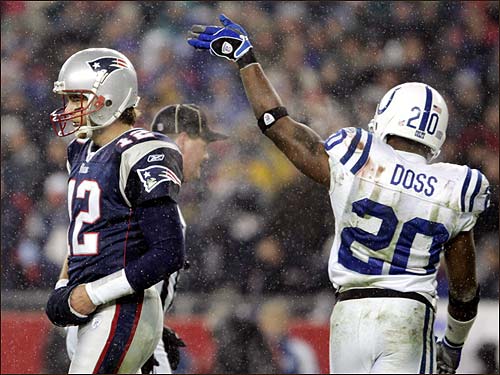 Hard-hitting Colts safety Mike Doss helped solidify the Colts secondary, especially before the arrival of Bob Sanders. At one time, both Bob and Doss played in the defensive backfield together, a scary site to behold indeed. He started as a rookie in 2003 and gathered 101 tackles and an INT. He stepped in for an injured Bob Sanders in 2006 (after Doss lost his starting job to Antoine Bethea) and was quietly having the best season of his career until a knee injury against the Redskins ended his season.
Memorable games: Laying his helmet into Redskins RB Clinton Portis' balls in 2006; Stoning Denver's running game in the Wild Card playoffs in 2004.
Marcus Pollard, #81, TE (1998-2004)
Marcus Pollard made a habit of stretching out over the goal-line with that extra bit of effort, often resulting in a big time TD. He followed up his TD by dunking the ball over the goal post. Why? Well, because (and all you Colts fans say it with me now) Marcus Pollard never played college football. He played basketball. Pollard set the standard for the TE position in the Moore-Manning offense.
Memorable games: Scoring the winning TD in the fourth quarter in a come-from-behind win over the NY Jets in Manning's rookie season in 1998; 2 TDs in a Monday night win over the Vikings in 2004.